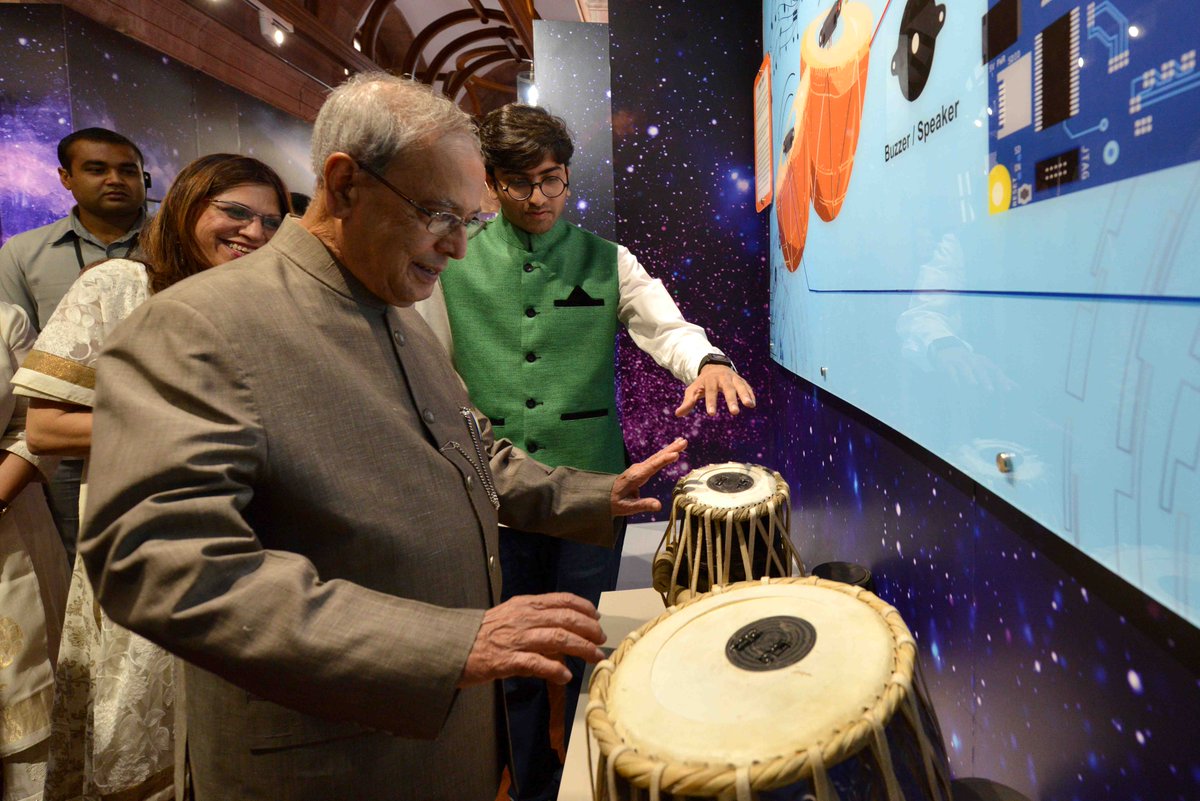 The President of India, Shri Pranab Mukherjee inaugurated a new Science and Innovation Museum called 'Navachara Kaksh' at Rashtrapati Bhavan today (August 4, 2015).
'Navachara Kaksh', established by Rashtrapati Bhavan with the assistance of M/s. Intel India has a compelling mix of information, scientific know-how and inspiring innovation designed to encourage young people on the path to scientific discovery and learning. It will exhibit Robotic Dog, Virtual Tabla, Stringless Piano, 3D printer, Talking Wall and 'Planet Wall. Visitors can also click selfies 3D-style with the President's House as a backdrop and email it.
The 'Robotic Dog' called Clumsy resembles a real dog. 16 Servo Motors can enable him to perform complex motor actions like walking and squatting. It also has sensors that allow him to see, touch, hear and see. Just like a brain, the microcontroller board takes inputs from these sensors and controls his movements. Clumsy has been designed by a talented school student who won prestigious awards at an International science competition.
Withthe 'Virtual Tabla' one can play the drums and hear its rhythmic sound without touching the drums at all. Sensors detect hand movements and play a corresponding sound with the help of microprocessors. Like the Robotic Dog, the Virtual Tabla has been created by a school student at a makeathon.The 'Stringless Piano', similar to the Virtual Tabla, is a sensor activated device that creates music seemingly out of thin air. It has a wireless, touch-sensitive electric sound producer that responds to action mechanisms to sound like a regular piano.
The '3D printer' enables making a three dimensional solid object from a digital file by laying out successive layers of material until the entire object is created. The 3D printer is pre-programmed using the open-source Intel® Galileo development board, which enables the printer to be customized in various ways to achieve different objectives.
The museum also has a 'Talking Wall' and a 'Planet Wall' intended to inform and encourage students on the path to discovery. An interactive audio-visual display (through an LED TV) will arouse curiosity about various discoveries and the mechanics of innovations. It gives information about national science fairs where students can showcase their talent and also features young geniuses, through the passage of time, who have earned international recognition through their ground-breaking research.
At the "Navachara Kaksh",a selfie 3D-style can also be clicked with the President's House as a backdrop. The Intel® RealSense™ 3D camera, the world's first and smallest integrated 3D camera, is designed to sense a user's head and hands in 3 dimensions to provide a natural and immersive interaction.The "Navachara Kaksh" will be open for visitorson weekends (Friday, Saturday, Sunday) as part of the Rashtrapati Bhavan tour.