Reader's Digest - Do you want to crack the DJS 2023? Solving the Delhi judiciary previous year question paper is the key. Read this blog for Delhi judiciary mains solved papers PDF, sample questions, DJS previous year question paper & more.
Are you ready to "judi"fy your preparation for the Delhi Judiciary exam? To ace the Delhi Judiciary Exam, you must appeal to the examiner's sense of knowledge. And what better way to do that than by practising Delhi Judiciary Previous Year's Papers PDF?
Here, we have listed the benefits of solving Delhi Judicial Service previous year question paper:
Provides an overview of the exam pattern

:

Solving DJS previous year's papers can give you a clear understanding of the DJS exam pattern, types of questions, and marking scheme.

Helps in identifying important topics:

Identify important topics and prioritize your preparation.

Manage time effectively:

Practice under exam-like conditions for time management skills.

Improve your accuracy:

Regularly solve previous year's papers for better speed and accuracy.

Boost your confidence:

Prepare with Delhi judiciary previous year papers PDF to remain calm and composed during the exam.
Download Delhi Judiciary Previous Year's Papers PDF - Preliminary
As per the

Delhi Judiciary Syllabus

, you are mainly tested on subjects like the Constitution of India, Code of Civil Procedure, Indian Penal Code, Indian Contract Act, etc., in the prelims exam.
The prelims exam is conducted for a total of 200 marks.
Only those who scored more than 60% for the general category and 55% for reserved categories, i.e., Scheduled Castes, Scheduled Tribes and eligible categories of Persons with Disabilities, are shortlisted for the main examination.
You can download the previous year's papers for the prelim exam by clicking on the link below.
Download Delhi Judiciary Previous Year's Papers PDF - Mains
The Delhi Judiciary Main Examination is an essay type with a total score of 850 marks.
The question paper consists of four sections: General Legal Knowledge & Language, Civil Law I, Civil Law II, and Criminal Law.
The experts suggest that practising the previous year's papers will give you an idea about your

Delhi Judiciary Preparation

and focus on improving your weak areas.
You can download the DJS mains question paper PDF directly by clicking the link below.
Benefits of Solving Delhi Judiciary Previous Year's Papers
To get selected among thousands of applicants, you must practice question papers and sample papers to familiarise yourself with exam day pressure.
Some of the benefits of solving Delhi Judiciary Previous Year's Papers are mentioned below:
It will help you learn more about the pattern of the

Delhi Judiciary Exam

, the difficulty level of the test, and the weighting of each subject in the study.
You can improve your speed and efficiency by regularly solving various sample papers.
By addressing Delhi Judiciary Exam question papers, you can learn the most and most minor time-consuming topics so that your approach will conveniently cover all the questions.
Also, you can know which topics you are weak and strong on and how to improve in weaker sections.
Sample Questions for Delhi Judiciary Previous Year's Papers Exam
We have provided a few sample questions for your reference here to help you understand the type of questions asked in the Delhi Judiciary Exam.
Along with these questions, it is advised to practice Delhi Judiciary Mock Tests weekly to analyze your preparation levels.
Q1) A police officer has received a sum of Rs. 5000/- against a fine from the persons violating traffic rules. Instead of depositing the fine money with State Treasury, he utilized the same for his personal use. What offence under the Indian Penal Code has the police officer committed?
Criminal breach of trust
Mischief
Cheating the Government
None of the above
Q2) Whoever kidnaps or abducts any child intending to take dishonestly any movable property from the person of such child shall be punished under Section 369 of IPC if the child is under?
Ten Years
Twelve Years
Fourteen Years
Sixteen Years
Read More: Short Tricks to Memorize Bare Acts for Delhi Judiciary Exam
Q3) Section 498-A of the Indian Penal Code, 1860 came into force from:
25th December 1983
26th December 1986
25th December 1987
25th December 1988
Q4) Section 137 provides
Saving of negotiable instrument
Incapacity of officers connected with courts of justice
Warranty of solvency of the debtor
None of these
Q5) "A Metropolitan Magistrate is subordinate to the Chief Metropolitan Magistrate of the Metropolitan Area, but an Additional Chief Metropolitan Magistrate appointed in the same area may not be subject to such subordination, though both are subject to the general control of the Sessions Judge of the same session division."
The above statement is correct.
The above statement is correct but subject to an order that may be passed by the High Court defining the extent of subordination, if any, of the Additional Chief Metropolitan Magistrate.
Both (1) and (2) are incorrect.
Both (1) and (2) are correct.
Q6) When after hearing the evidence for prosecution and the accused in a trial on a charge of five offences, each punishable with imprisonment that may extend to three years, the Additional Chief Metropolitan Magistrate thinks that the accused is guilty, he may -
pass a judgment of conviction and sentence him to terms of imprisonment on each count, directing it to run consecutively but such that the aggregate punishment does not exceed fourteen years of imprisonment.
pronounce the judgment of conviction and then submit the case to the Court of Session if he thinks the case merits punishment more severe than he is empowered to inflict.
Both (1) and (2) are correct.
Both (1) and (2) are incorrect.
Q7) It is lawful to use reasonable force necessary to compel a person arrested on a charge of committing an offence to facilitate a lab technician of a private clinic of a registered medical practitioner to gather a sample of his sweat when there are reasonable grounds for believing that the examination of the same will afford evidence as to the commission of an offence
Provided that it is done at the request of a police officer not below the rank of a Sub-inspector and in good faith in the aid and under the direction of the registered medical practitioner.
Provided that it can be so done as in (1) above in case the offence alleged to have been committed is rape or attempt to rape only in the absence of a medical practitioner employed in a hospital run by the Government or local authority within the radius of sixteen kilometres from the place where the offence is stated to have been committed.
Both (1) and (2) are correct.
Both (1) and (2) are incorrect.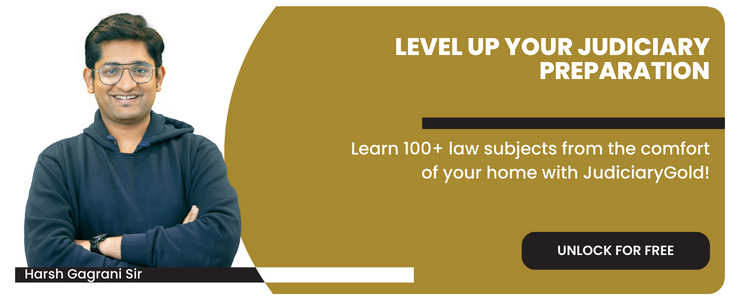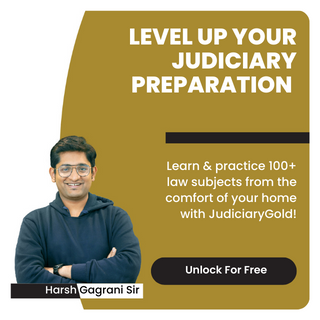 Conclusion
Solving Delhi Judiciary previous year's papers is a crucial aspect of your preparation for the exam. It helps familiarise you with the exam pattern and enhances your time management, speed, and accuracy skills. So, include the previous year's papers in your study plan and easily boost your chances of cracking the Delhi Judiciary exam.