Reader's Digest: क्या आप इस बात को लेकर असमंजस में हैं कि UPPCS J previous year paper कहां मिलेंगे? रुकिए! UP PCS J question paper PDF, solved papers & sample questions को डाउनलोड करने के लिए इस ब्लॉग को अंत तक पढ़ें।
The UP PCS J Examination is highly competitive and requires thorough preparation and a sound strategy. To crack the exam, you must review the UP PCS J question paper format, syllabus, and preparation tips.
Practising previous year's papers of UP Judiciary will help you understand the following:
Difficulty level

Previous year trends

Type of questions asked from each subject

Improve your time management skills and accuracy

Analyze your preparation levels by solving the UP Judiciary question paper

Work on weaker sections to overcome mistakes
UP PCS J Question Paper Format & Syllabus
The UP PCS J previous year's prelims paper consists of two papers: Paper 1 and Paper 2.
Paper 1 is a General Studies paper, while Paper 2 is a Law paper.
Both papers are conducted in offline mode and consist of objective-type questions.
Paper 1 and Paper 2 have a weightage of 150 marks and 300 marks, respectively.
The Paper 1 syllabus includes Indian history and culture, geography, polity, economics, and current affairs.
Paper 2 covers topics related to the Indian Penal Code, Criminal Procedure Code, Indian Evidence Act, and other relevant laws.
Scroll down for the UP PCS J Question Paper PDF for prelims and mains exams.
UP PCS J Question Paper PDF - Prelims
Solving previous year's papers is one of the best preparation methods suggested by experts to enhance your

UP PCS J Exam Preparation

.

Also, it will help improve your problem-solving skills and confidence levels.
In the post below, we have provided the UP civil judge prelims question papers for general knowledge and law to ease your preparation.
UP Judiciary Prelims Question Paper (Paper 1): General Knowledge
Uttar Pradesh PCS J Prelims Paper 1 includes questions ranging from the History of India and Indian Culture, Geography of India, Indian Polity, Current National Issues and topics of social relevance, India and the world, Indian Economy, International Affairs, etc.
Practice is the key to enhancing your

UP PCS J GK Preparation

.
You can view or download the general knowledge questions papers for Uttar Pradesh Judiciary Exam by clicking the link below.
UP PCS J Prelims Question Papers (Paper 2): Law
Paper 2 includes day-to-day happenings around India and the world, particularly in legal spheres, Acts, and laws.
With the help of question papers, you can understand the

UP PCS J syllabus

.

With the help of the previous year's papers, you can learn how to analyze tricky questions in less time.
UP PCS J Mains Previous Year Paper PDF
The Mains exam includes 5 papers: General Knowledge, Language (English & Hindi), Substantive Law, Procedure and Evidence, and Penal, Revenue, & Local Laws.
Each paper holds a weightage of 200 marks, and the total duration of each paper is 3 hours.
According to the experts, you can enhance your

UP PCS J Mains Preparation

by practising previous papers daily.
Download the UP PCS J Mains solved paper PDF by clicking on the link below and start preparing for the exam.
Sneak Peek into Sample Questions for UP PCS J Exam
We have provided some sample questions for your reference here to help you understand the type of questions asked in the exam.
Along with these questions, you are advised to attempt at least one to two UP PCS J Mock Tests weekly.
Q1) Under which country's presidency was G20 Extraordinary Virtual Education Ministers' Meet held?
(a) India
(b) Saudi Arabia
(c) China
(d) Nepal
Q2) Who was conferred with the lifetime achievement award for his contribution to statistics on Statistics Day?
(a) C Rangarajan
(b) Raghuram Rajan
(c) Viral Acharya
(d) Dinesh Dixit
Don't Miss - Short Tricks to Prepare General Studies for UP PCS J Exam 2023
Q3) The famous slogan "Government of the people, by the people, for the people" was given by
(a) Benjamin Franklin
(b) Geoffrey Chaucer
(c) Abraham Lincoln
(d) George Washington
Q4) Which city topped the Global Startup Ecosystem Report 2020′ by Startup Genome?
(a) London
(b) NewYork
(c) NewDelhi
(d) California
Q5) 'A' attempts to steal some jewels by breaking open a box and finds no jewel in it after opening the box. Under IPC, 'A' has committed-
(a) No offence
(b) Theft
(c) Attempt to theft
(d) Housebreaking
Q6) Whoever kidnaps or abducts any child to take dishonestly any movable property from the person of such child shall be punished under Section 369 of IPC if the child is under?
(a) Ten Years
(b) Twelve Years
(c) Fourteen Years
(d) Sixteen Years
Q7) Act done under the order of the court, if done in good faith, is coverable under General Exception under which of the following sections of IPC:
(a) Section 76
(b) Section 77
(c) Section 78
(d) Section 79
Must Read: Important Interview Questions for UP Judiciary Exam
Q8) A police officer has received a sum of Rs. 5000/- against a fine from the persons violating traffic rules. Instead of depositing the fine money with State Treasury, he utilized the same for his personal use. What offence under the Indian Penal Code has the police officer committed?
(a) Criminal breach of trust
(b) Mischief
(c) Cheating the Government
(d) None of the above
Cracking the UP PCS J Exam: Tips to Ace the UP PCS J Question Paper
Here are the tips to ace the previous year's UP Judiciary Question papers:
Firstly, thoroughly study the syllabus and the previous year's question papers to understand the

UP PCS J Exam Pattern

. This will help you identify important topics and prioritize your preparation accordingly.
Next, practice solving mock test papers and sample papers regularly to improve your speed and accuracy. This will also help you identify your weak areas and work on them.
When attempting the actual exam, make sure to read the instructions and questions carefully. Answer the questions you are confident about first, then move on to the more challenging ones.
Manage your time effectively and avoid spending too much time on any question. Remember, every question carries equal weightage, so attempt all questions.
Lastly, stay calm and composed during the exam. Do not panic if you get stuck on a question. Take a deep breath and move on to the next one.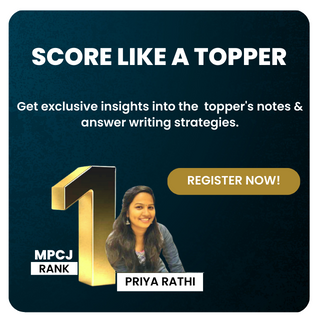 Conclusion
We have given the UP PCS J Question Paper in this blog post so you can practice and become a successful Civil Judge. Save this informative blog post to see the application form again. Explore more such blogs on UP PCS J from here. Good luck with your preparation! Happy Reading!
"We generate fears while we do nothing. We overcome these fears by taking action."