Summary: The biggest question haunting students, "how to prepare for IPMAT?" will have a quite simple answer. If you are opting for IPM preparation, you must be aware of these tips and tricks that help you ace the exam easily. We will be discussing the best tips to excel in IPMAT preparation and help you land on a higher rank. Go through this article, and you will discover many useful tips and tricks that will help you in the long run.
The Integrated Program in Management Aptitude Test competition is very high, as more than fifteen thousand students appear for the entrance exam every year.
If you have studied mathematics and secured good marks till the standard 10th, cracking the exam is not a challenging task.
If you are from a commerce or arts background, you require at least six months to prepare. However, aspirants from any background can crack the exam easily on the first attempt by following a proper preparation plan and strategy.
Also, working on your time management skills and speed plays a vital role in qualifying for the entrance exam.
Are you wondering about how to enhance your preparation levels for the IPM exam?
Our experts at Supergrads have curated some tips to help you understand how to prepare for IPMAT Exam 2023, subject-wise strategies, and more. Happy reading!
How Can I Prepare for IPMAT 2023?
Like any aptitude test, IPM preparation should be a mix of smart work and hard work. You can easily crack the exam by following a well-structured study plan and dedication.
As per the Paper Pattern for the IPMAT exam, you are mainly tested on verbal and quantitative ability skills. Start with simple Maths topics and give yourself 10-15 days to complete them.
Start brushing up on your grammar skills and vocabulary for the verbal ability section. Also, speed plays a vital role in clearing the IPMAT entrance exam.
Therefore, solving more questions from previous year's question papers is as essential as preparing all the topics per the syllabus.
Download Self Designed Question Papers for IPMAT Exam by SuperGrads
How long does it take to Prepare for IPMAT 2023?
It totally differs from person to person. Some students might finish the syllabus in a couple of months and other might take upto a year.
To begin with, you would need at least six months to one year to prepare for the Integrated Program in Management Aptitude Test. Most of you might be preparing for board exams along with the entrance exam.
So, it would help if you give at least 2 hours daily for IIM IPM Preparation until the completion of your board exams. Once the board exams get over, you can dedicate the maximum of your time to IPMAT.
If you start your preparation early, you will have a lot of time for understanding the concepts, practice

previous year's IPMAT Questions Papers

, and more time for revision.
Each one of your preparation strategies may vary. Hence, plan your preparation as per convenience and complete the scheduled task on time.
How Should I Start Preparing for IPMAT Indore and IPMAT Rohtak Exams 2023?
As the exam is around the corner, you should focus on improving your time management skills and speed.
Make a structured and proper study plan, as said above. The tips below can help you prepare for the IPMAT entrance exam 2023.
Distribute the subjects you need to study each day.
Allot time limit for each concept you are studying.
Don't include tough subjects continuously. Try to mix and match the topics.
If you assign a tough concept from the quant, choose an easy topic from verbal ability. In this way, you can build interest to study more and not get bored.
Jot down essential terms or complex formulas from the topic you are studying, which can help in revision time.
If you are well versed with any topic, allot less time for that topic. Instead, allocate more time for complex topics.

What are the Important Topics under IPMAT Syllabus 2023?
As said above, you will be tested on your vocabulary and mathematical skills in the IPM exam.
Before starting the preparation, it is essential to go through the detailed syllabus as this will help you better understand Important topics for the IPMAT exam under each subject.
| | |
| --- | --- |
| IPMAT Quant Topics | IPMAT Verbal Topics |
| Algebra & Arithmetic | Reading Comprehension |
| Number System | Paragraph Completion |
| Set Theory | Word Jumble |
| Data Interpretation | Word Usage |
| Geometry | Vocabulary and Analogy |
| Percentage, Profit, and Loss | Para Jumbles |
| Time, Speed | Fill in the Blanks |
| Distance, Time, and Work | Grammar |
| Mensuration | Error Spotting |
Read more: Short tricks to solve syllogism questions in IPMAT exam
Subject-wise IPMAT Preparation Tips 2023?
You must remember that the exam is conducted to test your fundamentals rather than testing your computational efficiency. Here are a few section-wise preparation strategies provided by experts.
Following these preparation tips will help you crack the exam easily on the first attempt.
IPMAT Preparation Tips 2023 for Quantitative Aptitude (QA)
The following are some of the best tips to help you better understand the How to Prepare for the IPMAT Maths section.
You have to focus more on Time, Speed and Distance, Time and Work, Trigonometry, Geometry, Data Interpretation, Set Theory, Ages, Series, and Unitary methods. Most of the questions are asked from these topics.
Try to revise all the essential formulas related to these topics daily.
Start and complete your favorite topics first and then move to complex topics.
R.D. Sharma is one of the best-suggested books for Quant preparation as it explains every topic in-depth and includes many questions.
Solve the previous year's papers weekly to improve your time management skills and problem-solving skills.
Start giving mocks and try to analyze them effectively.
Revise the concepts where ever you are committing mistakes or errors.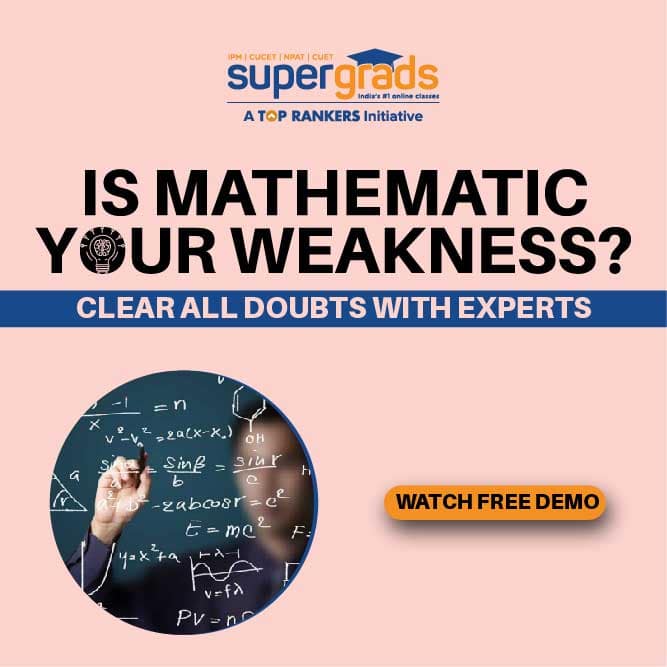 IPMAT Preparation Tips 2023 for Verbal Ability (VA)
In the IPMAT exam, you will be mainly tested on your verbal ability skills and vocabulary.
The most critical topics in the verbal ability section are Synonyms and Antonyms, Sentence Rearrangement, Reading Comprehension, Correct usage of words and phrases, Sentence correction, Sentence completion, Verbal analogies, and grammar.
Here are a few expert-recommended preparation tips for IPMAT verbal ability that can help in smooth preparation
Regular practice is required for solving the Cloze test with 100% accuracy.
Make sure to read the newspaper daily to improve your vocabulary and grammar.
Prepare specific notes on idioms and phrases, proverbs, and grammar rules.
While practicing questions on spotting the error, read the whole sentence carefully and check the subject-verb agreement.
Also, practice as many questions as possible from the previous year's question papers.
Try to avoid wasting much time if you are not aware of the answer in the final exam.
What is the Test Tracking Strategy for IPMAT 2023 Exam?
As we all know, there is a sectional time limit in the IPMAT exam. Therefore, it is essential to devote time carefully to each question.
It would help if you chose the questions wisely that you want to attempt as it is impossible to try all the questions in the given time.
Read more: Important DI questions for IPMAT exam
Try to attempt the questions that you are good at first, and later move to other questions. This will help you save time and build up your confidence for the rest of the questions.
If you cannot find the solution for a particular question, do not waste time on it. Instead, move to the next question and come back to it later if time permits.
Which are the Best Books for IPMAT 2023?
The following are some of the Best preparation books for IPMAT for preparing quantitative and verbal ability sections.
Quantitative Aptitude for Competitive Exams by R.S. Aggarwal
Word Power Made Easy by Norman Lewis
English Grammar and Composition by Wren and Martin
Is it Useful to Solve the IPMAT Mock Test Series?
According to the IPMAT preparation tips 2023, attempting mock tests is one of the best methods to improve your speed and accuracy in the final exam.
With the help of mock tests, you can test your preparation levels for the upcoming exam.
Also, you can know the difficulty level of the paper and the type of questions asked in the exam.
Practicing

IPMAT Mock Tests

will help improve your time-management skills and build your confidence levels.
So, it is advised to take up mock tests regularly and try to analyze your performance after completing each mock test.