Summary: Studying at a centre of learning excellence can transform your future. Once you have achieved an excellent IPMAT score, joining the right IPMAT college can help you come one step closer to the career and growth prospects you've always dreamed of!
Indian Institute of Management conducts the Integrated Program in Management Aptitude Test (IPMAT) annually, which is the gateway for admission into the five-year integrated program in management.
Here is good news for all those seeking admission to the IPMAT college program through the IPMAT 2023! Apart from IIM Indore, 5 other prestigious colleges in India accept IPMAT Indore scores for admission into integrated programs from the academic year 2023. Yes, you read it right!
Do you wish to know the list of these colleges accepting IPMAT score? Read through the post to learn about the IPMAT colleges list 2023 accepting IPMAT Indore scores and information related to other IIMs offering IPMAT college programs.
List of Colleges Accepting IPMAT Indore Score 2023
If you wish to pursue management courses after class 12 from one of the top institutes, you should appear for the Aptitude entrance exam like IPMAT Indore Test or JIPMAT exam.
Before applying for the exam, it is essential to know the IPMAT colleges list 2023 that provide admission to a 5-year integrated program in management based on IPMAT Indore scores.
As said above, here are five IIMs accepting the IPMAT Indore scores.
IPMAT Colleges List 2023 is as follows:
These are IPMAT colleges offering IPM programs based on IIM Indore scores.
Indian Institute of Management, Indore (IIM Indore)
Indian Institute of Management, Ranchi (IIM Ranchi)
Institute of Management, Nirma University
Department of Management Studies (DoMS), NALSAR University of Law
Indian Institute of Foreign Trade (IIFT)
T A Pai Management Institute (TAMPI), Bangalore
ROI for Colleges Under IPMAT 2023
Return on Investment (ROI) here means how quickly you'll be able to earn back the amount of money you invest in your education if you pursue the IPMAT college program from any of these colleges.
ROI evaluates the return of the fee invested by you while studying and the return you will get in the form of placement packages.
Check the table below for the best IPMAT Colleges, their annual fee and starting packages.
| Name of the college | Average Fee (in Rs.) | Average Placement Package (in Rs.) |
| --- | --- | --- |
| IIM Indore | 28.64 L | 25.01 LPA |
| IIM Ranchi | 33.5 L | Only MBA Placements reports are currently available |
| Institute of Management, Nirma University | 8,55,750/- (BBA) + Additional MBA fees (Approx total =17.95 L) | 10.50 LPA |
| Indian Institute of Foreign Trade (IIFT) | 20 L | 25.16 CTC |
| DoMS, NALSAR University | 4.22 L | 7,35,215 CTC |
Check: IPMAT Exam Centres
General IPMAT Colleges 2023 Eligibility Criteria
If you desire to apply for the entrance exam, you should satisfy the following IPMAT Eligibility Criteria 2023.
Age: You should have been born on or after August 01, 2003 (5 years of relaxation to the candidates from SC/ST/PwD category will be given).
Qualifying Exam: You should have passed Standard XII/ HSC or equivalent examination in 2021, 2022 or 2023.
Minimum Percentage (%) of marks:
You should have a minimum of 60% in standard X/ SSC (55 % for the candidates from SC/ST/ PwD category).
Note: Candidates likely to complete standard XII/ HSC or equivalent can also apply, subject to meeting the eligibility criteria mentioned above.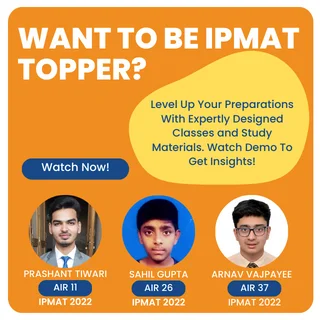 Specializations offered at these IPMAT Colleges 2023
IIMs will offer a 5-year integrated program in management in various specializations.
The following are some of the most sought-after specializations that aspirants prefer.
Human Resources
Finance
IT & Systems
International Business
Sales & Marketing
Operations and Systems
Business Analytics
Digital Transformation and Analytics (DnA)
International Business (Only Minor Specialization)
Court Management
Business Laws
Business Analytics
Marketing etc.
Admission Process for IIM Rohtak
IIM Rohtak introduced IPM programs in 2011 for students after class 12 who wish to pursue a career in Business Management. IPM program is a comprehensive management program with a combined course of management studies at the undergraduate (UG) to postgraduate (PG) level.
The college offers students BBA+MBA for five years. Those with a minimum CGPA of 5.0 and above will be awarded a BBA degree and can exit the program with a CGPA not below 4.0.
The entire program is divided into two parts, namely:
Foundation courses
Management courses
Students are given opportunities to take internships at the end of every academic year.
Check: Mistakes to Avoid while preparing for IPMAT
IIM Rohtak Eligibility:
Students with a minimum of 60% in class 10+2 with a maximum of 20 years of age as on June 30, 2023, are eligible to apply.
Students of the reserved categories are given 5% relaxation.
Check: Short tricks to crack the IPMAT exam on the first attempt
IIM Rohtak Selection Process:
Stage I: Online Registration
Stage II: IPM Aptitude Test (IPM AT 2023)/ IIM Rohtak accepts IPMAT Rohtak scores
Stage III: Online Personal Interview (PI)
Stage IV: Announcement of Selection List and Offer Acceptance
Stage V: Provisional Admission to IPM 05 (2023-28)
IIM Rohtak Placements:
IIM Rohtak had a 100% placement record for the 2021-23 batch. More than 120 recruiters visited the college, of which 45 were new companies.
IIM Rohtak witnessed an increase of 16.7% in the annual CTC offer to its students. Here is a pictorial representation of IPM Rohtak Placements
Highest CTC: 36 L
Average CTC: 18.73 L
Median CTC: 17.5 L
YoY Average CTC Increase: 16.7%
Jobs were offered in the fields of Consulting, Finance, General Management, IT, Operations, Sales and Marketing.
The top recruiters are Accenture, Deloitte, Gartner, Kotak, ICICI, Samsung, Amazon, Infosys etc.
Admission Process for IIM Jammu
The duration of the IPMAT college Jammu program is divided into 5 years, where the first three years of the IPM program would be based on the semester system, and the last two years would be based on the trimester system.
From the 6th semester, the course will be merged with the flagship MBA program of the Institute, and students will be required to meet the academic rigour of the MBA program.
IIM Jammu Eligibility:
Candidate should have passed Standard XII/HSC or equivalent examination in 2021,2022 or appearing in 2023. 5% relaxation is offered to reserved category students.
IIM Jammu Selection Process:
You must write Joint Integrated Program in Management Admission Test (JIPMAT), the qualifying exam to study the IPM program at IIM Jammu.
NTA conducts this exam, and the preparation of the merit list is based on JIPMAT score and gender diversity.
IIM Jammu Placements:
Last year, the batch strength was 239, with 78% female and 22% male candidates.
Summer internships were offered in the following domains.
Strategy & Consulting: 5
Finance: 30
General Management: 21
HR: 24
IT and Analytics: 4
Marketing: 93
Marketing & Sales: 46
Operations: 16
Median Average is 13.78 LPA for IT and Finance recruitment
Median Average is 12.75 LPA for Management, Marketing and Sales
Check: Effective Study Plan for IPMAT 2023
Admission Process for IIM Bodhgaya
The curriculum for the IPMAT college program involves experiential learning, international immersion and a holistic course structure.
The program aims to prepare candidates from a foundation level for leadership positions in both corporate and government sectors.
IIM Bodhgaya Eligibility:
You should have passed the 10+2/XII/HSC examination in the arts/commerce/science stream or equivalent with 60% (55% for candidates from SC/ST/PwD/Transgender) or more in the year 2021, 2022 or appearing in 2023.
IIM Bodhgaya Selection Process:
The admission to IPM is conducted through a Joint IPM Admission Test (JIPMAT 2022) and other parameters.
The JIPMAT 2023 will be conducted by National Testing Agency (NTA) on behalf of IIM Bodh Gaya and IIM Jammu.
IIM Bodhgaya Placements:
IIM Bodhgaya offers 100% placement with 200+ offers for 184 candidates.
14 offers over and above 20 LPA, 23 in the 15 to 19.99 LPA range, 52 in the 12 to 14.9 LPA, and 89 total offers over and above 12 LPA.
Check: Important Topics for IPMAT
Placements at IPMAT Colleges 2023
The colleges mentioned above provide excellent placement opportunities at renowned organisations.
Check out the table below for the top recruiters that hire aspirants from IPMAT colleges. For a further detailed explanation of all IIM, read through IPMAT Placements and Jobs 2023.
| | |
| --- | --- |
| Name of the college | Top Recruiters |
| IIM Indore | Aditya Birla Fashion & Retail Limited, Asian Paints, Bajaj Auto, L'Oreal, MX Player, Bain Company, Deloitte, KPMG, Accenture Strategy, Avalon Consulting |
| IIM Ranchi | Capgemini, Infosys, DELL Technologies, Mahindra & Mahindra, Vedanta, Accenture, Deloitte, Samsung, Tata Elxsi, Birlasoft, ICICI Bank, Yes Bank, Mahindra & Mahindra, Tata Steel |
| DoMS, NALSAR University | Apollo Hospitals, Cognizant, Deloitte, Heritage, ITC Limited, Jaro Education, Colgate Palmolive |
| Institute of Management, Nirma University | Capgemini, Deloitte, Bain & Company, Infosys and Oracle, Zomato, CRISIL, Kotak Mahindra Bank, Coffee Day Beverages, Airtel, Adani |
| Indian Institute of Foreign Trade (IIFT) | Accenture Strategy, Deloitte Consulting, EY, Infosys, EXL, Mckinsey & Co, Optum Advisory, Reliance, Godrej, Goldman Sachs, Google, ITC |
Conclusion
All of these IPM colleges are based on their courses offered and placement cycle. So make sure to keep an eye on the list if you are preparing for IPMAT colleges 2023.
With several other colleges offering the IPM now, there are more seats available for students to study the 5 years integrated program in management at some of the best institutions in the country!