Summary: The application forms for IPMAT at IIM Indore, Ranchi, and Rohtak have been released. To ensure a successful registration process, there are specific protocols that you must follow, which we will discuss in this article.
Annually, the IIMs conduct the IPMAT entrance exam, which serves as a gateway to admission into the five-year integrated program in management.
The first step in the admission process is to complete the application process successfully. For the academic year 2023, the application process for IPMAT at Indore, Ranchi, and Rohtak has begun.
This article will provide you with step-by-step procedures to complete your application process successfully.
"IPMAT Indore and Rohtak registration process will go on from 8 March 2023 - 17 April 2023 and Feb 6, 2023 - April 17, 2023, respectively. JIPMAT applications are live from April 6, 2023 – April 30, 2023. And lastly, IIM Ranchi IPM forms can be filled between April 2 – May 9, 2023.
Latest Update:
The application form for IIM Ranchi has been released. The deadline to apply for IPM 2023-28 is 5:00 PM on 9th May 2023.
IPMAT 2023 Application Form Dates
The table below has all the important events related to the IPMAT Exam 2023.
| | | | |
| --- | --- | --- | --- |
| Events | IPMAT Indore 2023 Dates | IPM Rohtak 2023 Dates | IPM Ranchi 2023 Dates |
| The application process starts from | March 08, 2023 | February 06, 2023 | April 02, 2023 |
| Last date to fill out the application form | April 17, 2023 | April 17, 2023 | May 09, 2023 |
| Application Form Correction Window | To be notified | To be notified | To be notified |
| IPMAT 2023 Exam date | June 16, 2023 (afternoon shift) | May 20, 2023 (9 AM) | June 16, 2023 (afternoon shift) |
Looking for the direct link to apply for the IPM Indore program? Find the direct link to fill out your IPMAT Indore application form 2023.
IPMAT Indore Application form 2023 Direct Link
Note: Ensure you fill out the application on or before the last day of the application process to participate in the admission process in this academic year.
Important Instructions to fill out IPMAT Application Form 2023
These instructions must be followed thoroughly to complete your registration process smoothly.
Note: Recommended browser to fill the form is as follows:
Internet Explorer (Version 82 to 105) or
Mozilla Firefox (Version 87 to 104) or
Google Chrome (Version 87 to 104) or
Microsoft Edge (Version 82 to 105) to complete the IPM Application Form 2023.
Read the below instructions carefully before filling out the form:
Use the Mouse to move between data entry fields instead of the Tab Key.
Fields marked with * are mandatory.
The candidate must fill in the details below to receive the User Id and Password.
The candidate will receive the User Id and Password in the registered email address and SMS on the registered mobile number.
Candidate can log in with the User Id and Password to complete the IPM 2023-28 batch application.
Candidate must provide the correct Name, Date of Birth, Mobile Number and Email Address, as these details cannot be changed once the registration is complete.
IIM Ranchi IPM Program Application Process 2023
The application process for the IPM is entirely online. The last date to submit the application form and upload the documents is 05:00 PM on 9th May 2023.
The application fee for General, EWS & NC-OBC categories is Rs. 2500/- and Rs. 1250/- for SC, ST & DAP Categories. To Apply Online, check the official website or the link below.
If you face any problems in completing this process, reach out to authorities at IIM Ranchi at ipm.admissions@iimranchi.ac.in
Check: IIM Ranchi IPM Program 2023
Common Mistakes to avoid while filling out IPMAT Application Form 2023
Want to avoid making common mistakes while filling out an application form? Here are some tips that will help you sail through the process smoothly:
Take your time to read the instructions carefully: Don't rush into filling out the form. Take a moment to read and understand the instructions to ensure you're meeting the requirements and filling out the form in the correct format.

Avoid hasty mistakes: It's essential to fill out the form accurately and thoroughly. Don't let the ticking clock get to you; take your time and avoid making careless mistakes that could cost you.

Provide complete and accurate information: Make sure you don't miss out on any critical details while filling out the form. Avoid leaving any fields blank and double-check the information provided to ensure accuracy.

Proofread like a pro: Before submitting the form, give it a thorough once-over. Check for spelling and grammatical errors and ensure the information provided is accurate and complete.

Beat the deadline: It's essential to submit the form before the deadline. Late submissions are not accepted, so make sure you plan ahead and avoid the last-minute rush.

Don't forget the supporting documents: Uploading supporting documents like mark sheets and caste certificates where necessary is crucial. This step will help you take advantage of respective reservations and avoid candidature cancellation.
Continue reading to learn how to start applying!
Check: IPMAT 2023 Exam Day Instructions
How To Apply IPMAT 2023 [Step-by-Step Application Process]
Here is the step-by-step procedure to follow and complete the application process.
1. Eligibility Requirements
Before proceeding with the registration form, you must meet the IPMAT Eligibility Criteria set by the exam conducting body.
2. Phases of the application process
Filling out the application form involves five steps:
Online registration
Enter personal details
Upload the documents
Paying the application fee
Take the printout of the duly filled form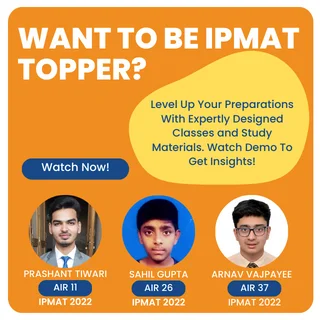 3. Prerequisites for filling IPMAT 2023 Application Form
Before filling out the application form, you must keep the following documents handy to avoid errors.
A valid phone number
A valid E-mail Id
Scanned passport size Photograph
Scanned Signature
Class 10 mark sheet and certificate
Class 12 mark sheet and certificate
A valid ID proof, i.e., Pan Card, Voter ID card, Aadhar card, or Driving license.
Have this information handy before you start entering the information online.
Read more: Important topics for the IPMAT exam
4. Steps to be followed
Step 1: Visit the official website of the respective IIMs and locate the admission or application process for integrated management programs.
IPMAT Rohtak Application form 2023 Direct Link
When the application form for IPM Indore releases, this page will be updated with its direct link.
Step 2: You will be redirected to the login page, as shown in the picture below.
Note: All the pictorial representation is for the IPMAT Rohtak Application form 2023.
Step 3: Click on register and agree to the terms and conditions as in the pop shown below.
Read more: Important topics for the IPMAT 2023
Step 4: To register, fill in the columns shown in the picture below to receive the user ID and password.
Step 5: Agree to the declaration and click on 'Submit'.

Step 6: Relogin with your User ID and Password.
Fill in all mandatory fields like qualification details, communication details, date of birth, category, etc.
Note: There are instructions to be followed while filling out each entry, and all the details are given on the official website.
The information asked in the IPMAT 2023 Application Form
Below are the details to be entered during the IPMAT Application Form 2023 filling process.
| | |
| --- | --- |
| Name | Mention your full name as mentioned on your Class X certificate |
| Date of Birth | Mention your date of birth in the format DD/MM/YYYY as mentioned in your Class X Certificate |
| Gender | Mention Male/Female/Transgender |
| Mobile Number | Enter the Correct and Valid mobile number (10 digits) |
| Address | Mention complete address |
| Nationality | Choose correct Nationality |
| Pin code | Mention the six digits Pin code of your area |
| State | Enter your state name |
| District | Mention your district (if any) |
| Town/City | Enter the name of your town/city with the correct spellings |
| Language Known | Mention the languages you know how to speak, write, and read |
| Category | Mention your category correctly, i.e., General, OBC, SC, ST. |
Personal Details Asked
| | |
| --- | --- |
| Details Asked | To Be Filled |
| Name | Enter Name in Bold Letters |
| Gender | Choose gender among Male, Female, or Transgender, from a drop-down list |
| Category | Choose your category from the drop-down list |
| Academic Details | Enter your qualification as asked, and ensure the exact marks are given as per the scanned documents uploaded |
| Correspondence Details | Fill in the communication details, which include email address and phone number |
| Uploading Documents | Upload all the required documents in JPEG or JPG. Format |
| Payment of the Form | Online Payment has to be done with Net Banking only |
Read more: Short tricks to solve multiplication and division questions in IPMAT
5. Payment
The eligible applicants must pay a non-refundable registration fee of Rs. 4175/- (Four Thousand One Hundred Seventy-Five Only).
Note: The IPMAT application fees mentioned above are for IIM Rohtak integrated program.
Check: IPMAT 2022 Cut-Off Analysis Indore
Issues with filling out the IPMAT Application Form 2023
With good internet speed and a computer, completing the application online is not difficult.
However, if you still face any technical issues or have any queries, you can reach out to the following:
Helpdesk Contact Details:
For IIM Rohtak
Number: +91 7996104555
Email ID: ipmrohtakhelpdesk@gmail.com
For IIM Indore
Number: +91 9513630765
Email ID: ipmadmissions@iimidr.ac.in
For IIM Ranchi
Number: +91 0651 2280113
Email ID: ipm.admissions@iimranchi.ac.in
Check: IPMAT Placements and Jobs 2023
Conclusion
If you follow the instructions in this article, your application process will likely be completed successfully.
Don't forget to complete and submit your application before the deadline to ensure that it's considered!
Read more: Enhance your preparation by attempting free IPMAT Mock Tests