Summary: You must plan an exam strategy for IPMAT 2024 so that you can make the most of your preparation. Make an IPMAT exam day strategy by completing the IPMAT syllabus at least a week before the exam and shifting your focus to revising concepts. As we all know, a good result is determined not by how well you are prepared, but by how well you write in the exam and how you handle those crucial exam hours. Sometimes you make silly mistakes that cost you important points. This article is all about IPMAT Entrance Examination. In this article, we have discussed all the steps you should follow to pass the IPMAT Entrance Examination. We have also mentioned all the important information about the IPMAT 2024.
Mostly on exam day, we forget something or other because of the nervousness, stress of the exam, anxiety, and many other things going on in our minds.
IPMAT (Integrated Programme in Management Aptitude Test) is one of the most important entrance examinations in a student's career. After passing the IPMAT entrance examination, a student's life is half settled, and the other half will be settled after completing the IPM (Integrated Program in Management) course from IIM Indore, IIM Ranchi. And now IIFT also.
In this article, you will get to know about all the mistakes you should avoid before going for your IPMAT 2024 exam and what instructions you should follow to avoid that.
The first and foremost step is that 3 things that are most important for the

IPMAT Entrance Examination

should be kept on your table before the night of your Entrance test.
The 3 things are: It is your admit card with the photo fixed on it, and the admit card should also be self-attested. Original Photo ID proof, Photocopy of your original Photo ID proof, and that photocopy should be self-attested.
You should check your name on the admit card. Your name mentioned on the admit card should be the same as mentioned in your Photo ID proof.
IIM Indore has mentioned that only the mentioned 3 things should be with you at the examination hall. Unlike IIM Rohtak, they have allowed water bottles, pens, and paper along with these 3 things mentioned above.
IIM Indore will provide you with everything you require to attempt the IPMAT entrance examination.
Mistakes to Avoid on IPMAT 2024 Exam Day
There are many mistakes that students make on their exam day. So some of the important mistakes that you should avoid are mentioned below:
The first and the most important mistake to avoid is not failing to wake up early in the morning. Usually, this mistake happens because, before the night of the examination, students use to study till late at night to do the revision, but this method is wrong. Instead, you should wake up early in the morning and do the revision with a fresh mind.
The entry gate will be open from 8:00 am to 9:30 am for the IIM Indore IPMAT entrance examination. Any latecomers will not be attending. So wake up early in the morning to avoid being late.
The second most important thing to remember is not to be casual about traveling and the monsoon. This year IPMAT was conducted in July, and July is considered the monsoon season month. So, as we all know, in monsoon season, there is a lot of traffic on the road. Also, don't hesitate to seek and check out the best online coaching for IPMAT.
So, be serious about traveling because if you have not reached on time, then your IPMAT preparation is of no use.
For your life-changing entrance examination, be serious and leave your home before time so that you arrive on time or before time.

What and What Not To Carry For IPMAT 2024 Exam
Generally, students forget to read the instructions mentioned on the admit card. One of the important instructions mentioned on the admit card is not to carry any jewelry/metallic item or even pen, pencil or paper with yourself at the exam center.
There are many things that you cannot carry along with you at the exam center i.e. any kind of Chain, any kind of Bracelet, any kind of ring, and you cannot wear a belt also.
Read more: Important topics for the IPMAT exam
The students are not allowed to carry smartphones/watches or even their car/bike keys also. Sometimes they don't allow your car or bike key also then in that case you have to request them and give them the keys of your vehicle and giving them the keys is not safe because that is not theirs duty to look at our belongings. They will keep it but it is not safe.
So, the best thing is that you should come to the center by cab or with any of your friends or guidance. Because they will wait for you in the car then you will not stress about your keys also.
Don't go with any preconceived notion about the test pattern because the IIM Indore IPMAT entrance examination was held in 2019 and for the last 2 years there is no update about the exam pattern so don't think that the pattern will be the same as in 2019. It might be the same or different that you will get to know at the time of the examination only.
IIM Indore has not released any kind of mock test so we can confirm the exam pattern with that. So, don't go with the preconceived notion that the test pattern will be the same as in 2019. Be prepared for any kind of change in the test pattern.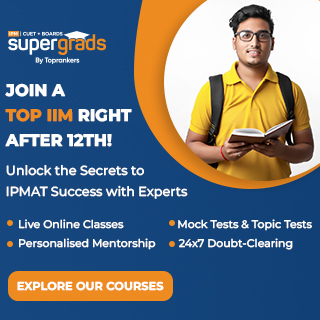 Tips for Understanding IPMAT 2024 Exam Question Paper
In 2020 and 2021, the IPMAT entrance examination was 1.5 hrs but this year it is of 2 hours. The number of questions from each section has not been disclosed yet.
Don't be very casual about reading the test instructions because generally what students do is that do not read the instructions at the time of examination. They don't read the test instructions because before the final examination they have attempted around 20 to 25 mock tests and in each mock test, the test instructions are the same. So, at the time of the final examination, students usually avoid reading it because they know it already. But that is wrong. You should read it. It is important for you at the time of the final entrance examination.
Reading the instructions will help because you will get to know which section or questions there is negative marking. For example, the short answer type question in the quantitative ability section does not have any negative markings, whereas the MCQs in both sections have negative markings. So, reading the instructions is helpful.
Do not get perturbed if you find initial questions tough because that will disturb your focus and will make you stressed and nervous. And then you will constantly think that all the questions are tough and you are not able to do it, but actually, the other questions are easy, but due to the initial tough questions, you got disturbed and stressed that why all the questions are tough for you.
Be relaxed if some of the initial questions are tough so that these 3 or 4 questions do not affect your whole examination. So be cool and calm and think positively only while giving the IIM Indore IPMAT entrance examination.
Read more: Short tricks to prepare Maths for IPMAT exam
General Tips For Writing IPMAT 2024 exam
IIM Indore IPMAT entrance examination is more stressful than IIM Rohtak or JIPMAT. In this entrance examination, a lot of minds are used to solve the questions. So, my next instruction is that do not forget to give yourself and your mind a break of 30 seconds after each section.
By taking a small break of 30 seconds, you and your mind will be refreshed, and you will be able to crack other sections easily. IIM Indore IPMAT entrance examination is taxing. So, before attempting each section, you should give yourself a small break of 30 seconds. That break will help you to enhance your performance.
Read more: Short trick to managing IPMAT exam and board exams
For 30 seconds, just relax, forget everything and just relax and be calm. Close your eyes and keep your mind in peace so that when you will start attempting the next section, you are fully charged and fresh. These 30 seconds can act like magic for you in the examination.
Now, the most important instruction is not to take covid instructions casually. For the last 2 years, covid has been at its peak but this year it is not at its peak but everybody is scared about it. So, take the covid instruction lightly if in the admit card it is mentioned that you have to wear a mask, gloves, or any other covid precaution thing then that you have to wear and bring with you.
The candidates have also received a message from IIM Indore about the timing. At what time do they have to reach the examination center to avoid being in a crowd and follow the social distancing norm of the pandemic?
Read more: Important idioms and phrases for the IPMAT exam
The IIM Indore has allotted every candidate a different time, and they have divided students into time slots or batches to follow the covid social distancing norm.
The last and final mistake to avoid is that do not to forget to take the blessings of your parents and elders. You all prepared well for the examination, but there is a thing to do not leave on such a special day without taking blessing from your elders.