Summary: All India Law Entrance Test is entirely different from school-level examinations, as you are required to give your best attempt within a limited time. Many of you might face problems while juggling between different subjects. Time prioritization is more important than time management because every minute of the exam will decide your rank. Therefore, prioritizing things effectively play a vital role in securing a seat at NLU, Delhi. In case the problem is to do with your inability to concentrate, there are a few things that you need to take care of to ensure that your study space is distraction-free. Let's know how you can enhance your AILET exam preparation.
The All India Law Entrance Test (AILET) is one of the prestigious entrance exams in India beyond engineering and medicine.
The competition is very high for this entrance exam since more than 18,000 aspirants compete every year for 110 seats. To stand out from the crowd requires a lot of dedication, hard work, and preparation strategy.
The National Law University, Delhi, has revised the All India Law Entrance Test paper pattern. The changed pattern will make tackling the AILET exam easier this year. Such fantastic news!
We know you all are aiming for high scores, but on the other hand, you might be wondering about how to plan your preparation smartly.
To ease your preparation, we have enlisted a few AILET Preparation Tips 2024 that help reduce your anxiety and will give you a sigh of relief!
How to Prepare for AILET 2024?
As per the revised Paper Pattern of the AILET Exam, the questions are from only three subjects, i.e., English, legal reasoning, general knowledge & current affairs.
It is easy to prepare for the All India Law Entrance Test with only three subjects. However, it is necessary to streamline your preparation and pave the way accordingly to strengthen your weaker areas and polish your strong areas.
Also, time management and speed play a vital role in qualifying for the exam. Therefore, focusing on improving your reading speed and time management will give you an edge over others.
If you are studying in 12th grade, you have to plan your preparation wisely. Make sure to allocate at least 2 hours daily for AILET preparation.
Also, train yourself for long reading hours and solve at least two mocks weekly to analyze your preparation levels.
AILET Preparation Strategy 2024
You might feel why it is necessary to prepare a study plan, but note that it plays a vital role in reaching your goal.
Before starting your AILET preparation, you need to prepare a well-structured study plan for AILET at your convenience. Also, make sure to distribute the topics from each subject equally in the study plan.
For instance, if you include a tricky topic from one subject, pick an easy topic from another subject. This builds more interest while studying rather than getting bored.
The study plan must also include solving previous year's papers and revising at least one to two hours.
I hope you are clear about the initial stages of preparation. Now, let us get deep into preparation strategies.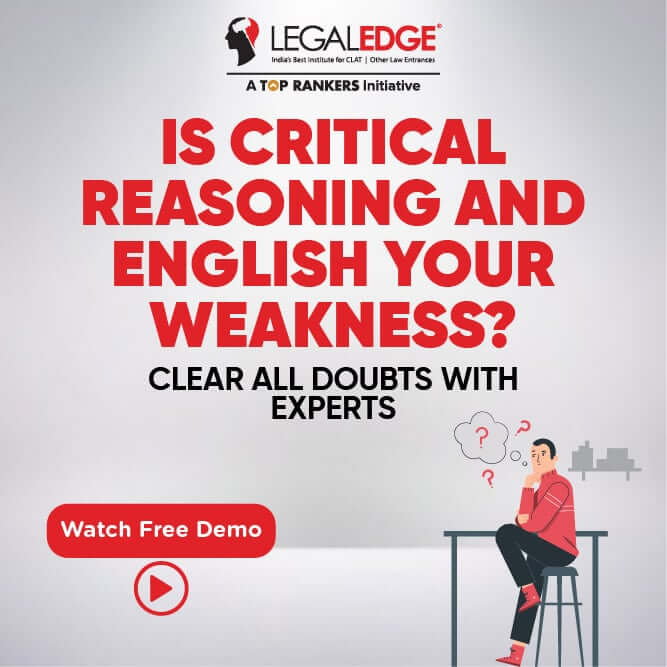 AILET Preparation Tips 2024: Important Topics
As we all know, the syllabus for the AILET exam is vast. Before you begin with the preparation, make sure to go through the detailed syllabus.
This way, you can know the essential topics for AILET Exam and plan your preparation better. You can expect most of the questions from the topics given in the table below.
| | | |
| --- | --- | --- |
| Subject | Must-Do Topics | Should Do Topics |
| General Knowledge | Current Affairs | Science & Technology, Geography, Modern History |
| Reasoning | Difficult Data Arrangement, Critical Reasoning | Analytical Reasoning (except DA) |
| English | Grammar | Reading comprehension and other related topics |
Subject-wise AILET Preparation Tips 2024
Each of your preparation strategies may vary, but reaching the desired goal is important. You may know the overall preparation strategies, but what about subject-wise preparation?
Proper and structured subject-wise preparation is essential to score above the Cut Off for AILET 2024. Go through the below subject-wise AILET Preparation Tips and plan your preparation accordingly.
How to Prepare for AILET 2024 English Section?
This section holds a weightage of 35 marks and mainly focuses on your proficiency in grammar and comprehension.
It would help if you brushed up on your basic grammar skills to tackle sentence corrections, idioms, and phrases, fill in the blanks, and others during your preparation for the AILET English section.
Try to learn at least 4 to 5 new words in a day and use them in your daily life.
Reading books, newspapers, and magazines will help you get a good grip on vocabulary.
How to Prepare for AILET 2024 Logical Reasoning?
In this section, the questions are designed to test your logical abilities like, understanding logical links, identifying patterns, correcting inconsistent statements through questions, logical sequences, analogies, etc.
The following are some of the best tips to enhance your AILET Logical Reasoning Preparation.
Knowing fundamentals alone is not enough to clear this section unless good practice.
Focus more on syllogism, analogies, logical sequence, and blood relations.
Practising previous years' papers is important to get a good hold of this topic.
Also, try to practice more and more puzzle-related questions that demand more logic.
Enhance your preparation with the help of the Best Online coaching classes for the AILET exam.
AILET Preparation Tips for General Knowledge 2024
To score well in the GK section, you should develop an interest in reading newspapers and be aware of the latest happenings and events worldwide to crack this section.
The following are a few tricks to easily attempt the AILET GK section in the upcoming exam.
You should be aware of the important events of at least the last 8-9 months.
Note down all the important dates related to sports, history, etc.
Refer to major newspapers and magazines to prepare Daily Current Affairs.
Ensure you revise the topics you learned on the previous day and the same day.
AILET Preparation Tips 2024: Best Books
Selecting the right books for the AILET 2024 preparation is challenging as many offline and online resources are available.
You can refer to the following best Preparation Books for the AILET exam, as these books cover all the topics per the syllabus.
High School English Grammar by Wren and Martin
Lucent's General Knowledge NCERT Book (History and Civics)
Logical Reasoning by Jain Prateek
Time Management Tips for AILET Exam 2024
You will get a total of 90 minutes to complete the exam. Therefore, time management is an essential factor in the AILET exam.
Compared to CLAT, the time provided for the AILET exam is more diminutive. However, 90 minutes in itself is a lot of time. The following are some of the best time management tips for AILET 2024.
The first and most important thing is to read the passage carefully. You do not have much time to spend reading questions again and again. So, make sure you read it, focusing on it the first time.
There will be some tricky questions in every section, but you should be very clear about which questions you want to attempt and leave.
Be aware of the minor tweaks given in the passage or questions. Also, try to avoid guesswork in the exam.
Do not waste more time on a single question if you cannot identify the correct answer. Move to the next question if you feel the question is tricky and time-consuming.
Take up at least one to two Mock Tests for AILET in a week, as this will help improve your time management skills and problem-solving skills.
| | |
| --- | --- |
| Section | Time Limit |
| English | 20 mins |
| Mathematics | 12-14 mins |
| Logical Reasoning | 25-30 mins |
| General Knowledge & Current Affairs | 6 mins |
| Legal Aptitude | 20-30 mins |