Summary: Regarding the CLAT Exam, time prioritization is more important than time management because every minute in the exam will decide your rank and the college you land. Therefore, prioritizing things effectively is vital in securing a seat at your dream college. It is a common opinion that there is too much to study during exams and little time. However, planning your preparation helps you think about it strategically and succeed in the upcoming exam. Let's know how prioritizing things and preparing a to-do list will help enhance your preparation.
The Common Law Admission Test is one of the most competitive law entrance exams, with approximately 70,000 students competing yearly to secure admission to 22 National Law Universities.
It might be a bit frightening to compete with all these aspirants to secure a seat in NLU. However, if you are committed and dedicated to your goal, cracking the exam is not a big challenge!
Are you wondering how to prepare for CLAT 2024? This post shall walk you through tips and tricks to enhance your preparation levels and score good marks in the upcoming exam.
Top 5 Tricks to Crack CLAT 2024 Entrance Exam
As the exam is around the corner, you should be smart enough to create a preparation plan for the CLAT Entrance Exam 2024, as all sections play a vital role in qualifying.
Let us remind you that the Common law Admission Test preparation is a lot about balancing sections. Yes, you read it right!
You should divide your CLAT preparation 2024 into two parts:
Concept building: 75% time
Practising question papers and analyzing your performance: 25% time
We have provided the best five tips that help enhance your preparation levels for the upcoming exam to ease your preparation.
What is the CLAT 2024 Preparation Strategy?
Due to the increasing competition, it might be difficult for most of you to prepare for the CLAT exam. However, it is easy to crack the exam by following a well-structured study plan for CLAT and a preparation strategy.
Following a single timetable that will help you achieve good results is a myth because each one of your preparation strategies may vary.
Hence, we recommend you prepare your timetable based on your convenience and the number of hours you can study.
Instead of making a timetable for 7-8 hours a day, creating a task table that includes 5 to 7 tasks a day is always recommended.
You must write it down what to study each day, as it will help you not miss out on any topic.
Be specific: Don't just write the subject's name to study on a particular day. Instead, try to write down the subject name followed by the topic name, book name, and page number.
Suppose you are preparing from LegalEdge's study material; write down the assignment numbers.
Also, ensure to strike out after completing each topic or assignment, as it will help motivate you and build your confidence.
When Should I Start my Preparation for CLAT 2024?
Many of you might be worried about when is the right time to start your preparation, how to begin your preparation, and more. Well, we are here to help you with your queries.
As per the expert's opinion, you must make sure to start your preparation at least 5 or 6 months before the exam.
If you start your preparation early, you will have sufficient time for preparation, practice previous year's CLAT question papers, and more time for revision.
Also, it will help you get a fair idea about where you are committing mistakes and how to overcome them.
How To Prepare For CLAT 2024 Exam at Home?
It might be difficult for most of you to step out of your home to prepare for the CLAT exam because of the ongoing national crisis.
Hence, it is essential to inculcate skills and tactics to manage your preparation at home. Here are some full-proof tips that help you better understand how to prepare for the CLAT Exam at Home.
The mentality of Study Online
Analyzing your schedule or day plan can help you understand this a little better. You have always planned your day with many other recreational activities or new learnings along with your study hours.
The activities you are getting involved in nowadays because of being at home around everyone are overpowering the time devoted to exam preparation.
Now that the exam is around the corner, you must seriously build in the mentality of "Study Only."
Aim to study for 10-12 hours each day, keeping aside all the curricular activities you have been into.
Simplifying one's day by maintaining coordination between essential/necessary tasks and study is the only key to acing the exam at this point.
Scheduling is Important! Most Important!
Plan your study schedule with divisions of "Subject," breaking it down to the topic and then the medium of study.
The medium can be CLAT Preparation Books, sample papers, mocks, modules from the online coaching, or your study notes.
Question Yourself: Where did my last 10 Days go?
Recall and note down a brief of the activities done in the last ten days. This shall give you an understanding of the areas where you have failed in your daily planning.
Noting down this shall help you minimize distractions and focus on preparation.
Can I Get Section-Wise CLAT Preparation Tips 2024?
As per the CLAT exam syllabus, there are five subjects included in the Common Law Admission Test: English, Maths, Legal Aptitude, Logical Reasoning, and GK/Current Affairs.
Here is the subject-wise preparation strategy for CLAT 2024 Exam. Try following these tips and enhancing your preparation levels to succeed in the upcoming exam.
How to Prepare for CLAT English 2024?
Just like the age-old proverb, 'Rome was not built in a day; similarly, you can not learn the English language in a day, and you need to read a lot to become an expert.
Read the Newspaper editorial and opinion columns to improve your

CLAT English preparation

.
The English used in Newspaper editorials and opinion columns is good enough to improve your English.
Improve Grammar
You must study the basics of grammar, and you can do this even from school-level grammar books to strengthen your basics.
However, you must correct your grammar and fix the mistakes to secure a good rank in CLAT 2024.
Extensive Reading
Read More to improve your language. Read books, magazines, newspapers, and novels to enhance your vocabulary.
To score good marks in the English section, you must prepare well for

CLAT English, including Comprehension

.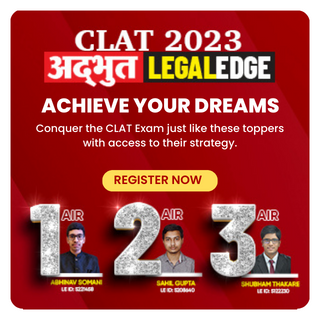 How to Prepare for CLAT Mathematics Section?
Mathematics may not be a big deal for law aspirants, as the questions are designed to test you on elementary mathematics, i.e., basic maths you have learned until class 10.
So, you can easily score marks in this section. However, you require regular practice!
You can follow the CLAT Maths Preparation Tips below to enhance your preparation.
Memorize tables up to 20 and squares up to 30 regularly.
Going through NCERT Mathematics textbooks of classes 9 and 10 is more than enough.
Identify the relevant topics and have a clear understanding of each concept.
So relax. Rewind and go back to your school textbooks a bit.
How to Prepare for CLAT Legal Aptitude Section?
Legal aptitude continues to be the most crucial section of CLAT 2024. The questions in the legal aptitude section are designed to test your problem-solving ability in legal issues.
You can apply a time management strategy while solving legal aptitude questions based on legal matters, public policies, and moral philosophies.
The following are some of the best Preparation Tips to enhance your CLAT Legal Aptitude preparation.
Important book references for this would be the Constitution of India and the Legal Penal Code.
Refer to books like "Most commonly used legal terms" and "legal glossary terms."
Improve your legal vocabulary by reading the newspaper or watching the news
It is also good to read law magazines and have a more legal perspective on issues or have a more legal opinion on issues that matter.
How to Prepare for CLAT Logical Reasoning?
Following are some of the best CLAT Logical Reasoning Preparation Tips that you can follow during your preparation.
Clear your concepts and understand the foundation of the topics included in the syllabus.
Focus more on blood relations, directions, number series, deriving conclusions, etc.
Study and solve questions from verbal and non-verbal reasoning.
Solve as many questions as possible from previous year's papers.
Try to solve puzzles and games that demand logic daily.
How to Prepare for CLAT General Knowledge and Current Affairs?
Basic knowledge of History, Geography, and Science will be preferred as a great advantage.
One of the best

CLAT GK Preparation tips

is making a habit of reading the newspaper daily.
Do not cram dates or events. Instead, understand why something happened. Get an idea behind these matters.
Prepare your notes that include important dates, awards, etc. This will help during your revision time.
For current affairs, you can prefer significant newspapers and monthly magazines.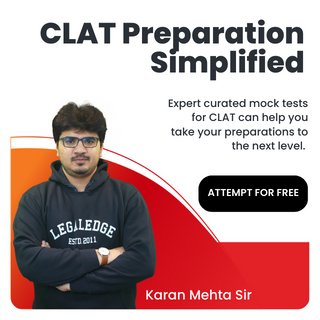 How to Prepare for CLAT 2024 Exam in One Month?
As long as you have been consistent in your CLAT preparation, there is no need to take pressure during the last month.
Ensure to put all your efforts into last-month preparation because these 30 days can change how you will perform in the exam.
To help you better understand how to prepare for the CLAT exam in one month, we have provided some simple tips in the post below.
Week 1
Try to learn 100-120 new words.
Read the newspaper daily and watch the news regularly.
Clear all the basic concepts and learn all fundamentals from each subject.
Go through the weekly magazine to know all the happenings worldwide for that particular week.
Try to solve at least 1-2 mock tests regularly.
Week 2
In week 2, attempt the mock test and analyze your performance in the exam.
After analyzing, know your weak areas and learn how to improve in those areas.
Try to solve as many questions as possible from previous year's papers.
Read monthly magazines and solve

daily quizzes on GK

to test your preparation level.
Practice English Questions from idioms, proverbs, fill in the blanks, root words, close test, etc.
Week 3
Revise all the topics that out have prepared in the last week.
Solve as many previous year papers as possible to improve your time management and problem-solving skills.
Try to solve at least two mock tests every day.
Analyze your performance and try to work on the weak areas.
Week 4
In the last week of preparation, it is expected that many students will get panic. But with proper preparation, it is easy to clear the CLAT exam.
Read the newspaper daily till the end of the exam.
Attempt

CLAT mock tests

and analyze your performance after completing each mock test.
Try to improve your weak areas.