Are you still in Class 11 and have started thinking about a law career, now is the right time to begin exploring CLAT.
If you start your preparation from the 11th class, you have almost two years to prepare for the CLAT exam, which is more than enough to crack the exam on the first attempt.
However, despite this, the question arises as to how to prepare for the Common Law Admission Test from class 11 when you are already overburdened with schoolwork. Well, don't get panic!
In this post, we have cumulated some simple tips provided by our experts at LegalEdge to help you better understand how to prepare for CLAT from class 11, essential topics, and more.
How to Start CLAT Preparation from Class 11?
The Inability and difficulty in dividing your time between CLAT preparation and school studies can sometimes cause you to lose confidence affecting your overall performance.
So, if you decided to prepare for the Common Law Admission Test from class 11, it is really essential to create a proper study plan that helps manage board exams and CLAT preparation.
If you are starting your preparation early, you will have ample time that can be utilized to develop the core skills required to crack the exam.
Here are some tips that you must follow from class 11:
Develop a habit of reading the newspaper at least for 45 minutes daily.
Make sure to read the editorial section and legal news thoroughly.
Read legal magazines and articles that contain complex legal texts and terminology.
While reading the articles, try to identify the arguments and draw conclusions.
3 Phase Preparation Strategy For CLAT From Class 11
You might be wondering about where to start and how to start your CLAT exam preparation when you are in class 11. Well, no need to worry!
Go through the different phases explained below to get a deep insight on preparation for CLAT from class 11.
Phase 1
The first stage of preparation involves familiarizing yourself with the CLAT Entrance Exam by reviewing the basics.
It is essential to give yourself the first six months to familiarize yourself with the syllabus, NCERTs, and other basic books.
Phase 2
The second phase should be concept building, a time period dedicated to diving into specific details of subjects.
This second phase (concept building) will be the most important and will significantly affect your success.
Phase 3
In the third phase (the last six months), you should focus on preparing for exams. During this phase, you will be solving the previous year's CLAT Question Papers, mock tests and quickly reviewing the concepts you learned during Phase 2.
The third phase of CLAT preparation should begin during the second half of the 12th grade and continue until the CLAT itself.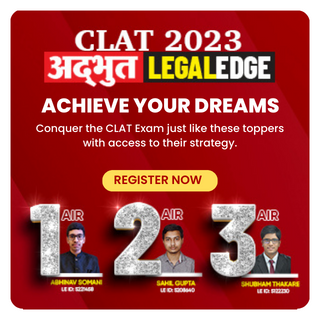 Where to start preparing for CLAT from class 11?
The answer to this question depends on your level of understanding. It would be best if you start by reading the best resources.
When it comes to CLAT, NCERTs should be the first point of reference. Studying NCERTs on India's Constitution, Indian politics, and English grammar will help you build the foundation to prepare for CLAT.
In addition to completing the NCERTs, you can gradually begin reading mainstream books used in CLAT preparation.
Preparing a Study Routine
A well-structured structured plan and routine for CLAT are essential to achieving significant results. CLAT preparation requires a consistent approach, which can only be maintained by following a study routine.
Many of you find it difficult to manage your time while studying for the Common Law Admission Test when in class 11th. It is not easy to attend school and prepare for CLAT at the same time.
Thus, it is essential to create a study routine that is practical and doesn't burden you with overstudies. It is recommended to ensure that CLAT preparation takes around three hours each day in your study routine.
You can spend the remaining time on school and physical activities. Note that as your CLAT exam day approaches (in 12th grade), you will have to spend more time preparing yourself for the exam.
Go through the Exam Pattern & Syllabus
Knowing the detailed paper pattern will let you understand the structure of the exam, mode of exam, type of questions, and more.
Exam mode - Pen-paper based test
Total questions - 150 questions
Exam duration - 120 minutes
Total questions - 150 questions
Total marks - 150 marks
Negative marking – Yes, there is negative marking. 0.25 marks are deducted for each wrong answer.
Also, it is very essential to know the detailed syllabus, as it will help you get an idea about the important topics of CLAT.
| | |
| --- | --- |
| Section | Important Topics |
| English | Comprehension passages, Grammar, word meanings, incorrect/correct sentences |
| Mathematics | Algebra, profit and loss, time and work, average, speed and distance, permutation-combination and Venn diagrams, statistical estimation, Mensuration |
| General Knowledge and Current affairs | Static general knowledge includes history, Polity, Geography, Environment, National and international importance, sports, new appointments, awards, honours, etc. |
| Logical Reasoning | Logical and Analytical reasoning skills |
| Legal aptitude | Study of law, Research aptitude, Problem-solving ability, Questions based on hypothetical situations, Important court decisions |
How to Prepare for all Sections of CLAT from Class 11?
There are five subjects included in the CLAT exam: quantitative ability, logical reasoning, general knowledge, and current affairs, legal aptitude and reasoning, and English.
Get quick tips on how to study these subjects to score well in the upcoming exam.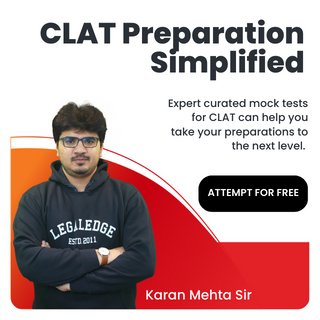 CLAT Mathematics Preparation Tips
It would help if you practiced the section again and again for accuracy especially. In a time-bound exam with negative marking, the quicker you are, the more time you spend on the rest of the questions.
Following CLAT Maths Preparation Tips will help enhance your problem-solving skills. The more accurate you are, the more marks you gain.
CLAT General Knowledge & Current affairs Preparation Tips
Awareness is the key to this section. You should make a habit of reading newspapers and watching the news daily will help enhance your CLAT GK Preparation.
A basic understanding of history, geography, and science will be one of the advantages. The Hindu will do and you may also try to use the entire free portal that provides current affairs.
CLAT Legal Aptitude Preparation Tips
Read about the legal issues from the last 10 months, focusing on landmark judgments and important cases from the past year.
Check out new amendments and enactments passed by the parliament during monsoon and winter sessions, and contemporary like LGBTQ rights or the death penalty.
Reading legal theories like torts, constitutional law, and criminal laws will help enhance your CLAT Legal Aptitude Preparation.
Before taking the CLAT exam, reading about static and current legal issues will help you understand the passage more easily and more quickly.
You might also end up in a situation where you have limited time and cannot read the entire passage. In this situation, your prior knowledge of the legal issue will come in handy as you could answer a couple of questions without reading it word for word.
CLAT Logical Reasoning Preparation Tips
The logical Reasoning section mainly tests your reasoning skills. You can expect around 28-32 questions from this section.
Try to analyze the question and then proceed to answer them. The best way to prepare for the CLAT Logical Reasoning section is by solving the previous year's question papers and sample papers.
This way you will know what type of questions are asked and how to attempt them. You will also be aware of the difficulty level of the questions.
CLAT English Preparation Tips
To prepare for this part, you should read as much as possible. Learning new vocabulary and reading passages will make you more proficient in this part.
Read the Newspaper editorial and opinion columns to improve your CLAT English Preparation. Study the basics of grammar and this can be done even from school-level grammar books to strengthen your basics.
Try to learn at least 5-10 new words along with their meanings to improve your vocabulary. Also, practicing comprehension passages will speed up your answering speed.
Which Books to Refer to While Preparing for CLAT from Class 11?
For preparing for any exam, books are the most reliable source. It might be confusing for most of you to choose the right book, as there are many online and offline books available.
Check out the table below to know the highly recommended books for CLAT.
Subjects
Recommended Books
English language
High School English Grammar and Composition by Wren & Martin
Objective General English by RS Aggarwal
Legal reasoning
Universal's CLAT Guide
Legal Awareness and Legal Aptitude by AP Bhardwaj
Elementary Mathematics
Quantitative Aptitude by RS Aggarwal
Class 10th NCERT Textbook
Logical reasoning
Verbal and Non-Verbal Reasoning by RS Aggarwal
Analytical Reasoning by MK Pandey
General Knowledge and Current Affairs
Pearson General Knowledge Manual
Manorama Year Book
Online Resources
LegalEdge – TopRankers
LegalEdge-TopRankers offers 40 mock exams, Sectional exams, topic-based tests, and speed tests. Using LegalEdge's CLAT prep checklist, students ensure all necessary topics and formatting are followed throughout the CLAT prep period.
General Tips to Crack CLAT with High Score
Here are a few general tips to Crack CLAT Exam in one attempt. Try to follow these tips for better results.
Plan your Study Routine: Make sure you plan your daily routine and study routine accordingly. Don't waste time on frivolous things. Yoga and Exercise are recommended for better health and to keep you focused and relaxed.
Complete the syllabus: Study the entire syllabus paying more importance to the important topics.
Prepare notes: Make notes and write down important points from your studies so that you can revisit them quickly the next time.
Discuss with Friends and Teachers: Make a habit to discuss the syllabus and notes with friends and teachers. By doing this you will often get to learn a few new things and be able to expand your understanding of certain topics.
Don't complicate your strategy. Make your process as simple as possible. Do not forget that you have regular school classes and 12th Board exams in addition to the preparation.
Be consistent and religiously devote some hours daily for practice to make sure you can stay ahead of everyone else.