Cracking CLAT exam with a high score is everyone's goal, but how do you reach your goal? Along with just studying the topics mentioned in the syllabus, there are much more you need to do.
To help you with the smooth preparation and crack CLAT in first attempt, our experts at Legal Edge (a pioneer in providing the best online guidance for law entrance exams) have shared some amazing tips and study plan.
Following these tricks and suggestions shall definitely help you ace the exam.
Are you still having any queries or doubts regarding the preparation? Well, scroll down to know more about cracking the CLAT exam with a high score on the first attempt.
What is the Time Table to Crack CLAT 2024 in First Attempt?
Making a proper study plan is a must to crack the exam in the first attempt, Karan Mehta, director of the Legal Edge (a pioneer in providing the best online guidance for law entrance exams) quoted.
He recommends the following timetable to score better in the upcoming CLAT exam. Try to include topics from all subjects of the CLAT Syllabus. This does not make you feel bored as you are reading various topics:
| | |
| --- | --- |
| Topic | Preferred Time Allotment |
| Reading Newspaper | 2 hours |
| Topics from Error Log | 1 hour |
| Vocabulary (High-frequency words, Regular Newspaper reading) | 45 mins |
| Current Legal Knowledge | 45 mins |
| Mathematics | 1.5 hours |
| GMAT Official Guide | 1 hour |
| Revising today's topics and preparing for tomorrow's topics | 2 hours |
| Puzzles/Analytical Reasoning | 45 mins |
| Passages & Grammar | 1.5 hours |
| Revision for the day and planning for the next day | 1.5 hours |
| Practice Mock Tests | Saturday & Sunday |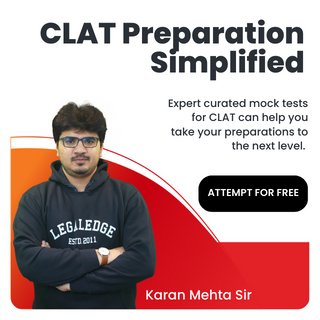 How to Score 25+ Marks in English?
The English Section holds a weightage of 25-28 marks in the CLAT exam. The questions are designed to test your understanding of the English language, Karan quoted.
The first step is focusing on improving your Grammar and Vocabulary.
Try to avoid studying all the topics in one go. Instead, study 2-3 topics a day and revise them on a daily basis.
Make a habit of reading newspapers daily, preferably the Hindu.
In the grammar section, you will have to correct the errors in the given sentences.
Your grasping ability must be high. This will only improve with consistent practice.
The best way is to try to form different types of sentences out of the new words learned in a day.
Be familiar with sentence formation and word usage.
Learn at least 10-12 new antonyms and synonyms a day.
Start practicing with small passages followed by lengthy ones
Read About: CLAT English Preparation Tips
How to Score 30+ Marks in CLAT Legal Aptitude Preparation
The questions in this section are designed to test your legal reasoning, research aptitude, and problem-solving ability.
Firstly, understand the legal principles and jargons in a quick way
You must know how to apply the facts in the situations and arguments
Practice Short-Cut Techniques, too. But we would suggest not to ever rely on them. Go through them for knowledge and new ideas.
Try to understand the concepts. Do not go for cramming.
Allocate at least 2-3 hours of your daily time for the legal aptitude section.
Good Reading speed is very important to crack this section
Practice more and more questions from the previous year's CLAT Question Papers.
Try to read law magazines and have a more legal perspective on issues.
Read About: CLAT Legal Aptitude Preparation Tips
How to Score 30+ Marks in CLAT General Knowledge?
The GK section holds a weight of 25% of the CLAT exam. To clear this section, you must be aware of the Daily Current Affairs in the area of Economy, Indian Constitution, Awards, sports, etc.
Make a habit of reading the newspaper daily.
Static GK is also a part of the syllabus but most of the questions are based on current affairs in the exam.
There have been many legal events and issues in the past. You must be aware of all those events.
Prepare your own notes as this will help during your revision time.
Do not cram dates, events. Rather, understand why something happened. Get an idea behind these matters.
Refer to Magazines, Newspapers, E-Newspapers, Blogs, etc. to be more aware of all the happenings around the world.
Watch News Channels for at least 40 minutes per day.
Read About: CLAT GK Preparation Tips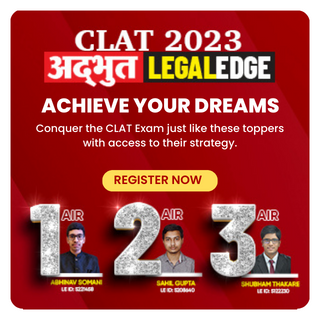 How to Score 25+ Marks in CLAT Logical Reasoning?
Under the new exam pattern, there will be around 28-30 questions in the logical reasoning section.
Firstly, the time you take to answer the logical reasoning question is very important.
Logical reasoning can be easily learned through practice.
Focus more on topics like blood relations, directions, number series, deriving conclusions, etc.
Go through several statements, arguments, and their solutions.
Solve as many CLAT Mock Tests tests as possible.
Set a timer every time you solve a mock test and try to finish all the questions in the prescribed time.
Do not spend more than 25 minutes solving this section.
Try to solve puzzles and games that demand logic.
Read About: CLAT Logical Reasoning Preparation Tips
How to Score Good Marks in CLAT Maths 2024?
Maths section holds a weightage of only 20 marks and the level of the questions would be that of an elementary standard. You can opt for the best
CLAT Online Coaching
to score good marks in the CLAT exam.
The first step is to make sure your fundamentals are clear.
Identify the relevant topics and have a clear understanding of each concept.
Memorize tables up to 20 and squares up to 30 on a regular basis.
Practice important formulas on a daily basis

Attempt more and more questions from previous year papers to enhance your speed

You can achieve all 20 marks from this section with the right amount of time given to practice

There is a time limit on the exam. Therefore, time management is of extreme importance.
Try to avoid guesswork, if you are not sure about an answer.
Move to the next question if you feel that the question is tricky and time-consuming.
Read About: CLAT Maths Preparation Tips