The proverb goes, "A goal without a plan is just a wish!"
You should be smart and strategic while creating a study plan for Common Law Admission Test preparations, as all subjects play a vital role in qualifying for the exam.
Your CLAT Study Plan 2024 must be prepared after analyzing the previous year's papers, and your strong and weak subjects, followed by a flexible timetable.
Some students may be quick to prepare their CLAT Study Plan, while others may need some help.
Here our experts at LegalEdge have curated the best CLAT Study Plan 2024 to ease your preparation.
Try to follow all the tips given in the post below and go through the video attached to find advice for your CLAT Study Plan 2024.
Prerequisites for Preparing the Best CLAT Study Plan 2024?
Firstly, you are required to focus on your strengths and weaknesses and allocate time accordingly. Also, making the study plan for the CLAT exam depends on the number of days left for the exam.
Divide the topics from most important to least important as per the weightage of each subject.
Make sure to distribute all the subjects in your daily plan.
Ensure to give extra time for the relevant mapping of cases while preparing legal topics.
Try to review your weak areas and allocate more time to topics that have a scope for improvement.
Don't begin your preparation with a tricky and tedious subject.
Take up the subject or topic that you love the most first and later move to other subjects.
Also, make sure to keep sufficient time for revision at the end of the day.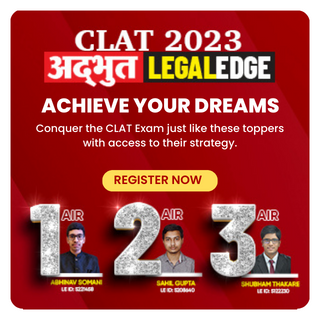 Firstly, remember study plan doesn't mean 24*7 you need to study. It is essential to relax and take breaks.
Along with completing the syllabus, the other aspects of preparation, such as revision, practising CLAT Question Papers, and attempting mock tests, should also be considered while making the study plan.
| | |
| --- | --- |
| Topic | Preferred Time Allotment |
| Reading Newspaper | 45 mins |
| Topics from Error Log | 1 hour |
| Vocabulary | 1 hour |
| Current Legal Knowledge | 1 hour |
| Mathematics | 1 hour |
| Puzzles/Analytical Reasoning | 45 mins |
| Passages & Grammar | 1-1.5 hours |
| Revision for the day and planning for the next day | 1.5 hours |
| Solve Previous Year's Papers | Weekly twice |
| Practice Mock Tests | Weekly Once |
How to Make CLAT 4 Months Study Plan?
Have a look at the detailed 4 monthly study plan for CLAT 2024 that experts design at LegalEdge. Following this plan would definitely help clear the exam on the first attempt.
1st Month: Study Maths, Verbal and Logical Reasoning, English
It is very important to be thorough with the detailed exam pattern and essential topics for CLAT before beginning the preparation.
Begin with studying topics from Maths, Verbal, Reasoning, and English one by one.
Make sure to read the English newspaper daily.
Ensure to complete as many topics as you can without fail.
Make a list of important terms from each topic so that it will be helpful in the revision period.
Ensure to study topics and concepts from GK and Legal Aptitude in the first month.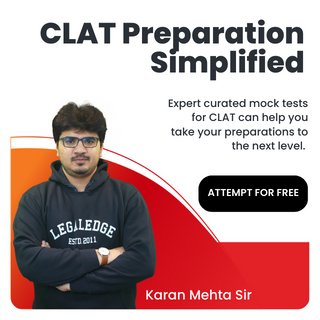 2nd Month: Study GK and Legal Aptitude
List out the topics from each subject in which you are strong and weak separately.
Begin with the preparation by allocating separate intervals for GK and legal aptitude
Acquire sound knowledge of judgment and amendments, as most of the questions are directly based on law.
Every 15 days, do your revision to remember whatever you have studied.
Try to attempt at least 1-2 previous year's papers in a week.
3rd Month: Begin Revision and Solve Question Papers
This month is entirely solving question papers and revising all the topics.
Try not to read any new topics now. This can create confusion and forget things.
Try to take up each question paper in the form of an exam environment.
4th Month: Practice Mock Tests
Practice as many questions as possible from the previous year's papers.
Attempt at least one

CLAT Mock Test

each day and also revise topics simultaneously.
This will help in analyzing your preparation levels.
Try to improvise on topics in which you are weak.
CLAT 3 Weeks Study Plan - Download Now
Section Wise CLAT Study Plan 2024
Many of you may have queries on subject-wise preparation, like what are the important topics, what should be focused on more, etc.
Well, go through the subject-wise study plan from the post below and enhance your preparation for the upcoming CAT exam.
CLAT Study Plan for English
In the English section, around 28-32 questions will be asked. This section basically tests your proficiency in Vocabulary and Grammar.
The English Language only comes with practice. Read, Re-Read to improve vocabulary
Be a voracious reader. Read everything you can lay your hands on.
Strengthen your grammar. Good Grammar ensures a good score in the English section.
Try to learn at least 5-10 new words per day and use them in your daily life.
Understand the usage of the words in sentences.
Read Newspaper and Editorial columns to improve your vocabulary.
Practice the mock test as it has become important for CLAT.
Read: CLAT English Preparation Tips
CLAT Study Plan for General Knowledge
The GK section includes 35-39 questions on sports, History, Art & Culture, Economics, and government. Policy, Books, Geography, Awards, National & International Events, Organizations, and people.
Make a habit of reading the newspaper daily.
For current affairs, prefer major newspapers and monthly magazines.
Make sure to acquire a sound knowledge of what's happening in the country.
Also, watch the news regularly to stay updated with all the latest issues happening across the globe.
Read: CLAT GK Preparation Tips
CLAT Study Plan for Mathematics
You need not be very good at Maths. Elementary and intermediate-level mathematics is all you need to clear this exam.
The primary focus of the CLAT exam will be English, Legal Aptitude, and GK. However, if you need to get a good rank, you need to brush up on your mathematics to score well in this section or you will be left behind.
Identify the relevant topics and have a clear understanding of each concept.
Practice previous year's question papers to know the type of questions and the difficulty level.
Try to analyze your performance after the completion of each question paper and improve in weaker areas.
Read: CLAT Maths Preparation Tips
CLAT Study Plan for Legal Aptitude
Legal aptitude continues to be the most important section of CLAT. Important book references for this would be the Constitution of India and the Legal Penal Code. You can refer to books on subjects like "Most commonly used legal terms" and "legal glossary terms".
As a law aspirant, you need to have sound knowledge of the most commonly used legal terms. Be thorough with all the Judgements, laws, amendments, and constitutional articles.
Also, be aware of important articles in the constitution, IPC, Legal Know-how, important personalities in Law, Right to information, important articles, acts, and bye-laws from the CLAT perspective.
Read: CLAT Legal Aptitude Preparation Tips
Study Plan for CLAT Logical Reasoning
This section basically tests your logical thinking and reasoning ability. Most of the questions are asked on topics like Critical and Verbal Reasoning, Analogies, Number Series, and Fact inference judgment.
Hence, you are advised to allow at least one hour time to prepare all these topics on a daily basis. Also, solve puzzle-related questions and games that demand logic.
Good Vocabulary will help you solve this section. Try to find the relationship between the two words in the right context.
Read: CLAT Logical Reasoning Preparation Tips
What is the CLAT Toppers Study Plan 2024?
Following the study plan recommended by toppers will help you how to concentrate during your preparation and what needs to be done to ace the exam easily.
Read the newspaper regularly till the end of the exam
Allot 1.5 to 2 hours of time daily for preparing the quantitative aptitude section. Note down all the important formulas in a notebook.
Try to attempt at least one

mock every 4-5 days.
After the completion of each mock test, spend at least 2- 3 hours analyzing the performance of each mock test.
At the end of the day, revise all the topics you prepared for that particular day.
Try to solve questions from analytical reasoning, legal reasoning, and grammar questions from other law entrance exams such as LSAT, AILET, SLAT, etc.
Focus on the most important topics of the year to score good marks in the current affairs section.
Solve 10-15 critical reasoning questions and 5 reading comprehension passages daily.
Follow

Daily Current Affairs

to be prepared for the general knowledge section. This way, you can stay updated about all the latest happenings across the globe.