Reader's Digest: Looking to crack CLAT 2024 and secure a spot in a top law school? Get ready for some expert tips and valuable insights on how to ace the exam. From effective study techniques to recommended resources, this blog will provide you with the ultimate guide on how to make a CLAT Study Plan 2024 and increase your chances of success. Don't miss out on this must-read article!
The proverb goes, "A goal without a plan is just a wish!"
Most of the exams you've taken so far have been all about memorizing and regurgitating information. But the CLAT entrance test is different. It tests your ability to think critically, understand, interpret, and reason. These skills can't just be memorized, they need practice and learning.
When you're preparing for the Common Law Admission Test (CLAT), it's important to be smart and strategic. Each subject is important for qualifying the exam, and each section requires a specific method of preparation based on its core concepts.
There isn't a one-size-fits-all study plan for CLAT 2024 aspirants. However, if you're looking for a good study plan and expert guidance, you're in the right place. Our experts at LegalEdge have put together the best CLAT study plan 2024 to make your preparation easier.
To succeed in your CLAT preparation, follow the tips given in the post below and watch the attached video. In the video, LegalEdge will guide you through the process of structuring your CLAT study plan for the upcoming entrance exam, taking inspiration from many CLAT toppers study plans.
13 Prerequisites for Preparing the Best CLAT Study Plan 2024
First, focus on your strengths and weaknesses and allocate your time accordingly.
Consider the number of days left for the CLAT exam when creating your study plan.
Analyze your mock tests and sectionals to identify areas where you need improvement.
Prioritize working on these problem areas based on their importance.
Be patient with topics like Logic Concepts and Quantitative Aptitude, as they may take time to master.
Make sure your daily study plan includes General Knowledge (GK) review, newspaper reading, and Quantitative Aptitude practice.
Consistency is crucial for retaining GK knowledge and understanding arithmetic concepts.
Avoid overwhelming yourself by attempting all sections in a single day. Limit it to three sections per day.
Thoroughly review and understand any mistakes you make in your study materials.
Take regular breaks and have a rest day each week to avoid burnout.
Structure your week to include one to two mock tests. On those days, focus on analyzing the results and practicing math and GK.
If you're doing well in a specific section, don't neglect practicing it. Maintain a regular frequency to stay familiar with it.
Dedicate more time to topics that need improvement by reviewing your weak areas.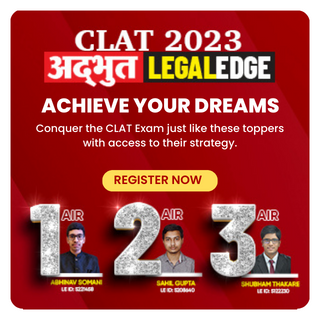 Firstly, remember your CLAT study plan doesn't mean 24*7 you need to study. It is essential to relax and take breaks.
Along with completing the syllabus, the other aspects of preparation, such as revision, practising CLAT Question Papers, and attempting mock tests, should also be considered while making your personalized CLAT study plan 2024.
Completing your syllabus and understanding concepts is only a part of the journey- it mainly consists of practice, practice and more of practice, You need to tests yourselves, and these mocks are a key to checking your progress.
| | |
| --- | --- |
| Topic | Preferred Time/Task Allotment |
| Reading Newspaper | 1 hour |
| Vocabulary | 30 minutes |
| Mathematics | 1 Concept/Day or 8 data interpretation sets |
| Puzzles/Analytical Reasoning | 45 mins |
| Passages & Grammar | 1-1.5 hours |
| Revision for the day and planning for the next day | 1.5 hours |
| Practice Mock Tests | Weekly Once/twice |
CLAT 3 Weeks Study Plan - Download Now
Read: CLAT Logical Reasoning Preparation Tips
What is the CLAT Toppers Study Plan 2024?
Following the study plan recommended by toppers will help you how to concentrate during your preparation and what needs to be done to ace the exam easily.
Read the newspaper regularly till the end of the exam
Allot 1.5 to 2 hours of time daily for preparing the quantitative aptitude section. Note down all the important formulas in a notebook.
Try to attempt at least one

mock every 4-5 days.
After the completion of each mock test, spend at least 2- 3 hours analyzing the performance of each mock test.
At the end of the day, revise all the topics you prepared for that particular day.
Try to solve questions from analytical reasoning, legal reasoning, and grammar questions from other law entrance exams such as LSAT, AILET, SLAT, etc.
Focus on the most important topics of the year to score good marks in the current affairs section.
Solve 10-15 critical reasoning questions and 5 reading comprehension passages daily.
Follow

Daily Current Affairs

to be prepared for the general knowledge section. This way, you can stay updated about all the latest happenings across the globe.
Following the CLAT toppers study plan, it is advised to revise the topics covered each day and allocate specific time for newspaper reading to stay updated with current affairs.
Conclusion
Preparing for the CLAT exam requires a smart approach. The article provides tips for effective preparation, such as analyzing mock tests, focusing on weak areas, and practicing regularly. It suggests creating a study plan that includes newspaper reading, vocabulary practice, math, reasoning, passages, grammar, revision, and mock test practice. Following the advice of CLAT toppers and staying updated with current affairs are also recommended. Consistent effort, practice, and understanding concepts are key to success in the CLAT exam. Good Luck!