Summary: IIMs are widely recognized as the best institutes in India for Management. This is due to their comprehensive management courses, highly qualified faculty, excellent placements, and world-class infrastructure. Here is everything you need about CAT.
Common Admission Test is a gateway for students who wish to pursue a career in business and management at top IIMs in the country.
IIMs have a strong alumni network that helps students build their careers, making IIMs the top choice for management studies.
CAT is considered one of the toughest exams since it assesses your overall aptitude and preparedness for admission to a top-tier management program.
Obtain a comprehensive guide to learn more about the CAT exam 2024.
Examination Authorities will release the CAT exam notification once the previous examination cycle is over.
Latest Update: The CAT Admit Card release date has been postponed by the authorities from October 19, 2023, to November 7, 2023. Candidates can download their CAT 2023 Admit Card by visiting the official website at www.iimcat.ac.in.
What Is CAT Entrance Exam 2024?
The CAT exam full form or abbreviation is the Common Admission Test!
The Common Admission Test (CAT) is an all-India entrance exam that tests a candidate's aptitude and skills for admission to various post-graduate management programs offered by the Indian Institutes of Management (IIMs) and other top business schools in the country.
It is conducted annually by the Indian Institutes of Management. The exam is conducted in multiple slots, and the result is based on a percentile score.
Check: CAT Marks vs Percentile
CAT Exam Highlights 2024
Here's a brief overview of the CAT exam 2024:
CAT Exam Particulars
CAT Exam Details
CAT Full Form
Common Admission Test (CAT)
Conducting Institute
IIMs
Exam Level
National
Exam Frequency
Once a year
CAT Exam Date
To be notified
CAT Exam Timings
To be notified
CAT Exam Fees
SC/ST/PwD - INR-1200
GEN - INR 2400
Eligibility Criteria
Graduation with 50% aggregate (45% for SC/ST students)
Number of Applications
2.55 lakh (in 2022)
Exam Purpose
Study at IIMs, SPJIMR, FMS, MDI, IMT and over 1,200 B-Schools in India
Courses Offered
MBA/ PGDM
CAT syllabus
Verbal Ability & Reading Comprehension (VARC), Data Interpretation & Logical Reasoning (DILR), Quantitative Ability (QA)
CAT pattern
Computer Based Test (CBT) with MCQs and non-MCQs
No. of test cities
150
CAT exam website
https://iimcat.ac.in/
Exam helpdesk no.
1-800-210-8720 (Toll-Free); cathelpdesk@iimcat.co.in
Note ** Candidates must declare and maintain a valid and unique email account and a mobile phone number throughout the selection process
Check: CAT Exam Marking Scheme 2024
CAT Exam Courses 2024
Post Graduate Programs in Management (PGP)
Fellow Programmes in Management (FPM) [Doctoral]

CAT Exam Dates 2024
Important events and dates for CAT 2024 are tabulated respectively.
CAT Exam Events
Tentative Dates
CAT 2023 Notification Date
July 30, 2023
CAT Exam 2023 Registration Date Opens
August 2, 2023
CAT Exam 2023 Application form last date
September 21, 2023 (Extended from Sept 13)
CAT Admit Card Release Date
November 7, 2023
CAT 2023 Exam Registration Fees
INR 1200 (Reserved categories)
INR 2400 (Other categories)
CAT 2023 Exam
26 Nov 2023
CAT Notification & Registration Official Website
iimcat.ac.in
Please note that these are tentative dates for the CAT exam for MBA this year.
Check: CAT Super-30 Course at SuperGrads
CAT Exam Eligibility Criteria 2024
The candidate must hold a Bachelor's Degree, with at least 50% marks or equivalent CGPA [45% in case of candidates belonging to the Scheduled Caste (SC), Scheduled Tribe (ST) and Persons with Disability (PwD) categories], from any recognised University or educational institution.
Candidates who have finished degree prerequisites and are awaiting results and taking the last year of the Bachelor's degree/equivalent qualification test are both eligible to apply.
Note: Applicants should note that mere fulfilment of the minimum CAT exam criteria will not ensure consideration for shortlisting by IIMs.
Check: CAT Exam 2024 Eligibility Criteria
CAT Exam Registration Process 2024
The application can change for this year. The information below is curated as per the previous year's data.
CAT application fees
SC, ST, and PwD candidates must pay an application fee of ₹1200.
The general category must pay an application fee of ₹2400.
Please note that a candidate needs to pay the registration fees only once, irrespective of the number of institutes he/she is applying.
Candidates who are SC, ST, or PwD must upload a copy of their appropriate documentation while registering.
Under no circumstances are fees that have already been paid refundable.
Steps to successfully register for the CAT Exam 2024
Step 1: Registration for User ID and Password
Use the following browsers:
Mozilla Firefox (version 85 to 102)
Google Chrome (version 80 to 103)
Microsoft Edge (version 80 to 103)
The registration form to create your User Profile appears as shown below.
Enter the OPT and Catcha and submit the declaration.
Step 2: Log in to CAT Website
You can access the website as a "Registered Candidate" and complete the CAT application using the system-generated User ID and Password you received after completing Step 1 above.
Enter your User ID/Password as shown below:
Step 3: Fill Application Form
The CAT Application Form is categorised into the following six sections:
Personal Details
Academics
Work Experience
Programs
Test City
Payment
If you have another Professional Degree, add the degree and save.
Step 4: Pick the required program
Step 5: Pick a Test City
The drop-down box allows the applicant to choose any six test cities according to his or her preferences.
One of the six preferred test cities will be assigned after the registration deadline, pending availability.
Rarely will a candidate be assigned to a nearby test city if none of the chosen test cities is available.
Step 6: Make the Payment
An SC/ST/PwD candidate would pay Rs. 1150 to take the CAT, compared to Rs. 2300 for General/EWS/NC-OBC candidates. Read the transaction fees in the table below carefully before paying.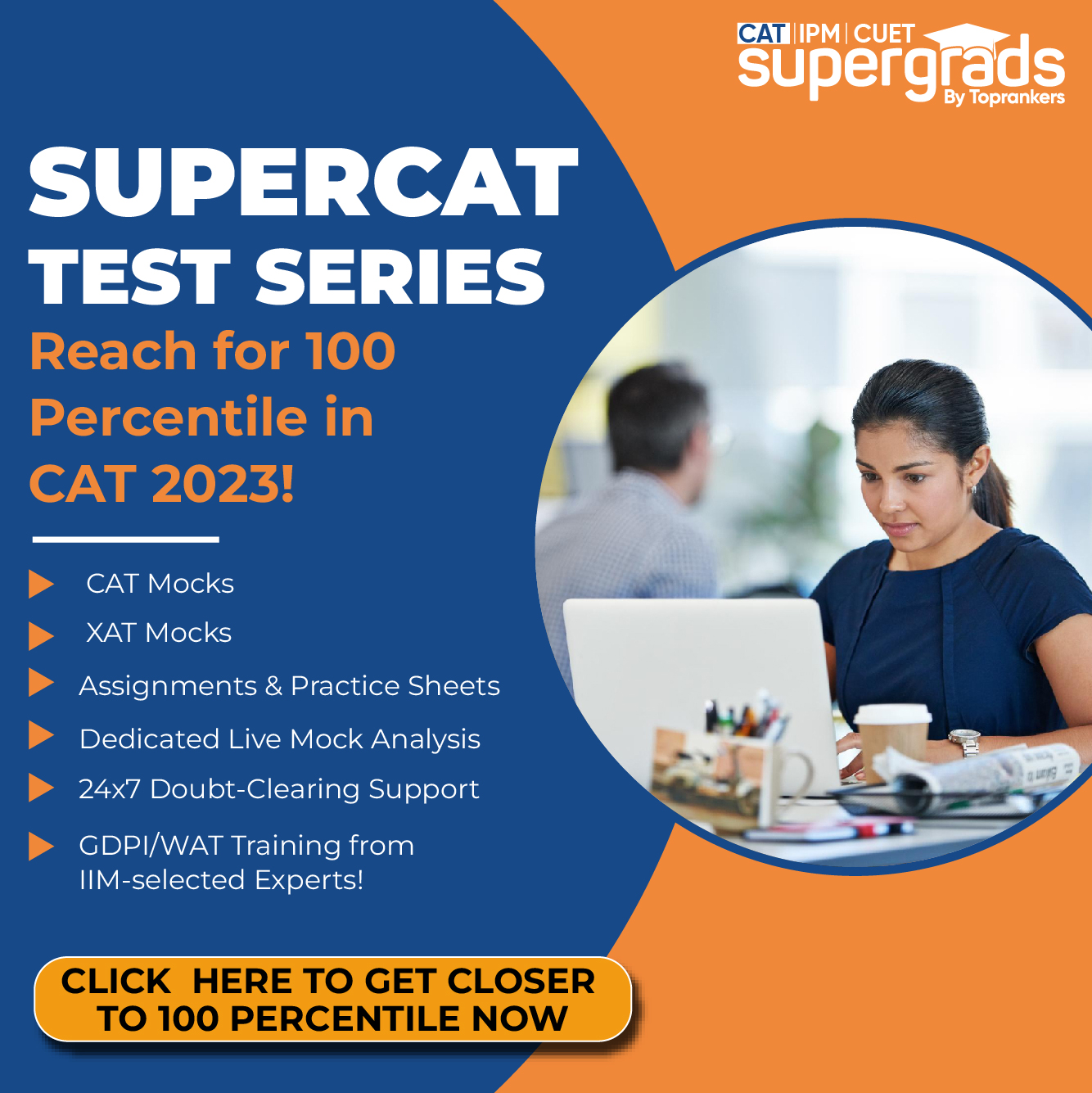 CAT Correction Window 2024
The edit window will be made live by the examination authorities; students must log in by using their user ID and password.
Please make use of this period if you wish to edit the following:
Photo
Signature
Test City preferences
Steps to edit CAT application 2024
In order to edit your application form, log in by using your user ID and password.
After login, click on go to application to start the editing process
Please read all the instructions carefully while editing the form.
CAT Exam Pattern 2024
Overview of CAT Exam Pattern 2024 helps you get started with your CAT preparations.
Ensure you go through the updated CAT Exam Pattern thoroughly.
CAT Paper Pattern 2024
Mode of CAT exam
Computer Based Test
CAT exam duration
120 minutes 40 minutes per section
Number of questions
66
CAT total marks
198
Language of question paper
English
Number of answer choices
4
Question Type
MCQ and non-MCQ
Total Sections
3
Mode of Paper
Online Only
Question Types
MCQs and Non-MCQs (TITA)
Section Names
1. Quantitative Aptitude 2. Verbal Ability & Reading Comprehension 3. Logical Reasoning & Data Interpretation
CAT Exam Syllabus 2024
CAT Exam 2024 syllabus overview and what to study is as follows!
Quantitative Aptitude: Number System, Geometry, Algebra, Mensuration, Time and Work
Logical Reasoning & Data Interpretation: Seating Arrangement, Blood Relation, Syllogism, Tables, Graphs, Data Caselets
Verbal Ability & Reading Comprehension: Para-Jumbles & Para-Summary, Sentence Completion, Inferences, RC Passages-Based Questions
CAT Exam Admit Card 2024
CAT Admit Card is an official document issued by the Indian Institutes of Management (IIMs) to candidates who have successfully registered for the Common Admission Test (CAT).
It is mandatory to carry the CAT Admit Card on the day of the exam as it contains important details like the candidate's name, roll number, exam date, time, and venue.
CAT Exam Preparation Tips 2024
General tips for planning your cat preparation
Understand the Exam Pattern: The first step to creating an effective preparation strategy for the CAT exam is understanding the exam pattern. You should know the type of questions asked, marking scheme, duration and syllabus for the exam.
Set Goals: Once you clearly understand the exam pattern, the next step is to set realistic goals for yourself. You should decide which sections to focus on, the number of questions you want to solve, and the time you want to devote to each section.
Make a Study Plan: A

study plan

should be made in such a way that it covers all the topics of the syllabus. Make sure to allot more time to topics you are weak in and practice mock tests and sample papers.
Practice Mock Tests: Mock tests help you get familiar with the exam pattern and test your time management skills. Solving

CAT mock tests

regularly will help you to improve your speed and accuracy.
Revise: Revising the topics you have already studied is very important. This will help you recall the concepts and identify your weak areas.
If required, Join

CAT Coaching Classes

, which helps to boost your preparation level.
CAT Exam Centres 2024
CAT will be conducted in test centres spread across 155 test cities. Candidates will be given the option to select any six test cities in order of their preference.
The CAT website will include the test cities, and the admit card will list the exam centre's name.
IIMs maintain the right, in their sole discretion, to alter any test centre, city, and/or time and day.
Check: CAT Exam Centres 2024
CAT Exam Analysis 2024
The Common Admission Test (CAT) is an all-India standardised test conducted by the Indian Institutes of Management (IIMs). The CAT is held yearly to shortlist applicants for admission to the IIMs and other top B-schools in India.
The CAT exam consists of three sections: Quantitative Ability (QA), Verbal Ability (VA) and Logical Reasoning (LR). The total duration of the exam is three hours. The exam is conducted in a computer-based format and is divided into two slots.
The Quantitative Ability section tests the candidate's quantitative, problem-solving, and data interpretation skills. The Verbal Ability section tests the candidate's reading comprehension, verbal reasoning and grammar skills. The Logical Reasoning section tests the candidate's ability to identify patterns, draw inferences, and make decisions.
Regarding difficulty, the Quantitative Ability section is considered the toughest section. It tests the candidate's knowledge of basic mathematics, algebra, geometry, arithmetic, statistics, and data interpretation. The Verbal Ability section is considered the easiest and tests the candidate's basic English grammar and vocabulary knowledge. The Logical Reasoning section is considered the second-toughest section and tests the candidate's ability to reason logically and make decisions.
Overall, the CAT exam requires high preparation and practice to ace the test. It is important to understand the concepts covered in the three sections and practice different types of questions to become comfortable with the CAT exam format.
Check: How to Prepare for CAT Exam at Home?
CAT Exam Answer Key 2024
The CAT exam answer key is a set of answers to the questions that appear on the CAT exam.
The answer key is released by the exam conducting body, the Indian Institute of Management (IIM).
The answer key includes the correct answers to the multiple-choice questions on the exam.
Candidates can use the answer key to check their responses and calculate their scores.
Check: CAT Exam Cut Off 2024
CAT Exam Selection Process 2024
Please be aware that IIMs use their own, maybe separate, criteria to shortlist applicants for the interview round. Written Ability Tests (WAT), Group Discussions (GD), and Personal Interviews may all be a part of the process (PI).
An essential factor in the admissions process is performed on the CAT exam.
IIMs may also shortlist and rank applicants at different stages of the admissions process using other criteria such as the applicant's prior academic performance, pertinent job experience, gender and academic diversity, and other comparable inputs.
Between IIMs, there may be differences in the procedures, academic cutoffs, and weights given to the evaluation metrics. Consult the admissions policies of each IIM on their separate websites for more details.
Check: CAT Exam Preparation 2024
CAT Exam Reservation Policies 2024
According to regulatory regulations, 15% of the seats are set aside for applicants from Scheduled Castes (SC), 7.5% for applicants from Scheduled Tribes (ST), and 27% for applicants from Other Backward Classes who are "Non-Creamy."
Layer (NC-OBC), up to 10% for applicants from economically disadvantaged groups (EWS) and 5% for those with benchmark disabilities (PwD).
According to The Rights of Persons with Disabilities Act, 2016 (RPwD Act 2016), "Person with Benchmark Disability" refers to a person who, as certified by the certifying authority, has at least forty per cent (40%) of a specified disability when that disability has not been defined in measurable terms.
This definition also includes people with disabilities where the specified disability has been defined in measurable terms.
"Specified disability" refers to the conditions listed in the RPwD Act 2016's Schedule. The types of disabilities include:
a) blindness and low vision
b) deaf and hard of hearing
c) locomotor disability, including cerebral palsy, leprosy cured, dwarfism, acid attack victims and muscular dystrophy
d) autism, intellectual disability, specific learning disability and mental illness
e) multiple disabilities from amongst persons under clauses (a) to (d)
f) other 'specified disabilities' mentioned in 'The Schedule' of the RPwD Act 2016
Note: No change in the category will be entertained after CAT registration. The applicants are advised to pay attention while registering.
Check: CAT Exam Marks vs Percentile 2024
IIM CAT Cut-Offs 2024
IIM CAT cut-offs are the minimum scores required to be eligible for admission to the Indian Institute of Management (IIM).
The cut-offs are determined based on the number of available seats, the number of applicants, and the difficulty level of the exam.
The cut-offs are typically higher for the prominent IIMs such as IIM Ahmedabad, IIM Bangalore and IIM Calcutta.
CAT Exam Counselling Process 2024
Registration: The first step in the CAT Counselling process is registering for counselling. The registration process starts after the

CAT 2024 result

is declared.
Filling out the Application Form: After registering, the candidate has to fill out the application form and provide all the necessary details, such as their personal information, educational qualifications, etc.
Selection of Colleges: After submitting the application form, the next step is to select the colleges or institutions they wish to apply to.
Payment of Counselling Fees: The candidate must pay the counselling fees per the instructions.
Document Verification: The candidate must submit all the necessary documents, such as their educational certificates, mark sheets, etc., for verification.
Seat Allotment: After the documents are verified, the candidate will be allowed a seat in one of the participating institutes based on merit.
Reporting to the Allotted Institute: The candidate must report and complete the admission formalities to their allotted institute.
Check: CAT Exam Documents
IIM Seats – Campus Wise
Check the official website for CAT Exam fees and other CAT exam information.
Here is the seat matrix for the management program at each IIM.
| | |
| --- | --- |
| IIM campus | PGP/MBA seats |
| IIM Ahmedabad | 385 |
| IIM Bangalore | 430 |
| IIM Calcutta | 210 |
| IIM Lucknow | 436 |
| IIM Kozhikode | 375 |
| IIM Raipur | 210 |
| IIM Udaipur | 260 |
| IIM Rohtak | 240 |
| IIM Visakhapatnam | 60 |
| IIM Trichy | 180 |
| IIM Sambalpur | 120 |
| IIM Ranchi | 240 |
| IIM Bodhgaya | 120 |
| IIM Sirmaur | 60 |
| IIM Jammu | 120 |
| IIM Amritsar | 60 |
| IIM Shillong | 120 |
| IIM Kashipur | 210 |
| IIM Nagpur | 130 |
| IIM Indore | 451 |
Check: CAT Exam Top Colleges 2024
CAT Program Outcome 2024
The outcome of the CAT MBA Program depends on the individual.
If you are willing to put in the hard work and effort, you can expect to gain valuable knowledge, skills, and experiences to help you in your career.
You may better understand the business world and gain the credentials to help you succeed.
Additionally, the program may provide the opportunity to network with potential employers and create a strong professional network.
Read more: CAT Career Opportunities
Conclusion
The CAT exam is important in applying to a top business school in India. Preparing well for the CAT MBA entrance exam and clearly understanding its topics and concepts is important. With the right preparation and focus, a successful CAT exam result can help you achieve your goal of getting into a top business school.
Check: CAT Exam Subjects 2024