Summary: Explore tried-and-tested strategies, professional insights, and a customised study plan for each part. Improve your preparation, excel in mock exams, and attain greatness in order to gain admission to the most prominent MBA programmes.
Do you plan to pass the CAT exam within a year? The CAT (Common Admission Test) is the key to entering prominent MBA universities in India, including over 1200 B-schools. With over 2 lakh individuals striving for success in this brutally competitive exam each year, a strong plan is essential. This article presents a detailed strategy to help you conquer the CAT exam in just one year.
Is one year enough for cat preparation? This question must have strikes your mind if you are planning to write the CAT exam paper.
One Year Study Plan for CAT 2023
The CAT 2023 exam is a pathway to the best MBA programmes in India. It attracts a massive number of candidates, making it a fiercely competitive endeavour. It is recommended that you begin your CAT preparation journey a year in advance to ensure an impressive score and a position in the top-tier B-schools. In this essay, we will lead you through the best one-year CAT 2023 study strategy.
Read more: CAT Preparation Strategy

Understanding the CAT Entrance Exam
The CAT exam is divided into three parts verbal ability and reading comprehension (VARC), quantitative ability (QA) and data interpretation and logical reasoning (DILR).
To pass the CAT exam, you must understand these areas thoroughly and develop the necessary skills for each.
Read more: Can I crack CAT exam in 6 months?
CAT 2023, with the assistance of coaching institutes
Below are the benefits associated with CAT coaching if you are planning to attend a coaching institute for the CAT entrance exam 2023:
Competitive environment to stay focused
Sufficient study material
Mock Test series
Shortcut methods of solving difficult questions
According to CAT Toppers, passing CAT involves both, i.e. self-study can make a difference, whereas coaching institutes provide a solid foundation, quick idea clarification, and straightforward instruction.
CAT 2023 preparation without coaching
How to prepare for CAT exam in 1 year online? Some CAT experts and previous-year toppers agree that mentoring or joining CAT coaching can help[ to some extent. However, simply enrolling in a coaching programme does not guarantee that you will pass the entrance exam with flying colours.
According to CAT toppers, enrolling in a CAT coaching programme is not required in order for a candidate to consider admission to top B-Schools. According to some experts, around 500 hours of dedicated preparation for the CAT 2023 exam will be necessary to achieve peak potential and gain admission to the best B-Schools in India.
Read more: How to prepare for CAT exam at home?
If candidates intend to study independently and without coaching for CAT 2023, they can follow the one-year CAT study plan outlined below.
Foundation and Assessment
Understand the

CAT Exam Pattern

: Familiarize yourself with the CAT exam pattern. Each section demands specific skill sets and time allocations. This understanding will shape your preparation plan.
Assess Your Current Standing: Conduct a thorough self-assessment to determine your strengths and weaknesses across sections. This evaluation will guide your focused efforts.
Set Clear Goals: Define your target CAT score and the B-schools you wish to join. Clear goals are your compass throughout the preparation process.
Read more: CAT preparation books.
Making a comprehensive study plan
Design a Realistic Study Schedule: Segment your one-year timeline into manageable intervals. Allocate dedicated time to each section based on your self-assessment. Consistency is your ally; commit to a daily study routine.
Select the Right Resources: Choose reputable study materials for CAT preparation. Utilize textbooks, online resources, video lectures, and mock tests to cover the syllabus extensively.
Regular Practice is Key: Practice is pivotal to CAT success. Solve a diverse range of problems to hone your problem-solving skills and time management. Dedicate ample time to practicing both fundamental and advanced-level questions.
Read more: How to crack CAT exam in first attempt?
Section-wise mastery
1. Conquering Quantitative Ability (QA): QA demands strong mathematical foundations. Engage with topics like algebra, arithmetic, geometry, and number systems. Consistent problem-solving practice will enhance accuracy and speed.
Basic-level mathematics preparation is a must to score in this section of QA.
Major topics of the QA section include questions about seating arrangements, number system, profit and loss, geometry, blood relations etc.
Practising mock tests for the section will be more beneficial.
At the time of solving QA questions, candidates avoid using calculators.
2. Excelling in Verbal Ability and Reading Comprehension (VARC): Elevate your vocabulary and comprehension skills for VARC. Regular reading of newspapers, novels, and articles enhances your reading speed and understanding. Tackle previous CAT papers to comprehend question styles.
Candidates can develop vocabulary skills by regular reading habits and explore different topics of CAT with major details.
Go through journals, blog posts, articles, hear podcasts etc., to improve this section.
Practice topics like inferences, comprehensions and para jumbles
3. Dominating Data Interpretation and Logical Reasoning (DILR): DILR necessitates logical thinking and swift decision-making. Regularly tackle puzzles, data interpretation sets, and logical reasoning questions. Develop techniques for efficient problem analysis and resolution.
Keeping in view the past records, this section of LR & DI is considered to be a difficult nut to crack and hence requires a tough grind to be done from the side of candidates.
For this, it is advisable to thoroughly go through the previous year's CAT question papers.
Read more: CAT Exam Syllabus
Mock Tests and Result Analysis
Regular Mock Test Sessions: Imitate the actual exam environment through consistent full-length

mock tests

. This cultivates time management skills, tracks your progress, and pinpoints areas requiring refinement.
Thorough Result Analysis: Post-mock test, meticulously analyze your performance. Recognize patterns of errors, time-consuming sections, and missed questions. Dedicate time to rectifying these shortcomings in subsequent tests.
Read more: CAT results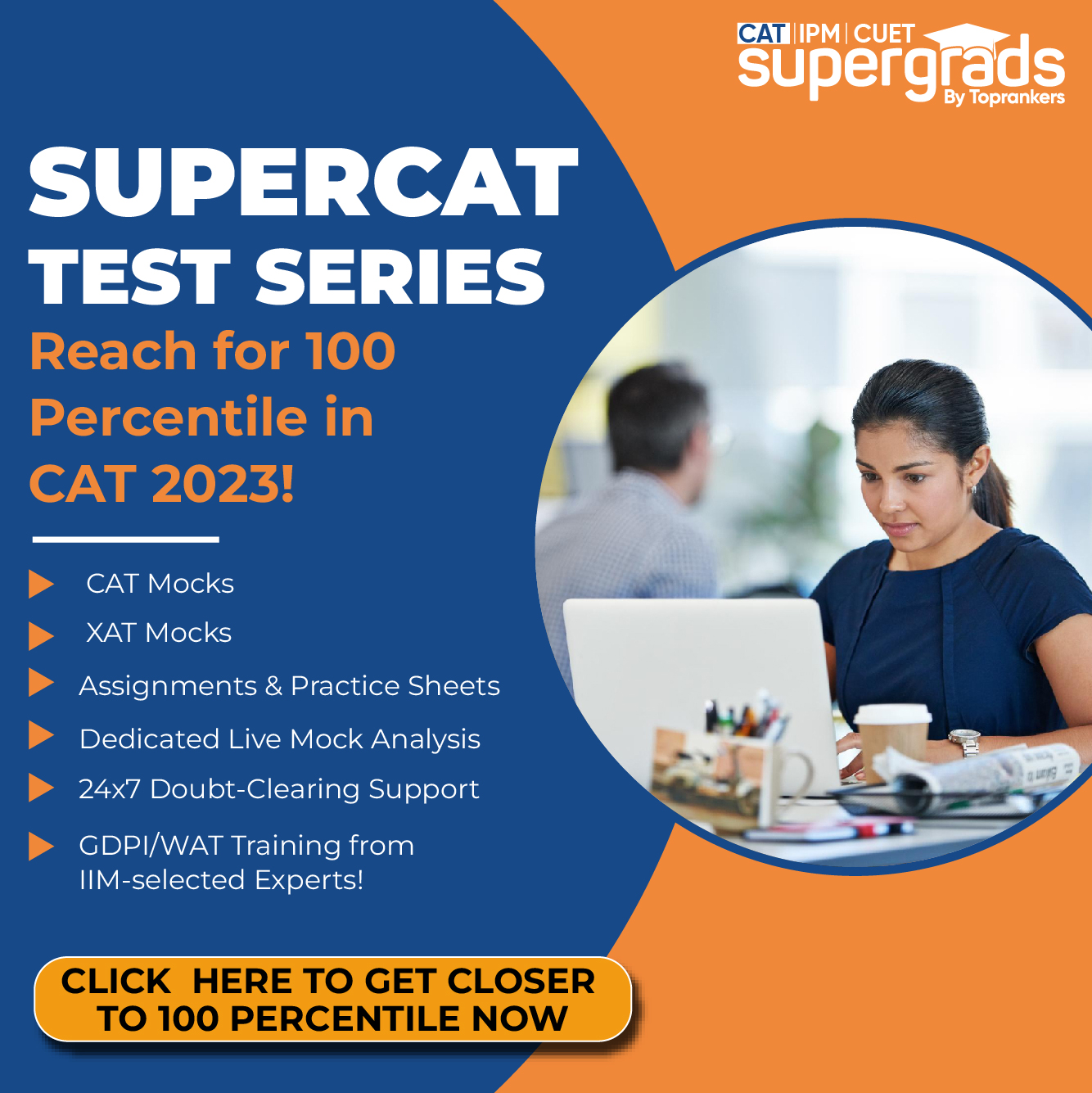 Revision
Revision: The Game-Changer: Approaching the CAT exam emphasizes comprehensive revision of concepts, formulas, and strategies. Avoid initiating new topics; focus on consolidating existing knowledge.
Maintain Calm and Confidence: Prioritize a healthy lifestyle, regular exercise, and sufficient sleep. A composed and confident mindset significantly influences performance. Positive thinking bolsters your CAT success prospects.
Read more: CAT 3-month preparation strategy.
Conclusion
The path to passing the CAT exam in a year requires unshakable commitment, persistent effort, and smart strategy. Understanding the exam structure, creating a solid study strategy, and prioritising section-specific skills are your pillars of success. Regular mock tests, analysis of results, and diligent last-minute revision boost your confidence and readiness for the big exam day. Your determination and effort will be critical to your CAT exam success. Best wishes on your journey!
Also read: Job opportunities after CAT