Summary: Discover the various aspects of succeeding on the reading comprehension section of the CAT exam with professional strategies and proven tips. Prepare with a strategic approach, cultivate a robust reading routine, and leverage specialized CAT RC resources for comprehensive success.
As you begin your CAT exam preparation, you may be wondering, "How to Improve Reading Comprehension for CAT Exam?" This typical question marks the beginning of a significant journey, and you've arrived at the appropriate destination.
In the article, we will go into a plethora of helpful strategies that have been methodically created to improve your reading comprehension abilities for the CAT Entrance Exam. Whether you're a beginner or looking to improve your skills, these tips will help you have a confident and effective CAT reading comprehension experience.
How to improve reading comprehension for CAT 2023 exam?
Explore our detailed step-by-step approach to improving your CAT reading comprehension skills. This provides a systematic method for understanding the complexities of reading comprehension for the CAT exam. Whether you're a beginner or looking to improve your skills, this guide contains essential strategies and practises to assure your success.
Read more: How to begin CAT exam preparation?

Personalized approach: Your key to excellence
In order to gain admission to prominent business schools, ambitious management professionals must pass the Common Admission Test (CAT). You can see from prior CAT exam question sheets that RC has often made up between 20 and 25 percent of all questions.
The Verbal Ability and Reading Comprehension (VARC) section of the CAT examination is extremely important, requiring a thorough understanding of reading comprehension skills. As a seasoned CAT preparation expert, I present to you a specifically designed guide that explains the complex intricacies of excelling in the CAT exam's reading comprehension section.
Strategic approach to the Success
In your pursuit of mastering CAT Reading Comprehension, a strategic triad consisting of preparation, Practice, and patience are the cornerstones of your efforts.
Preparation: A thorough preparation foundation establishes a foundation for success. Engage in rigorous

CAT mock tests

, immerse yourself in different reading sources, rigorously curate study notes, and keep an unyielding focus on the final goal - acquiring CAT RC mastery.
Practice: The driving force for improvement is consistent and consistent practice. Participate in a daily schedule of reading, writing, and problem-solving activities. Regular practise develops a deep understanding of passage analysis and question-solving skills, which boosts your confidence.
Patience: When attempting CAT comprehension passages, the virtue of patience is essential. Rushing through a section may compromise comprehension, resulting in useless re-reads. Develop a patient and collected reading style that allows you to understand the context completely on the first read.
Read more: Tricks to solve reading comprehension questions.
Create an effective reading schedule
Incorporate a planned daily reading schedule into your schedule, encompassing a diverse range of reading materials. A varied reading repertoire not only improves your reading speed but also sharpens your analytical ability, mirroring the variety of themes found in CAT RC passages.
Read more: How much time is required to prepare for CAT?
Personalized strategy
A knowledgeable CAT aspirant will have the capacity to create a personalized approach that is geared to their intellectual abilities and analytical preferences. Develop and improve this strategy through simulated mock exams, which encourage a streamlined and orderly way of thinking that speeds up comprehension.
Make use of specialized CAT RC resources
Leverage the strength of CAT RC preparation resources written by renowned professionals. There are various books for CAT preparation which provide vital insights, complete with carefully prepared activities to hone your RC skills.
| | |
| --- | --- |
| Title | Author |
| How to Prepare for Verbal Ability and Reading Comprehension for CAT | Arun Sharma & Meenakshi Upadhyay |
| Verbal Ability and Reading Comprehension for the CAT | Nishit K Sinha |
Read more: Best Books for CAT Preparation
Strategic pre-reading
It is beneficial to quickly go over the questions before reading a passage. This approach can assist you in identifying important words, making it simpler to recall important details later on when you read the section more thoroughly.
Read more: CAT Exam Syllabus
Developing familiarity with CAT mock tests
Consistent participation in CAT mock examinations develops an understanding of the CAT exam pattern and time limitations. Exposure to a variety of comprehension passages on a regular basis reduces exam anxiety and converts the RC section into a domain of confident familiarity.
Precision through time management
During the CAT exam, time management becomes an important companion. Accept self-paced study sessions, scheduling time for each activity. Following these deadlines promotes a sense of urgency, which improves your reading speed and strategic efficiency.
Read more: 6-month preparation strategy for CAT exam.
Skimming for better understanding
Before diving into the paragraph, use skimming to determine its overall meaning. Highlight key points and important junctions to prepare your mind for a thorough examination of the text's complexities.
Continuous focus on comprehension
During passage analysis, direct your attention to uncovering the central theme. Consider paragraphs and sentences to break down the essential idea, precisely expressing the author's mental development.
Read more: CAT 3 month preparation strategy
Develop an arsenal of vocabulary
Develop a strong vocabulary, a compass that can navigate the intricate pathways with ease. Get acquainted with new terms on a regular basis, delving into their synonyms, antonyms, and complex contextual applications.
Read more: Improve your vocabulary for CAT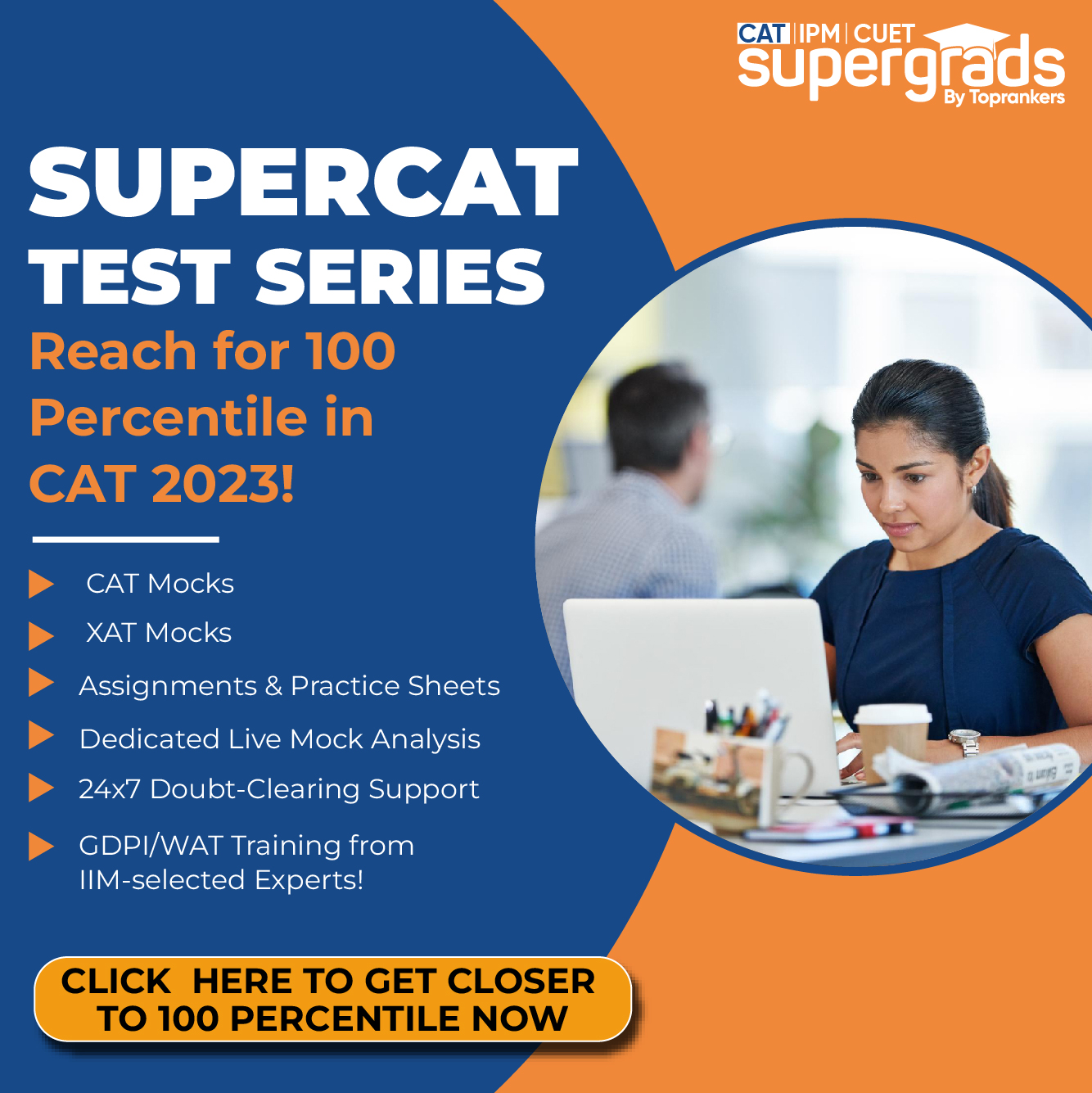 Summarization to promote in-depth understanding
After reading, practice the technique of summary by compressing the main points of the content in your own words while keeping the central theme. This practice sharpens your understanding and improves your ability to answer to questions effectively.
Conclusion
Beginning the journey to improvement in reading comprehension for the CAT exam requires commitment, constant practise, and strategic expertise. You will achieve mastery by systematically incorporating reading habits, keyword identification, time management, personalized strategies, and vocabulary development.
The road is free of shortcuts, instead paved with established routes leading to mastery. Each step you take towards mastering the difficulties of reading comprehension gets you closer to CAT success.
Planning to Join CAT Coaching Classes: Watch Free Demo classes by SuperGrads