The LLM program admissions for the top NLUs affiliated with the Consortium have started the application process for the CLAT PG exam 2023.
The notification with the CLAT 2023 application that the last date for the PG/ LLM program has been released on the official CLAT website.
The good news for students preparing for CLAT is that you can appear and apply for two attempts in one year. If you are not satisfied with the scores obtained in CLAT PG 2022, you can still try harder in PG CLAT 2023 to land a seat in the top NLUs.
Since you have two opportunities in your hand this year, make sure to reap the most out of them. Get a head start on your CLAT preparation by downloading and practicing LLM previous year's question papers.
This article has details related to Sample CLAT PG questions and their respective answer keys that come in handy for your preparations.
Download Self-Designed Question Papers for CLAT 2023 by LegalEdge
CLAT PG 2022 Question Paper and Answer Key
The consortium of NLUs successfully conducted the Common Law Admission Test 2022 on 19/06/2022 for CLAT PG admissions in 131 Examination Centres.
They had notified the Master Question Paper, and Provisional Answer Key will be published on the forenoon of June 20, 2022.
And as informed, the CLAT PG Answer Key is published for the academic year 2022. With the help of the provisional answer key, you can verify all the answers and raise objections if you find any discrepancies.
| | | |
| --- | --- | --- |
| Course | CLAT PG Question Paper | CLAT PG Answer Key 2022 |
| CLAT PG | | |
Previous Year's CLAT PG Question Papers
The previous year's question paper will help you evaluate the exam level and preparation proportion.
CLAT PG Syllabus includes subjects like:
Constitutional Law and other areas of law, such as:
Jurisprudence
Other areas of law, such as Jurisprudence
Administrative Law
Law of Contract
Torts
Family Law
Criminal Law
Property Law
Company Law
Public International Law
Tax Law
Environmental Law
Labour & Industrial Law
Learning and practicing all these subjects is crucial to clear CLAT PG. If you need help with your preparations, seek help from the best CLAT PG online coaching 2023.
CLAT PG Question Papers PDF
We have provided CLAT PG's previous year's question papers and the answer key in the table below. Download and practice to pace up your preparation.
Important Questions for CLAT PG 2023
As said above, practice plays the biggest part in your CLAT PG preparations.
Hence, to aid your preparation, we have given some important Landmark Judgements Questions for CLAT PG 2023.
To learn more about this topic, refer to Landmark Judgement Questions For CLAT PG 2023
Landmark Judgements Questions for CLAT PG 2023
Which of the following case decided by the Supreme Court is related to 'mental cruelty?
a. Rooplal v Kartaro
b. Sayal v Sarla
c. Dastane v Dastane
d. None of the above
Muhammad Afzal v Ghulam Kasim (1903) ILR 843 is a leading case on which of the following?
a. Doctrine of election
b. The doctrine of holding over
c. The rule against perpetuity
d. None of the above
S.R. Bommai v Union of India, JT 1994 (2) SC 215 is related to
a. President Rule in State under Article 356
b. National Emergency under Article 352
c. Financial Emergency
d. None of the above
The NJAC Act was declared unconstitutional in
a. Sakal Chand v Union of India
b. S P Gupta v Union of India
c. SC Adv on Record Association v Union of India
d. In re Presidential reference of 1998
The case relating to Parliamentary Privileges is
a. Keshav Singh v Speaker of The UP Assembly
b. Maneka Gandhi v Union of India
c. Minerva Mills v Union of India
d. A K Gopalan v Union of India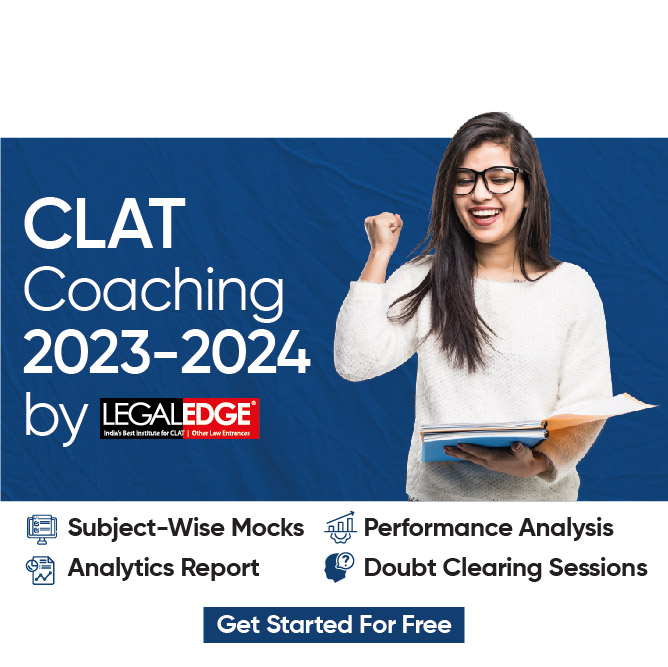 Criminal Law Questions for CLAT PG 2023
Criminal law deals with statutes, rules, and regulations set to protect the right of every citizen in the country.
1. Maintenance under Section 125 of the Criminal Procedure Code can be claimed by
a) Wife
b) Everyone
c) Parents
d) Both a and c
Ans - Wife and Parents
2. A person who helps the other person is an
a) Abettor
b) Instigator
c) Accomplice
d) Friend
Ans - Accomplice
3. The offense of theft can only be against
a) Movable property
b) Immovable property
c) Both (a) and (b)
d) All properties
Ans - Movable property
4. The Law of the contract is a:
a) Criminal Law
b) Civil Law
c) International Law
d) Disputed Laws
Ans- Civil Law
5. The tort is a species of:
a) Criminal wrong
b) Breach of contract
c) Civil wrong
d) Moral wrong
Ans- Civil wrong

Constitutional Law for CLAT PG 2023
The constitutional Law consists of legal rules in the strict sense and of usage commonly called conventions, which are accepted as binding by all concerned in government without being enacted.
A few questions from the Constitutional Law for CLAT PG 2023 are as follows:
Q1. Which one of the following is not formally considered an amendment to the Constitution under Article 368?
a. Creation of new states
b. Change in the Preamble
c. Change in Part IV A
d. Change in Part XII
Answer: (a)
Q2. Which of the following category of judges is not mentioned in the Constitution?
a. Acting Judge
b. Additional Judge
c. Ad hoc Judge
d. Puisne Judge
Answer: (d)
Q3. The Ordinance making power of the President under the Indian Constitution is:
a. An Executive power
b. A legislative power
c. Quasi-legislative power
d. Quasi executive power
Answer: (a)
Q4. Who was the Constitutional Advisor to the Constituent Assembly?
a. B N Rau
b. B R Ambedkar
c. Rajendra Prasad
d. K M Munshi
Answer: (a)
Q5. The recent amendment to the Constitution of India paving the way for 10% reservation for Economically Weaker sections was done by amending:
a. Article 14
b. Articles 15 and 16
c. Article 15
d. Article 338
Answer: (b)
To find more questions like the above mentioned, attend the CLAT PG Mocks to assess your preparation level.
Benefits of referring to CLAT PG Question Papers 2023
To be honest, your preparations are not good enough if you don't refer to CLAT PG Question Papers 2023.
However, note that CLAT PG Question Papers 2023 can be in the form of previous year papers, sample papers, ones found on the official website of CLAT, mock tests, etc.
By referring to CLAT PG Question Papers, you might be able to predict the type of questions that might appear in the exam.
This can also help you determine and track your preparations.
Solving the CLAT PG Question Papers 2023 can also help you with time management.