CLAT PG or CLAT LLM is a national-level entrance exam for admission to postgraduate courses in law and direct recruitment to PSUs.
The Consortium of National Law Universities (CNLU) released the CLAT PG 2023 application form to students taking their CLAT exam on December 18, 2022.
The exam is conducted early this year for the first time in a long period. You are expected to have started your preparation beforehand if your attending the CLAT 2023 exam.
These CLAT centres are spread in 84 locations spread across 25 states. Last year CLAT registration witnessed 87% of candidates taking the postgraduate examination. The Consortium will notify the CLAT PG 2023 Admit Card a week or 2 before the exam day. Note that the application dates for the academic year 2023 exams have been extended and the details are given in the article below.
Here is what you can infer from the official CLAT PG 2023 Notification as stated below:
Latest Updates
The last date for submission of CLAT 2023 online applications (for both U.G. and P.G. programmes) has been extended till Friday, 18th November 2022, 11:59 P.M.
The Consortium of National Law Universities released an official notice on October 31, 2022, stating that CLAT 2023 will be conducted only ONCE. Check the Important Announcement by Consortium on CLAT 2024 updates.
The CLAT PG registrations began on 8 August 2022 for the CLAT 2023 PG examination.
CLAT 2023 exam will be conducted on December 18, 2022.
The last date to fill out the CLAT 2023 Application Form, fee payment, and CLAT PG admits card release information will be notified shortly.
Two attempts in a year!
This year is significant as it marked the year that gave twice the opportunity to CLAT exam takers!
If you couldn't succeed in the CLAT PG 2022, you can apply and appear for PG CLAT 2023.
Better Chance for a Better Opportunity
Your reason for pursuing PG is to have more knowledge in a law career, which is why this exam must have been your choice. Thus, the chance of being able to excel in this field increases with the announcement of seats at the top 22 NLUs across India.
It is essential to make most of this opportunity and get assistance from experts of Legal Edge After College to

Prepare for CLAT PG 2023
When is the CLAT PG Exam?
CLAT Exam for the postgraduate programs is to offer admissions in NLUs and other colleges for LLM courses across the country.
Consortium has recently published a notice on August 2022 regarding the CLAT PG Exam Application Date.
| | |
| --- | --- |
| CLAT PG Application 2023 | Dates |
| Exam Date Notice was published on | 6 August 2022 |
| PG CLAT 2023 Application Window shall open from | 8 August 2022 (Announced) |
| The application window closes on | 18 November 2022 (Extended) |
| Admit Card shall be issued on | The first week of December 2022 |
| PG CLAT 2023 Exam date | December 18, 2022 (Announced) |
Download FREE Study Material for CLAT PG 2023 by Legal Edge After College
Can I Apply for PG CLAT?
Since you have come down to this section of the article, we assume you are definitely looking forward to applying for the exam but need some prior information.
Let's clarify some of your doubts:
What are the minimum age and maximum age requirements for the exam? There is no restriction on the lower or upper age limit. The only limit is being qualified in Bachelors of Law.
What is the minimum qualification required for the exam? A bachelor's degree in law (LLB) with 50% marks is required to apply for this exam.
Can I apply for the exam if I am a final-year LLB student? Yes... Definitely!
How to fill out the CLAT PG Application Form?
This isn't a difficult task for a technically savvy generation at all. The registration process is completely online.
Once know you are eligible for CLAT PG, fill the form before the registration concludes.
To sum it up, let us understand that online registration for the exam is a 4 step process: Register, Fill out a detailed form, Upload necessary documents and pay the application fee.
But keep these important points in mind before you start with the application process:
Keep a functional email address and phone number since it is validated through an OTP verification during the initial registration.
Type carefully! Any errors in the spelling of your name or parent's name shall not be accepted and can lead to disqualification of your candidature.
No edits in the program (UG or PG), category, or BPL field (Below Poverty Line) are allowed after submission of the application fee.
In case you fill multiple forms, the last submission will be considered final, and no refund for the previous submissions shall be done by Consortium.
A digital passport-sized photograph and signature must be handy with you since those are the primary documents required during the application process.
Keep PDF formats of the category, BPL, or PWD certificates scanned for submission if applicable.
Check your internet connection in check while paying the application fee of INR 4000 (for General/OBC/NRI/PIO/OCI applicants) for a smooth transaction.
Note: Toprankers is conducting the "MAHA Scholarship Test" do not miss it on 28 August 2022; if you are preparing for any LLM entrance exam, you are highly recommended to participate in this scholarship.
What is the CLAT PG Exam Pattern?
Understanding the question paper format of the exam becomes very crucial during the preparation process. Like the UG pattern, this exam also has questions based on reading comprehension.
This means you will be provided extracts from primary legal materials such as important court decisions in various fields of law, statutes, or regulations, which will be followed by a series of objective-type questions.
CLAT PG Exam Pattern highlights are mentioned below for your reference:
| | |
| --- | --- |
| Mode | Offline |
| Medium | English |
| Duration | 2 hours (120 minutes) |
| Question Type | Objective (MCQs) |
| Total Questions | 120 |
| Total Marks | 120 |
| Negative Marking | 0.25 marks for every incorrect answer |
Important Note:
The conducting body has yet to finalize the exam pattern, which means we should expect CLAT PG to return to its old pattern with 102 questions! (This isn't officially announced yet and is completely based on a prediction).
This states we might as well have 2 subjective type questions along with MCQs.
What are the CLAT PG Subjects?
The question paper and questions format give you an idea of how to plan to attempt the exam. However, the subjects will give you clarity on the preparation strategy. Hence, look at the list of subjects that are included in the CLAT PG Syllabus.
This exam will test your knowledge about
Jurisprudence
Administrative Law
Law of Contract
Torts
Family Law
Criminal Law
Property Law
Company Law
Public International Law
Environmental Law, and
Labor & Industrial Law\
These have been your academic subjects during your LLB course. So ideally, if you have been given ample time preparing for your semester LLB exams, cracking CLAT LLM 2023 shouldn't be difficult.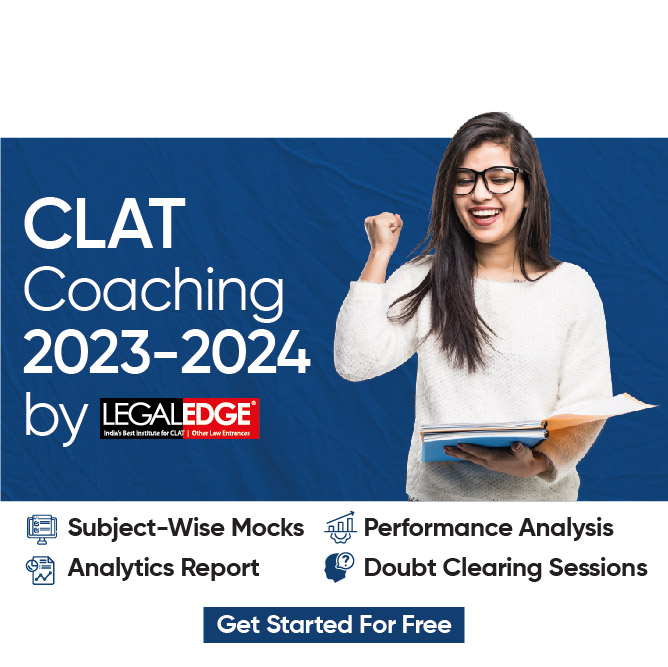 Which are the Best Books for CLAT PG?
Considering the syllabus, the books from your graduation can help you brush up on the topics. However, there are some books that cover specific topics for CLAT PG preparation.
We have enlisted Best Books for CLAT PG 2023 and also the reason why we have termed them "the best":
CLAT LLM Mock Series by LegalEdge
For conceptual understanding, your graduation books would help, while for question-based clarity, you must try LE CLAT LLM Mocks.
The mocks are not just curated by experts who have appeared and qualified for the exam but have the most from their knowledge. You will get an added advantage of detailed/video solutions to every question asked in the mocks.
Singhal S. S. Handbook for LLM Entrance Exam
This book by Singhal Law Publications should be your go-to guide for this exam. This covers the entire

CLAT PG Syllabus

with multiple practice question sets that will strengthen your preparation.
In addition to the amazing conceptual clarifications, you will find previous year papers with solutions for CLAT PG and DU LLM, AILET LLM, and ILI Exam.
Buy it and thank us later!
Universal Guide to LLM by Gaurav Mehta
After brushing up on your topics from the S.S. Handbook, this book will give you a comprehensive exam-like experience with its set of MCQs.
There are around 5000 MCQs based on the recent pattern and level of difficulty. Your revision partner is available online; go get it!
If you are not confident in your studies, check out LLM online coaching 2023. LegalEdge After College had excellent results, with many of its students being placed in top NLUs. Learn from experts who have in-depth knowledge about the subject and offer assistance until you are placed in a college.

Is the CLAT PG Exam difficult?
The pattern and question format changes have made it difficult to predict the difficulty level. Strong preparation and hard work yield favorable results!
Let's summarize last year's CLAT PG Analysis to comprehend if this exam is difficult or a tough nut to crack:
The overall difficulty level of the exam was difficult.
A total of 120 questions need to be answered in 120 minutes.
The CLAT PG 2022 exam included a total of 33 pages, and about 40% of the questions in the examination were concerned with constitutional law. Criminal law in total and the rest were asked about Family Law, Jurisprudence, Law of Evidence, Law of Contract, Company Law/ Tax Law, Public Environmental Law, and Environmental Law.
There were 20 legal passages followed by 6 questions from each passage.
Most of the questions were based on Criminal Law, Constitutional Law, Jurisprudence, Contracts, and International Law.
Considering this year, we predicted a sure-shot inclusion of questions based on Constitutional Law, Criminal Law, Family Law, Law of Contracts/Commercial Law/Corporate Law. We recommend you build a strong clarity on these and practice as many questions as you can for this. Practice CLAT PG Mock Test Series 2023 By LegalEdge to get the upper hand in the exam.
What are the minimum marks required to clear PG CLAT 2023 Exam?
Though the official CLAT PG Answer Key would have given you an estimated score that you might get, here is a sneak peek at the minimum marks one should attain to get a particular college.
Carefully analyze the PG CLAT Cut off to secure the marks required to get admission to your desired college (for the general category):
The average maximum mark to get into the desired NLU is 85.75 as per the merit list.
The NLUs that followed gave admissions to the students who obtained marks ranging from 60-to 75 in the exam.
Check the CLAT PG Cut off 2022 to understand the level of preparations to top the exam and get into an NLUs.
If not CLAT LLM then What?
There's a lucrative career option ahead of you if you are a rank holder in PG CLAT 2023.
What if we tell you that CLAT PG scores can not only fetch you admission to a good NLU's LLM program but also fetch you a job at a PSU (Public Sector Undertaking).
List of Jobs after CLAT PG is huge. CLAT PG Scores is the basis of selection for the post of Law Officers, Legal Advisors, and Legal Executives at various PSUs. These Public Sector Undertakings will consider only the recent CLAT LLM Score for the recruitment i.e., for 2022.
Considering the trend of these recruitments, approximately six PSUs, namely, ONGC, BHEL, PSOC, IOCL, NTPC, OIL, PGCIL, etc., generally express interest in hiring top-rank holders of CLAT PG.
Keep an eye on the PSU that releases relevant vacancies to apply for them online. However, these PSUs publish a merit list based on the CLAT PG Result.
Set your place amongst the top 50 qualifiers to get a call from any leading PSU. Getting a call letter from renowned PSU is tough to crack, but try being that lucky and hardworking one!