Summary:
The official website has all the mandatory subjects that can appear in the CLAT PG examination.
This article further goes on to explain sub-topics you must concentrate on to improve your scores.
CLAT PG is an All-India centralized test that permits you to seek admission into various postgraduate (PG) courses offered by National Law Universities (forming part of the Consortium of NLUs) in India.
The Consortium of NLUs prescribes the official syllabus for the LLM entrance exam on the official website every year.
The CLAT PG notification clearly states that the question paper is based on the mandatory subjects of the undergraduate program and other law subjects.
Knowing the CLAT PG Syllabus 2023 is crucial for prioritizing the topics to study and scoring well. This article will walk us through topics and sub-topics to ace the CLAT PG 2023 exam preparations.
Download FREE Study Material for CLAT PG by LegalEdge After College
CLAT PG Exam 2023 Syllabus
As per the notification, the CLAT PG question paper will have 120 objective-type questions, and each question will carry one mark. Note that a negative marking of 0.25 is applicable for every wrong answer.
Like the UG pattern, this exam also has questions based on reading comprehension. If the Consortium introduces subjective-type questions, it will be notified on the official website.
Each passage will be followed by a set of questions, which will require you to show your:
Ability to read and comprehend the issues discussed in the passage.
Any arguments and viewpoints discussed or set out in the passage.
Awareness of the issues addressed in the passage.
Legal issues and facts related to and arising from the passage.
The judgment or statute and to summarize the passage.
Your ability to apply your knowledge of the fields of law as discussed in the passage.
The questions in the CLAT PG exam aim to evaluate your comprehension abilities.
Check out the picture below to learn the mandatory subjects of the CLAT PG Syllabus 2023.
You will find extracts from fundamental legal sources, such as significant court decisions in various fields of law, statutes, and regulations, in sections of the CLAT PG 2023 syllabus.
CLAT PG Syllabus 2023 for Constitutional Law
Constitutional Law is one of the essential topics of the CLAT LLM Syllabus 2023. Check out the table below to know the CLAT PG Constitutional Law
| | |
| --- | --- |
| Constitutional Law for CLAT | Basic & Salient features of the Indian Constitution/History/ Preamble, Citizenship, Doctrine of Basic Structure, Fundamental Rights - Article 12- Article 30, DPSPs & Fundamental Duties, Important Amendments, Constitutional Remedies, Supreme Court, Ordinance Power, Parliament, Services under Union and State, Emergency Provisions, Trade, Commerce, Intercourse, Executive, Amendment Power, Committee and Commissions, Anti-Defection Law, Center-state Relations, Scheduled Area, Article 300 A, Article 370 |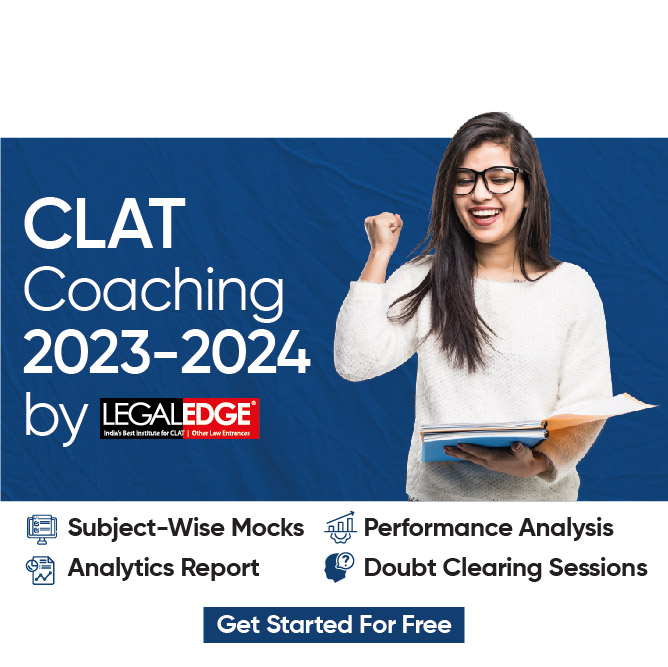 CLAT PG 2023 Syllabus for Law of Torts
The following are some of the important topics under the Law of Torts that you need to prepare for the upcoming exam.
Law of Torts
Introduction to General Principles, What is Tort? Origin of Law of Torts in India, Criticism of Winfield, Damnum sine Injuria/ Injuria sine Damnum
Tortious Liability, Several and Independent Tortfeasors, Joint Tortfeasors and related cases, Statutory Authority, Consent (Volenti nonfit Injuria)
General Defences, Acts of God & Private Defence, Strict Liability, Specific Torts, Absolute Liability, Negligence, Nuisance and Defamation, Vicarious Liability, Consumer Protection, The distinction between Joint and Several Tortfeasor

CLAT PG Syllabus 2023 for Labour and Industrial Law
Check out the table below to know the Important topics of Labour and Industrial Law as per the CLAT PG 2023 Syllabus
| | |
| --- | --- |
| Labour and Industrial Law | Introduction, Theory, and Concept of Industrial Relations, Industrial Relations Code 2020, Code on Social Security 2020, Code on Occupational Safety Health and Working Conditions 2020, Code on Wages 2020, Industrial Disputes Act, The Factories Act, 1948, The Standing Orders Act, Analysis of Recent amendment made in Labour Laws and their leading cases |
CLAT LLM Syllabus 2023 for Jurisprudence
You should focus on the following topics to enhance your CLAT PG exam preparation
Jurisprudence
Definition/outlook of the subject/Nature of Jurisprudence, Source of Law, School of Jurisprudence, Rights, Duties, Power Liability
Person and Liabilities, Ownership and Possession, Corporate Liability, Theories of Punishment, Law and Morals, Contemporary Jurists & Recent Contemporary Concepts, and Maxims, Hohfeld's Legal Relation/ Jural Analysis
CLAT PG Exam Syllabus 2023 for Environmental Law
The following table depicts the essential topics under the CLAT PG syllabus for environmental law.
Environmental Law
Outline of the Subject, The Water (Prevention and Control of Pollution) Act 1974, The Air (Prevention and Control of Pollution) Act 1981, The Environment (Protection) Act 1986
The National Environment Tribunal Act, 1955; Indian Forest Act, 1927, The Forest (Conservation) Act, 1980, The Wildlife (Protection) Act, 1972; Public Liability Insurance Act, 1991, Schedule Tribes and Other Traditional Forest Dwellers (Recognition of Forest Rights) Act 2006, International Environment Law
Read more: Short tricks to remember articles of the Indian Constitution for the CLAT PG exam
CLAT PG Syllabus 2023 for Criminal Law
Go through the table below to know the essential topics of the Law of Torts under CLAT LLM Syllabus 2023.
| | |
| --- | --- |
| Criminal Law | Overview of Code/Introduction, Criminal Courts in India, Stages of Trial (Investigation- Inquiry- Trial), Plea, Bargaining, Bail, Vitiation of Proceedings, Inherent Power |
CLAT PG Syllabus 2023 for Public International Law
The following table shows the essential topics you need to focus on under international law.
Public International Law
Overview of the Subject, Sources of International Law, Relationship between Municipal and International Law, Treaties
International Organisations, State Recognition, State Succession, Human Rights and International Law, Law of Sea, Air and Space, Settlement of Dispute
CLAT PG 2023 Syllabus for Law of Contracts
Check out the table below for the important topics under the CLAT PG 2023 syllabus for Law of Contracts.
| | |
| --- | --- |
| Law of Contracts | Introduction, Basic elements of Contract, Offer Acceptance Consideration, etc., Communication of Offer, Acceptance, and Revocation of Offer & Acceptance, Consent, Capacity to Contract, Privity of Contract, Element Vitiating Contract, Wagering Agreements and Contingent Contract, Quasi Contract, Breach of Contract and Remedies for Breach of Contract, Bailment, Pledge- Specific Contract, Indemnity, Guarantee and Agency, Force Majure & Doctrine of Frustration |
CLAT PG Exam Syllabus 2023 for Property Law
Here is the list of important topics you need to focus on under the property for the upcoming CLAT PG exam. Attempting CLAT PG Mock Tests will help know the difficulty level of questions and the type of questions asked on this topic.
| | |
| --- | --- |
| Property Law | Outline and Applicability of the subject, Types of Properties, Concept of Sale, Lease, Mortgage, Exchange, Gift, Will, etc., Actionable Claims |
Check: Best CLAT PG Online Coaching 2023
CLAT PG 2023 Syllabus for Administrative Law
The following are essential topics you must prepare under the Administrative Law subject as per the CLAT PG 2023 syllabus.
Administrative Law
Meaning, Definition, Scope and Significance of Administrative Law, Rule of Law, administrative Actions- Meaning and Classifications
Principles of Natural Justice, Meaning, Nature and need of administrative direction, Natural Justice and Statutory Provisions, Control Mechanism of Delegated Legislation Parliamentary, Procedural and Adjudicatory, Liability of Administration, Administrative Discretion and Remedies, Meaning of Delegated, Legislation and its growth, Administrative Adjudication, Enforceability of Administrative Direction, Administrative Direction to Quasi-Judicial and Statutory Bodies, Doctrine of Estoppel, Relationship between Constitutional Law and Administrative Law, Emerging Trends in Administrative Law
Best Books for CLAT PG Exam 2023
Considering the change in paper pattern in the last few years, you should opt for the recently updated Books for CLAT PG 2023, as old books will not suffice the information required to crack this prestigious examination.
| | |
| --- | --- |
| Book Name | Author/Publication |
| Universal Guide to LLM Entrance Exam | Gaurav Mehta |
| Ascent's Law Guide for LLM Entrance Exam | Ashok. K Jain |
| Singhal's Solved Papers of LLM | Singhal Law Publications |
| S.S. HandBook For LL.M. Entrance Exam (based on the new syllabus) | Vishal Singh |
CLAT PG Exam 2023 Prep Suggestions
With few preparation days for the CLAT PG exam, do not pick a new concept to study from scratch. It's revision time!
Increase the number of mocks and previous year's papers you solve! Remember to keep a timer while solving mocks to enhance your time management skills.
Continue reading newspapers daily and current affairs to stay updated about all the issues happening across the globe.
Monitor your mock scores and spot sections that need more attention! And revise those concepts, and practise more mocks around them.
Conclusion
Scoring well shouldn't be hard since these subjects are picked from the undergraduate law curriculum. Revise every important topic belonging to the mandatory subject published by the Consortium of NLUs and listed in this article.
Wishing you good luck with your exams!