What to expect from this article: You must create an efficient exam preparation strategy to pass the NID DAT exam with top grades. This includes choosing the appropriate study material, creating a schedule, writing notes, and attending mock tests. So, to score good marks in the NID 2024, you must go above and beyond!
Many of you may have misconceptions that drawing skills are enough to crack the NID entrance exam. But that is false. It takes a lot more to clear the exam.
You must be creative, imaginative, and innovative to crack the NID exam 2024. You should focus mainly on
Quality
Speed
Time management
Practice is the only key to enhancing your time management skills in the final exam. Are you wondering how to improve your creative skills?
Read through the blog to understand how to Prepare for NID 2024 In 6 Months.
How To Prepare For NID 2024 In 6 Months?
In the NID entrance exam, you will be tested on your creative skills rather than your artistic skills. So, you should focus on developing your creative skills to succeed in the exam.
Here are important topics for the NID exam:
| | |
| --- | --- |
| Design Outline for Beginners | Colour Terminology |
| Mood, Theme & Colour Inter-relationship | Design Theory |
| Natural & Geometrical Form | Innovation in Design |
| Lettering | Optical Illusion |
| Colour Psychology & Optical Illusions | Form & Function |
| Theme Development | Creative thinking & writing |
| Visual Logic | Good Design vs Bad Design |
| Use of Measurements, Scale & proportions | Optical Illusion |
| Developing Themes & Colour Associations | Inspiration & Creativity |
| Memory Drawing | Usage of Colour in Compositions |
How To Prepare For NID 2024 In 6 Months?
The key to success in the NID Entrance Exam is planning and executing it effectively. Check out the plan in this post below to understand how to prepare for NID in 6 months?
How to study for NID entrance exam?
1st & 2nd Month
Before starting the preparation, go through the detailed

NID syllabus

and pattern
Allot at least 2 hours for preparing each topic
Clear all your basics and learn the fundamentals of all the subjects.
Be thorough with all the topics as per the syllabus.
Check: NID Exam Pattern
3rd & 4th Month
List out the topics that you are weak on and rework them.
Every 10 days once, do your revision to remember what you have studied earlier.
Solve as many questions as possible from

previous years' question papers for NID

to improve your time management skills and speed.
Try to analyze your performance after the completion of each paper.
5th & 6th Month
In the 5th month, start your revision.
Make sure to revise all the topics that you have prepared last 4 months.
Do not pick any new topic, as this will create confusion and fear.
Solve at least 1-2 previous year's papers each day.
Attempt as many mock tests as possible to test your preparation levels.
Check: How to prepare for NID Studio Test?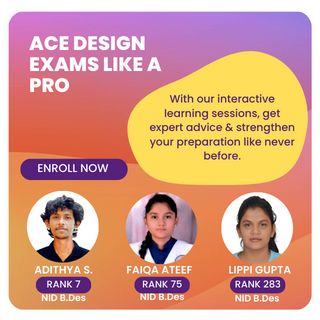 Best Preparation Strategy to Crack NID 2024 in 4 Months
Many of you might be preparing for the NID entrance exam 2024 along with board exams. However, you can easily crack the exam if you have a well-structured plan and preparation strategy.
Here are a few experts' suggested tips and tricks that will help you prepare well for the NID exam in four months.
Here's how to crack NID DAT.
Know the Pattern
You must be familiar with the Question Paper Pattern for NID as it helps in understanding the pattern of the question paper, the marking scheme, and the number of questions asked from each section.
Check Out the Syllabus
Before starting the preparation, you must review the detailed syllabus and plan accordingly.
The syllabus might be vast, but there are a few important topics that you need to be thorough with to score good well in the exam.
Check: NID Exam Section Wise Preparation Strategy
Be Innovative
You should develop the ability to think out of the box.
Make a design from daily materials, like glass, straw, tape, etc.
Check: Design Thinking Questions
Make a Study Plan
For cracking the NID exam, the first and foremost important thing has a well-planned study schedule.
Each one of your study timings may vary. However, creating the

best study timetable for the NID exam

will help you crack the exam easily on the first attempt.
Try to review your weak areas and allocate more time to topics that you feel are difficult.
Make sure to complete the tasks planned for each day without postponing them.
Improve Speed
If you do not improve your speed, having excellent drawing skills and imagination is useless.
You should aim to show your creativity quickly, so focus on practice and consistency.
Improve General Knowledge
Make a habit of reading the newspaper and magazines regularly.
Following

Daily Current Affairs

will help you stay updated about all happenings worldwide.
Also, watch the news to stay updated about all the happenings in the world.
You can draw solutions from anything that catches your eye.
Practice Question Papers
Solving previous years' sample papers will help you understand the difficulty level and the type of questions asked in the exam.
Also, it is the best way to comprehend the NID exam pattern. With the help of previous question papers, you can know where you are committing mistakes and how to overcome them.
Time Management
Managing time is an important factor in the NID Entrance exam.
Each question may consume different timings. Hence, you must ensure not to spend too much time on a question when you cannot find the answer.
Practising previous years' papers and mock tests will help improve your time management skills for the final exam.
Check: Time Management Tips for NID Aspirants
Take Breaks
Take breaks between study hours to help you focus and concentrate better. It will help in reducing your stress and anxiety.
Revision
With our revision, it is difficult to remember all the topics that you have studied earlier.
Try to allocate at least a month for revision and revise all the topics you have studied earlier.
Do not learn any new topic during revision, as it may create confusion at the last moment.
Which Books Should I Consider for NID 2024 Preparation?
Many books are available online and offline, but opting for the right book is difficult.
The following are some of the best preparation books for NID highly recommended by toppers.
| | |
| --- | --- |
| Book Name | Author |
| NID (B.Des.) Entrance Books and Test Series | AFAINDIA |
| Basic Rendering | Robert W.Gill |
| Design drawing | Francis D.K.Ching |
| NIFT/NID/IIFT Entrance Exam Guide | RPH Editorial Board |
How to Prepare for NID 2024 Interview?
A panel of experts from industries/Academics will conduct a personal interview to assess your overall personality based on general awareness, extracurricular activities, academics, and specific fields of interest.
How to prepare for NID entrance interview process?
The following are some of the best Interview Preparation Tips to crack the NID interview provided by experts.
Research the Fashion Industry
Be More Descriptive
Set Your First Impression
Avoid One-Word Conversations (Yes or No)
Don't Waste Interviewer's Time
Be Prepared For Commonly Asked Questions
Good Communication Skills
Creative Mind
Choose Your Words Wisely
Show gratitude
Body Language
Check: NID Interview Questions with Answers
Does Solving CreativeEdge Mock Tests help me Score Well in the NID 2024?
According to the experts at CreativeEdge, solving mock tests will help improve your time management and problem-solving skills. Also, it will help improve your speed and accuracy in the final exam.
You are advised to solve at least 1-2

Mock Tests for the NID exam

every week to test your preparation levels.
With the help of mock tests, you can build your confidence levels.
Also, you can find out your weak areas and work on them.
Check: How to Prepare for Design Exams in 2 Months?
Conclusion
The National Institute of Design entrance exam is highly competitive and challenging. Preparing for the NID 2024 exam in 6 months can be daunting, but it can be done with the right plan and dedication. To prepare effectively, it is important to understand the NID syllabus and the exam pattern and practice mock tests. With proper guidance, dedication, and hard work, you can crack the NID 2024 exam in 6 months.
Also check: NID 2024 Sample Papers