IIT Bombay released the registration dates and the exam dates for UCEED 2023 on the official portal. The online registration starts from 30th September 2022 and will continue till 21nd October 2022. The exam date is set on 22nd January 2023. They will also release the syllabus for UCEED 2023 on the official website. The question paper consists of two parts: Part A and Part B.
The syllabus is different for both Part A and Part B. This post takes you through complete details about UCEED 2023 Syllabus.
Part A exam comprises three sections, whereas Part B would consist of one drawing question. The duration of the exam is 3 hours.
UCEED 2023 Syllabus PDF Download Subject-Wise
Part A section is conducted for 240 marks, and the maximum time allotted is 2 hours 30 mins. The UCEED 2023 Syllabus for Part A consists of the following six topics.
Visualization and Spatial Ability
Observation and Design Sensitivity
Environmental and Social Awareness
Analytical and Logical Reasoning
Language and Creativity
Design Thinking and Problem Solving
Download UCEED Previous Year Question Paper PDF
UCEED 2023 Visualization and Spatial Ability Syllabus
This section consists of pictorial and diagrammatic questions to test your understanding of the transformation and/or manipulation of 2D shapes and 3D objects and their spatial relationships. Important things to study related to this topic are listed below:
Pattern and Design of Paper Folding Materials and Type of Texture
Texture Making Materials, Production Materials, Decoration Materials - Flooring, Cladding (protective material which covers the surface of something), Wall Protection and Decoration - Paints, Plasters, etc.
Conventional/Unconventional Materials for Construction, Design, and Decoration
Optical Illusion (2D/3D objects and understanding)
Observation and Design Sensitivity Syllabus
The questions are designed to test your ability to detect concealed properties in ordinary things, people, situations, and events and to think critically about them. Applying attention to certain details, analyzing, reasoning, classifying, inferring, and predicting. Ability to discern subtle differences in visual properties and aesthetic outcomes. The following are some of the important topics that you need to prepare for the upcoming exam.
Logos and Punchlines, Type of Logos, Designs of Logos Chronology, Hidden meanings in logos, Punchlines Perspective, Colour Theory, and Line Theory,
Elements of Design, Principles of Design, Colour Psychology and Significance, Photography Evolution of Camera, Type of Cameras, Camera and its functioning technologies and terms Accessories, Photography Glossary,
Typography Element and Principles of Design Lines, Shape, Form, Colour, Pattern, Texture.
Environmental and Social Awareness Syllabus
This section tests your General Awareness of environmental factors such as climate, population, water, vegetation, pollution, weather, natural resources, etc., and their implications on the design of products, images, infrastructure, and environment.
You should be aware of social and cultural connections with the design, the history of the designed artifact, and socially responsible and environmentally sustainable design responses. History of art, sculpture, and literature. Important things to study related to this topic are listed below.
History of Indian Art/Design, An overview of World Art, Art and Architecture, Social and Cultural relation with Art/Design.
Environmentally Sustainable Designs, Indian Cultural Background & Famous Structures, Musical instruments, Musical Maestros, Dance forms, Crafts and Dresses.

Analytical and Logical Reasoning Syllabus
This section of the UCEED Syllabus tests the ability to look at information, be it qualitative or quantitative in nature, and discern patterns within the information. You should have the ability to weigh opinions, arguments or solutions against appropriate criteria.
Also, you should have the ability to check for hidden bias or assumptions and whether evidence and argument support conclusions. Use logic and structured thinking to deduce from a short passage which of a number of statements is the most accurate response to a posed question. Going through Data Interpretation, brainteasers, and patterns can be an advantage.
Arguments, Assumptions, Course of Action, Assertion, and Reasoning, Causes and Effect, Analogies, Direction and Distance, Mathematical Tricks, Cubes, Linear and Matrix Arrangement.
Syllogism (a process of logic in which two general statements lead to a more particular statement) Punch Line, etc.
Language and Creativity Syllabus
You should have the ability to understand and use Standard English. Reading comprehension, knowledge of English grammar.
Also, you should be able to think creatively in terms of alternatives, and you should have the ability to distinguish innovative options and think out of the box.
Design Thinking and Problem Solving Skills
You should have the ability to use visual analogies, metaphors, signs, and symbols. Also, you must understand complexity, identify the problem, generate alternatives, evaluate the options, and select solutions.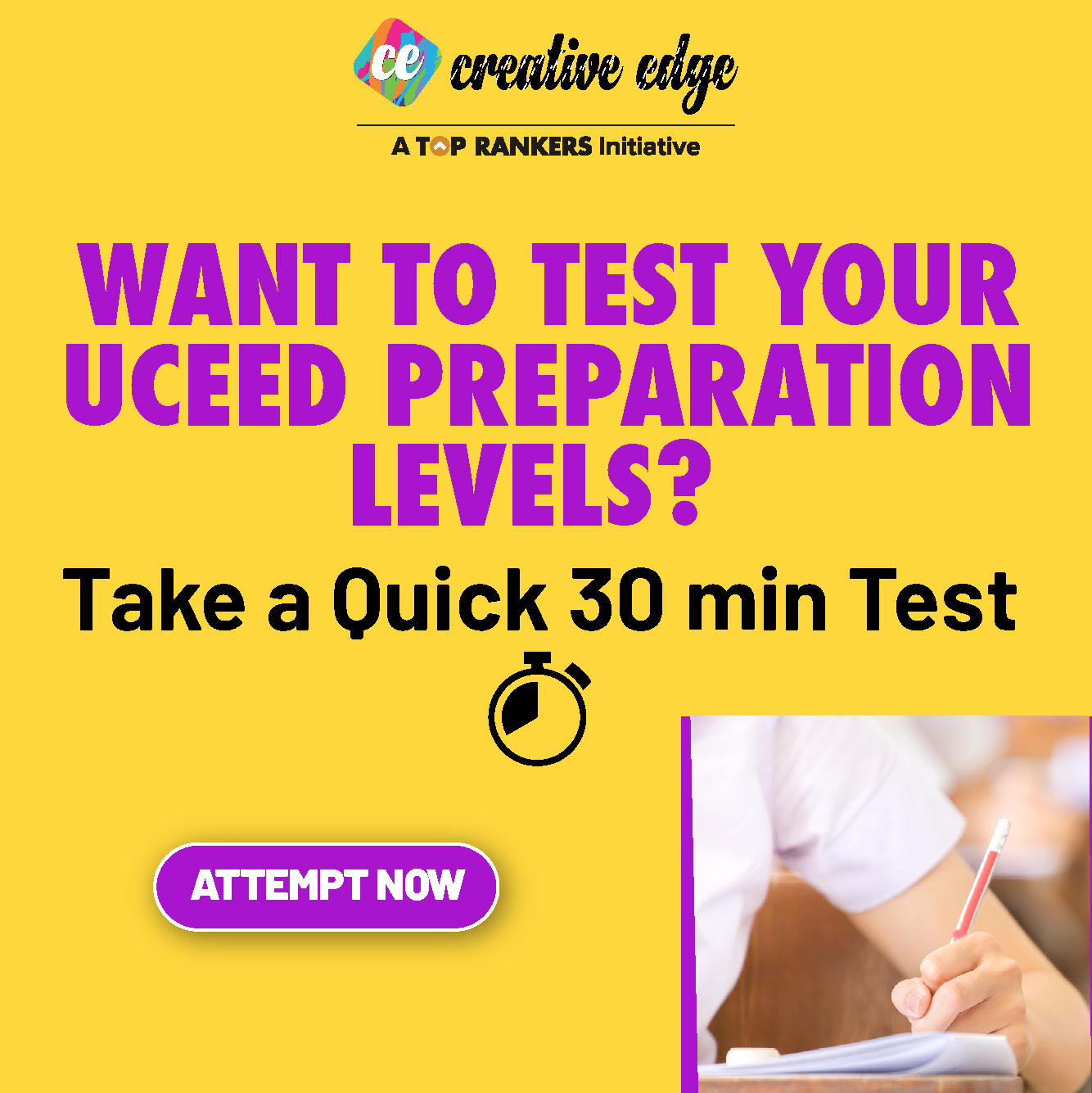 UCEED 2023 Exam Syllabus for Part B
As per the UCEED Exam Pattern, Part B of the UCEED exam consists of only one question for 60 marks. The time duration of Part B is 30 minutes. The question paper aims to test your drawing skills which will require subjective evaluation.
Drawing Syllabus
You should have the ability to draw products, people, or scenes in proportion with good line quality, composition, proportion, perspective, and shading.
Also read: UCEED Drawing Test Practice Questions 2023
UCEED 2023 Books
It is important to choose the right books that cover all the topics as per the latest syllabus. You may consider referring to the books listed below during your UCEED Preparation.
| | |
| --- | --- |
| Name of the Book | Name of the Author |
| UCEED (B.Des) Entrance Books and Test Series Paperback | AFAINDIA |
| The Design of Everyday Things: Revised and Expanded Edition Kindle Edition | Don Norman |
| UCEED Design Environment & Social Awareness In Design Perspective Combined With Mental & Verbal Aptitude | Institute of Creative Sciences |
| Comprehensive English for NID, NIFT, UCEED, CEED, NATA, B.Arch & Other Design Entrance Exams Paperback | Designologue |
Also read: How to prepare for UCEED in 6 Month