What to expect in this article: Time management is essential for passing any exam. As a result, learning time management strategies for the UCEED exam is critical. Gain knowledge about the exam pattern, marking scheme, and preparation tips. This article provides you with a list of points that you should keep in mind while taking the UCEED 2023. It is important that you adhere to a strict timetable for your preparation.
Every year, the Indian Institute of Technology (IIT) Bombay holds the UCEED exam to admit design students to undergraduate programs. You must not make any mistakes before or on the day of the exam, or all of your hard work will be for naught. You must remain calm and adhere to a strict timetable for your preparation.
UCEED 2023 will be split into two sections: A and B. Part A of the UCEED exam will be distributed further into three main sections. The first section would be made up of Numerical Answer Type (NAT) questions, while the second and third sections will be comprised of Multiple Select Questions (MSQ) and Multiple Choice Questions (MCQ).
Time Management Tips for UCEED 2023
Numerous former aspirants who took the NID entrance exam, as well as the UCEED in previous years, expressed frustration with the type of questions asked. In this article, we have compiled a list of points that you should keep in mind while taking the UCEED 2023 to achieve better results on exam day.
The UCEED exam consists of 80 questions that must be answered in 180 minutes. In this specified duration, you ought to answer each question quickly, taking no more than two and a half minutes. However, wrap up each question in 2 minutes so that you have time to recheck your answers or attempt the questions you missed the first time.

Every other applicant has some advantages and disadvantages. Immediately begin attempting questions that you think you can first. This will not only help boost your speed in solving the paper, but it will also strengthen your trust in taking the UCEED 2023 test paper.
Because the UCEED exam pattern includes negative marking, every aspirant should avoid making wild guesses and focus on reducing the influence of negative marking as much as possible.
Also read: How to prepare for uceed in 6-months
Focus on Picture-Type Questions
There will be several questions on the UCEED exam that will require more time and awareness. These are typical problems to solve and aptitude questions that force you to think. However, there are picture-based questions that can be attempted quickly. These are simple to solve and comprehend. If possible, try these questions first. Because the ease level is much higher, answering these questions will boost your confidence because you won't have to worry about answering them correctly, unlike aptitude questions.
Take advantage of your UCEED coaching classes to prep as many picture-based questions from previous exams as you can. Even here, you must time yourself so that you do not go too far in answering these simple questions.
Also read: UCEED Drawing Test Practice Questions 2023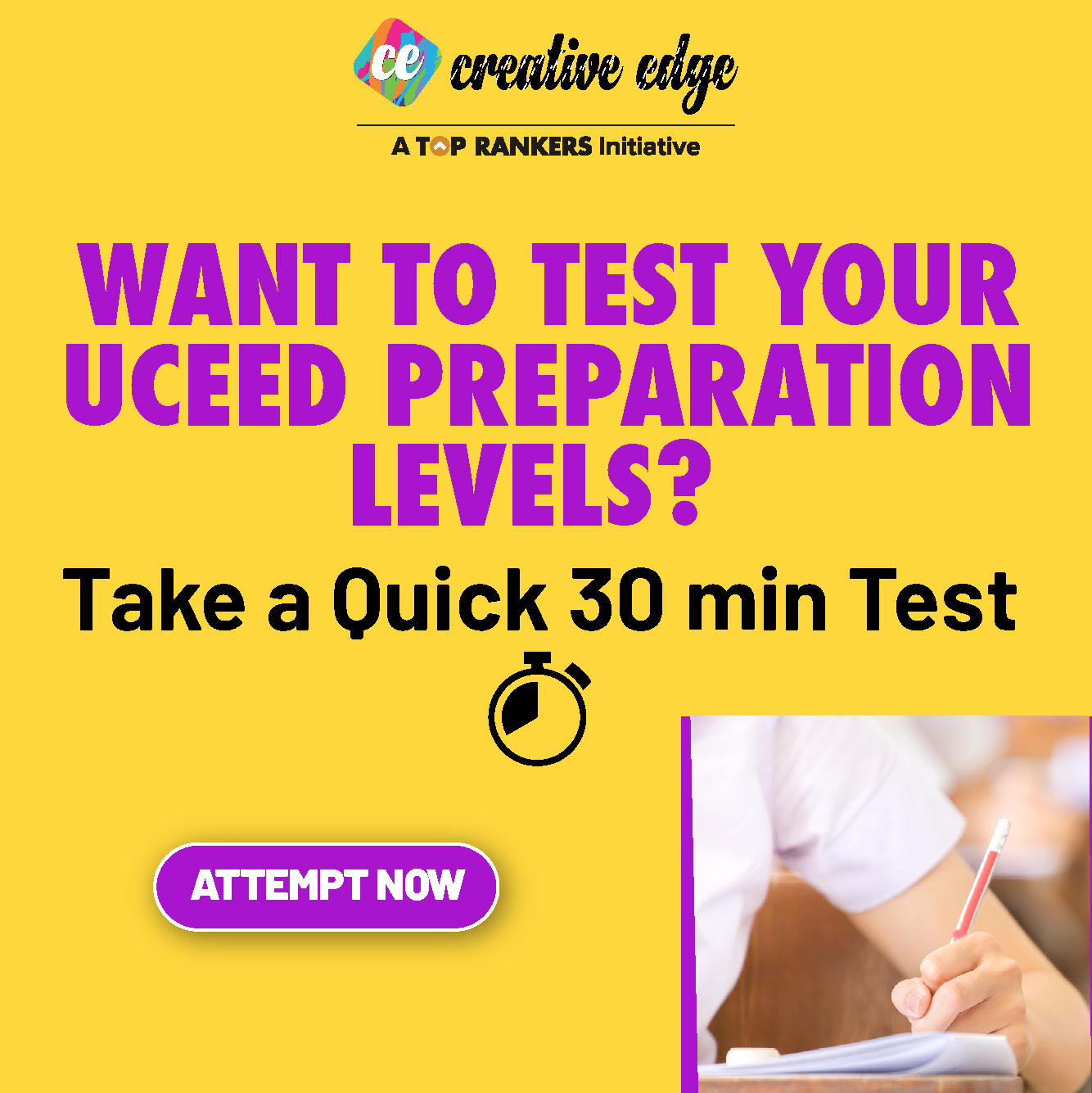 It would be best if you planned your time so that you will have at least 15-20 minutes, in the end, to go over unanswered questions. This is critical because this type of initiative can significantly improve your score.
One of the most effective ways to prepare for the UCEED exam is to practice as many previous years' UCEED question papers as possible, as well as UCEED sample questions. Such a task will not only assist you in understanding your speed in solving the UCEED test paper, but it will also enable you in recognising your strengths and weaknesses. Aside from that, you should review some UCEED preparation tips to ensure that you have covered all the critical topics required to score well in the exam.
What can CreativeEdge do to Improve Your UCEED 2023 Preparation?
We at CreativeEdge provide expert preparation facilities for UCEED 2023 and other design entrance exams. Not making the UCEED exam feel tough is our primary aim. Through our online courses, we always try to build a stable preparation plan for you.
We provide UCEED online coaching with study materials in PDF format.
Live online classes with doubt-clearing sessions.
Sample Papers and Question Papers are available.
Self-assessment materials such as Test series, Mock Tests, etc, are available.
Self-paced learning.
Read more: UCEED Sketching Questions 2023