What to expect in this article: The competition is fierce amongst students hoping to gain admission to the top IITs through the UCEED exam. To help you understand how to prepare for UCEED in 6 months, we have curated the best tips and strategies offered by our experts at CreativeEdge (a pioneer in providing the best online guidance for UCEED).
Are you an aspirant for UCEED Exam? Worried about how to make the study plan to complete the syllabus in 6 months?
Smartly preparing for UCEED can help you achieve your goal with effective results, just as a small game-changing strategic approach can turn the table.
Scroll down to learn tips and strategies to create the study plan, important topics, and more.
6 months preparation strategy for UCEED 2024
If you study 8 hours daily, devoting 1.5 hours to the UCEED Previous Year papers is a mandate. How does this help you?
It helps you improve your time management and problem-solving skills.
1st & 2nd Month
Unlike other design entrance exams, the UCEED exam evaluates your visualization and spatial ability, environmental and social awareness, observation and design sensitivity, design thinking, creativity, and problem-solving skills.
Preparation for this exam requires a distinctive strategy mainly because it is a computer-based test containing a pen and paper drawing question.
Read the detailed

UCEED Syllabus

and exam pattern thoroughly.
Divide all subjects and allot at least 2 hours for preparing each topic.
Focus more on topics like texture-making materials, designs of logos chronology, history of Indian art/design, musical maestros, and syllogism.
Be thorough with all the topics by the end of 2nd month.
3rd & 4th Month
List out your weak topics and rework them.
At the end of every week, do your revision to remember what you have studied earlier.
Practice with

UCEED mock tests

and previous year's papers to understand the difficulty level and the type of questions asked in the exam.
Try to analyze your performance after the completion of each paper.
5th & 6th Month
In the 5th month, revise all the topics you have prepared in the last 4 months.
Do not pick any new topic, as this will create confusion and fear during the last days of the

UCEED exam

Solve as many questions as possible from previous year's papers.
Attempt as many UCEED Mock Tests as possible to test your preparation levels.
Other tips for 6 months preparation strategy for UCEED 2024
You can easily crack the UCEED exam in 6 months. However, you required a well-structured plan, preparation strategy, and hard work.
1. Know the Pattern
You must be familiar with the UCEED Exam Pattern as it helps understand the pattern of the question paper, marking scheme, and the number of questions asked from each section.
2. Get Your Basics Right
If your basics are unclear, performing well in the exam will become difficult. Hence, ensure to clear all your basics, making your preparation easier.
3. Improve Speed
If you do not improve your speed, having excellent drawing skills and imagination is useless. It would help if you aimed to show your creativity quickly, so focus on practice and consistency.
Check: UCEED Drawing Test Practice Questions 2024
4. Work on Sketching Skills
Try to improve your sketching skills, as sketching with instruments is not allowed sometimes in the UCEED entrance exam.
Use the right equipment for sketchings, such as 2 grades of pencil, H grade for rough work, light drawings, and B for rapid creation and shading.
Check: UCEED Question Papers PDF
5. Improve General Knowledge
Make a habit of reading the newspaper and magazines regularly. Also, watch the news to stay updated about all the happenings in the world.
You can draw solutions from anything that catches your eye.
6. Practice Sample Papers
Solving question papers will help you understand the difficulty level and the type of questions asked in the exam. Also, it is the best way to comprehend the exam pattern.
Try to balance the answer's speed and accuracy while practising the UCEED 2024 sample papers.
7. Take Breaks
Take breaks between study hours to help you focus and concentrate better. It will also help in reducing your stress.
8. Revision
With out revision, it is difficult to remember all the topics that you have studied earlier. Try to allocate at least a month for revision.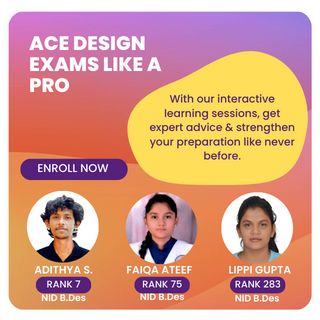 What are the Important Topics for 6 months preparation strategy for UCEED 2024?
Being aware of the important topics will help you prepare all the topics as per the syllabus.
Check the table below for the essential topics to prepare for the upcoming UCEED exam.
| | |
| --- | --- |
| Topics | Sub Topics |
| Visualization and Spatial Ability | Conventional/Unconventional Materials for Construction, Design, and Decoration, Optical illusion |
| Observation and Design Sensitivity | Logos and Punchlines, Type of Logos, Designs of Logos Chronology, Hidden meanings in logos, Punchlines Perspective, Colour Theory, and Line Theory |
| Environmental and Social Awareness | Environmentally Sustainable Designs, Indian Cultural Background & Famous Structures, Musical instruments, Musical Maestros, Dance forms, Crafts, and Dresses |
| Analytical and Logical Reasoning | Arguments, Assumptions, Course of Action, Assertion, and Reasoning, Causes and Effect, Analogies, Direction, and Distance |
| Language and Creativity | Reading comprehension, knowledge of English grammar |
| Design Thinking and Problem-Solving | You should be able to use visual analogies, metaphors, signs, and symbols. |
Which Books Should I Consider for 6 months preparation strategy for UCEED 2024
To perform well in the exam, opting for the best books is most important. You can include the following books during your preparation for the exam.
| | |
| --- | --- |
| Name of the Book | Name of the Author |
| UCEED (B.Des) Entrance Books and Test Series Paperback | AFAINDIA |
| The Design of Everyday Things: Revised and Expanded Edition Kindle Edition | Don Norman |
| UCEED Design Environment & Social Awareness In Design Perspective Combined With Mental & Verbal Aptitude | Institute of Creative Sciences |
| Comprehensive English for NID, NIFT, UCEED, CEED, NATA, B.Arch & Other Design Entrance Exams Paperback | Designologue |
Check: Sketching Questions for UCEED Exam 2024
Is the UCEED Exam Tough?
The difficulty level of the UCEED exam depends on your ability and relative to your skills. There is no way to answer "how easy the UCEED exam is" as the easy or difficult exam varies from person to person.
You can easily crack the exam with good observation, problem-solving skills, and general awareness.
As per the previous year's UCEED Exam Analysis, the overall difficulty level of the exam was elementary compared to the last year.
There were 68 questions from part A and one creative question in Part B.
Conclusion
In conclusion, UCEED preparation requires a great deal of effort and dedication. It is important to stay motivated and focused and to practice regularly. It is also important to be organized and to have a plan for each day. Additionally, take breaks and make sure to get enough sleep. Anyone can succeed by following these tips and being prepared for the exam.
Check: Designing Sketches and Human Figures for UCEED 2024
Enable Ginger
Cannot connect to Ginger Check your internet connection
or reload the browser
Disable in this text field
Rephrase
Rephrase current sentence
1
Log in to edit with Ginger