If you are aspiring to study Design at IITs, you must thoroughly prepare to score excellent marks.
You have majority marks in Part A, so focus on aptitude and solve many mocks test.
As your exams are nearing, it's extremely important to stay calm while preparing or giving your UCEED entrance exam.
Revise the important topics before your UCEED exams are approaching.
The article will take you through the UCEED last-minute preparation tips.
UCEED Last Minute Preparation Tips
UCEED paper is prepared by the IIT, therefore the standards maintained for it is very high. Ideally, the UCEED Seat Allotment happens after the counseling process. It's smart to read your brochure yourself.
Make sure you know the timings well and that you are not unprepared for this information. Therefore, read all the instructions clearly.
When it comes to last-minute preparations be sure to rest, eat right and sleep adequately.
Last-minute you can brush up on the important topics, and revise the formulas.
Make sure your mind has rested for it to be creative, as UCEED paper is all about clarity.
Wear appropriate clothes that are comfortable and appropriate for the weather.
Start from your house according to the reach the center early.
You would have collected all the important information for UCEED preparations, refer to all of it.
Check: UCEED Answer Key 2024
General UCEED Preparation Tips 2024
If you have the confidence to study without coaching, plan your preparations strategically.
If you have joined coaching, you still have to remember to do a lot of research and self-studies. Understand your syllabus, check the syllabus on the official website as well.
Part A section is conducted for 240 marks focusing mainly on NAT (Numerical Answer Type), MSQ (Multiple Select Questions), and MCQ (Multiple Choice Questions). The maximum time allotted is 2 hours 30 mins. The UCEED 2024 Syllabus for Part A consists of the following six topics.
Visualization and Spatial Ability
Observation and Design Sensitivity
Environmental and Social Awareness
Analytical and Logical Reasoning
Language and Creativity
Design Thinking and Problem Solving
As per the UCEED Exam Pattern, Part B of the UCEED exam consists of only one question for 60 marks. The time duration of Part B is 30 minutes. The question paper aims to test your drawing skills which will require subjective evaluation. Drawing Syllabus: You should have the ability to draw products, people, or scenes in proportion with good line quality, composition, proportion, perspective, and shading.
Cover all the topics by preparing notes. Whatever you study, visualize and write down every concept that you are studying.
Your preparations are ineffective if you don't solve previous year's questions papers. You must have an idea of the type of questions and their difficulty level so to avoid last-minute surprises please make sure you solve as many questions papers as you can.
Solve as many mock tests as possible during your preparation plan. Make sure you practice daily which can be possible when you prepare a timetable and distribute your subjects thoroughly. Practise is important because just drawing well isn't sufficient but drawing fast is also extremely important. Speed matters.
Once you study the concepts and cover the syllabus, attempt 5 UCEED Previous Year Papers on a regular basis for PART A. Practise pencil sketching and drawing for 30-45. The idea is most important not your sketching skills.
Ask for feedback on your drawing to better yourself. Complete 1 theory topic daily and make notes.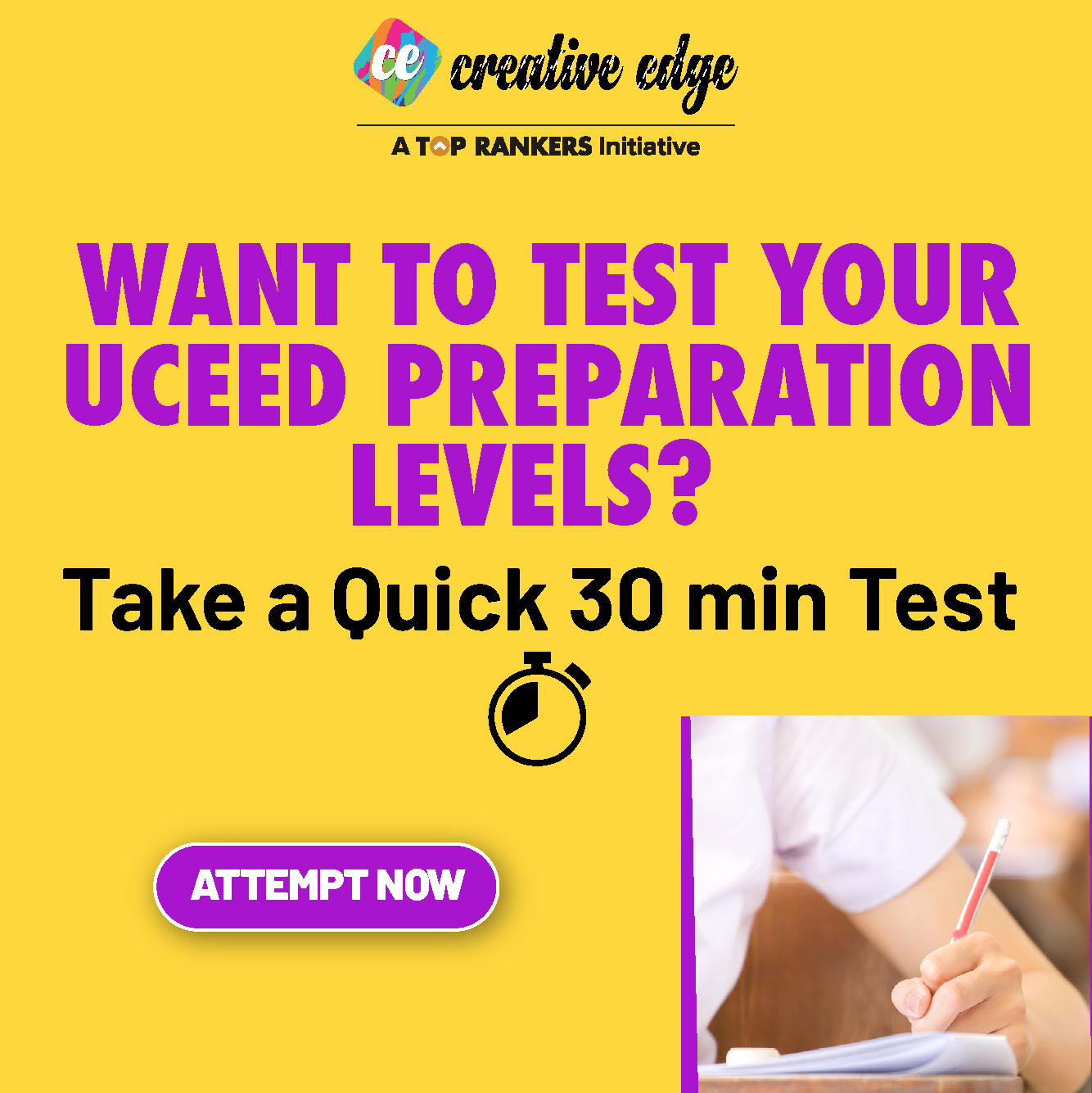 UCEED Preparation Books 2024
Refer to the books below for your preparations, remember your resources do not limit to just the books below. Be generous with your research to learn maximum topics most efficiently.
| | |
| --- | --- |
| Name of the Book | Name of the Author |
| UCEED (B.Des) Entrance Books and Test Series Paperback | AFAINDIA |
| The Design of Everyday Things: Revised and Expanded Edition Kindle Edition | Don Norman |
| UCEED Design Environment & Social Awareness In Design Perspective Combined With Mental & Verbal Aptitude | Institute of Creative Sciences |
| Comprehensive English for NID, NIFT, UCEED, CEED, NATA, B.Arch & Other Design Entrance Exams Paperback | Designologue |
Remember as Benjamin Franklin says "By failing to prepare you are preparing to fail"!
Check: UCEED Colleges 2024