Summary: UCEED Preparation Tips 2024 offers prospective students the direction and methods required to succeed in UCEED 2024! Get a head start on your planning to stay competitive.
To crack the UCEED, you must be well-acquainted with different design elements and have adequate knowledge of GK and Current Affairs.
If you are passionate about design and creativity, it is easy to crack the exam.
We have curated the UCEED Preparation Tips provided by our experts at Creative Edge (a pioneer in providing the best online guidance for UCEED).
Start your UCEED preparation right away!
Download the UCEED preparation material and start with your UCEED exam preparation!
15 days Study Plan for UCEED 2024
UCEED admit card releases a few weeks before the exam.
What should be your strategy now?
These few days before the UCEED Exam are very crucial. You can make the most of it if you utilize them wisely.
Here is what you should be in your 15 Study Plan:
UCEED preparation tips -
1. Divide Subjects
Divide subjects and topics. Start with the subjects that you find comparatively tough. Revise them first and rewrite all the formulas and important sub-topics.
You will feel so much more relaxed and burden-free after taking this simple step.
Divide subjects this way and revise one by one, keeping your favourite one at the last.
We are advising you to do so for 2 reasons-
Last but not least, reviewing your preferred subject will boost your confidence as the day of your exam draws closer.
You are relieved from unnecessary stress.
2. Practice Mocks
Practice makes a man perfect. Keep practising mocks, previous year's papers and sample papers on a regular basis.
3. Revise
Revision is an essential part of the preparation process, as it allows for revising important topics.
Check: UCEED Colleges 2024
4. Practice Sketching
Sketching is one of the most important parts of the UCEED exam.
Keep practising! Take inspiration from newspapers, magazines and current issues.
UCEED Last Minute Preparation
If you have just started your UCEED preparation for the next session, here is how you should go ahead with it-
As we all know, nearly 10,000 students appear for the UCEED exam yearly. UCEED Preparation for this exam requires a distinctive strategy as the competition is high for this exam.
In the exam, you will be evaluated based on your ability to visualize and create a design to solve the problem at the end.
A total number of 13,549 candidates qualified this year! Next year you can be one of them!

Other UCEED strategy -
Note that you can also rely on UCEED preparation online platforms.
UCEED preparations tips -
Join Online Coaching
Opting for online coaching is one of the best UCEED preparation methods to succeed better in the exam.
With the help of online coaching, you can build in-depth knowledge of the key concepts.
Also, it will help you get conceptual clarity on all the subjects.
You can watch our

FREE Demo Class for UCEED

to understand how our experts will help you to excel in the exam.
Know the Syllabus & Exam Pattern
It is important to be aware of the detailed syllabus and exam pattern as it will help you know the important topics from the exam point of view.
Knowing the UCEED Exam Pattern will help you know the number of questions, type of questions, marking scheme, and the weightage of each topic.
Sharpen Observation & Visualization Skills
Go through everything around you, whether it is a ride on the way to a hotel or a man standing beside your house or normal day-to-day activities.
Try to sketch the scenes you see around you. In this way, you can improve your observation and visualization skills.
Work on Creativity Skills
The UCEED exam is all about testing your creativity and innovation skills.
Creativity is a skill that can be developed with inner thought, passion, and exposure to the creative ideas of others.
Make sure to put extra effort into developing your creative abilities.
Try to make a design out of materials used in your daily life, like glass, straw, tape, etc.
Improve Sketching Skills
You should make sure to spend as much time as you can practising free-hand drawing and figure sketching.
Use the right equipment for sketching, such as 2 grades of pencil, H grade for rough work, light drawings, and B for rapid work and shading.
You should pursue learning the routine of freehand sketching, as drawing with instruments isn't permitted in the exam. You should become familiar with sketching tools such as 2 grades of pencil, H grade for rough outlines and light drawings, and B for quick work and concealing.
Check: UCEED Sketching Questions 2024
Solve Sample Papers
Practising previous year's papers will help you understand the type of questions asked in the exam and the difficulty level of the paper.
Also, it will help improve your time management skills and problem-solving skills.
It is advised to solve at least 1-2 UCEED Question Papers weekly.
Remember To Solve CEED Question Papers Too
Numerous toppers often recommend UCEED aspirants to solve the CEED question papers also. The explanation is that both UCEED and CEED are fairly similar in nature. Thus, make it a point to solve CEED questions to develop a more extensive point of view.
Be Confident
According to the experts, you must have enough confidence to tackle the UCEED entrance exam.
Solving sample papers will help build your confidence levels. There is a greater chance of being the topper with full confidence.
Check: UCEED vs NID
Improve General Knowledge
Make a habit of reading newspapers daily.
Watch the news regularly to stay updated about all the happenings in the world.
Make sure that you are aware of both national and international news.
Work on Time Management Skills
Time management is one of the important factors in cracking the UCEED exam. As we all know, the entrance test consists of two sections: Part A and Part B.
Part A consumes a lot of time in the exam. Therefore, you need to manage time in the exam to answer all the questions in the specified time.
Foster Creative And Innovative Skills
It is extremely important for students to have information regarding various 2D and 3D shapes, pictorial elements, and useful mechanical and logical ideas.
To become a pro at these topics, you should consistently observe and notice things around you cautiously. You can hone these abilities and exercise your mind by solving questions closely related to these topics.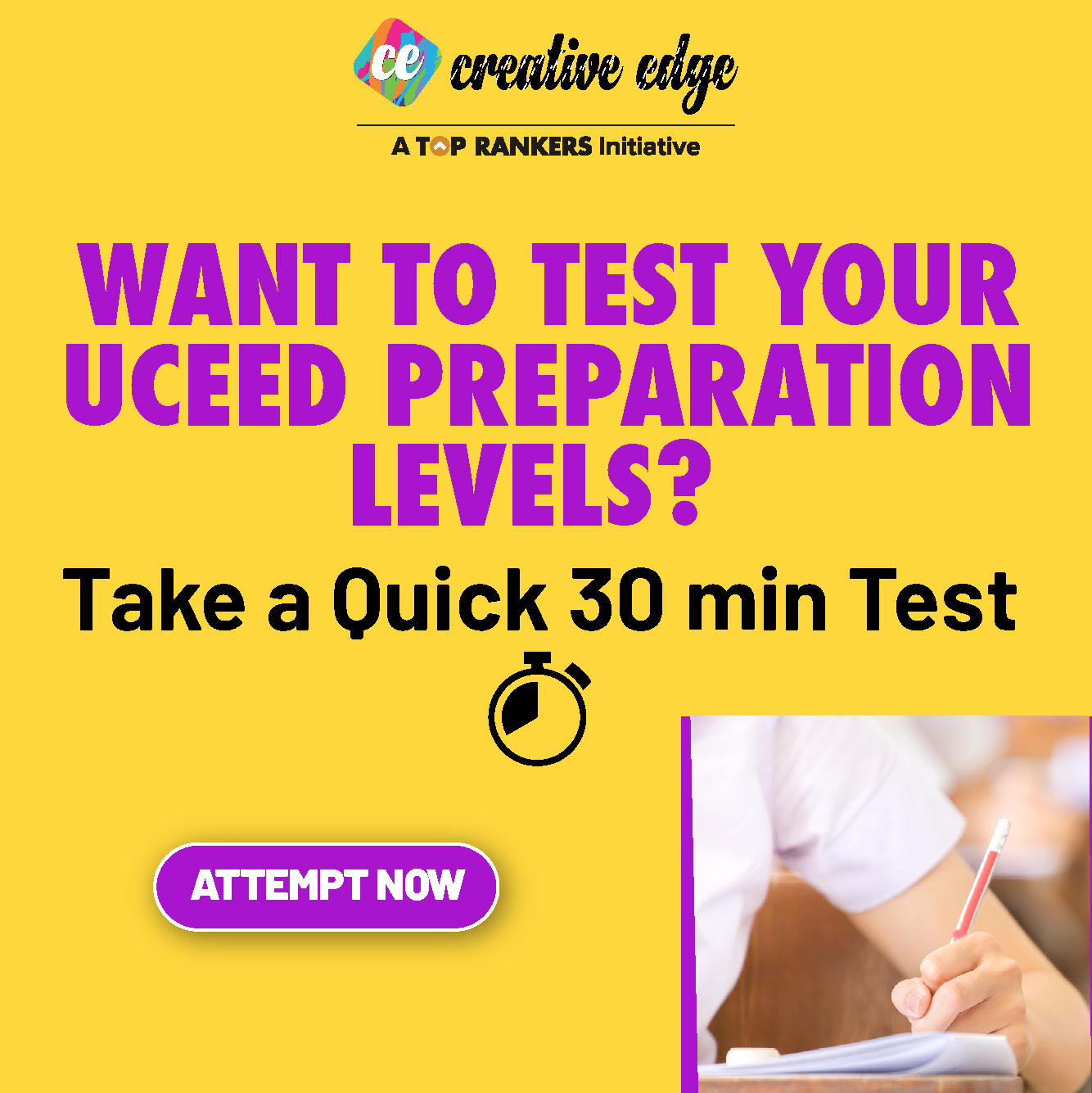 What are the Best Books for UCEED Preparation?
There are many books available both online and offline. But opting for the right book is difficult for many of you.
Well, to perform well in the upcoming UCEED Exam, you can refer to the following books:
UCEED Design Environment & Social Awareness In Design Perspective Combined With Mental & Verbal Aptitude by Institute of Creative Sciences
UCEED (B.Des) Entrance Books and Test Series Paperback by AFAINDIA
Comprehensive English for NID, NIFT, UCEED, CEED, NATA, B.Arch & Other Design Entrance Exams Paperback by Designologue
Why Should I Attempt Mock Tests during UCEED Preparation?
Taking up mock tests will help improve your speed and accuracy in the final exam. Also, it will let you know the type of questions asked in the exam.
With the help of UCEED Mock Tests, you can find out your weak areas and work on them.
Also, you can build your confidence levels, which will help you score good marks on the exam.
UCEED Preparation for 6 Months
You can easily crack the UCEED exam in 6 months with a proper preparation strategy. However, you require a lot of dedication and hard work.
Follow the tips to help you better understand How to Prepare for UCEED in 6 Months.
Examine the complete curriculum and pattern before beginning your UCEED preparation.
Make a list of the subjects in which you are strong and weak, and then allot time accordingly.
Give each topic at least two hours to prepare.
Increase your attention to subjects like textures-creating materials, logo designs in chronological order, Indian art and design history, musical masters, and syllogism.
Once every ten days, review what you have already learned.
Analyse your performance by solving papers from the previous year.
Final Thoughts
The essential requirement for passing the UCEED test is developing an optimal approach, and if you can do that, your final test preparation is nearly complete. So get to planning, thinking, and diligent study! Making use of schedules and study strategies is a productive exam preparation strategy. But in the end, your greatest honesty and diligence will enable you to attain outstanding outcomes. We wish you the best as you prepare for your final exam!
Check: Time Management During UCEED Exam
Enable Ginger
Cannot connect to Ginger Check your internet connection
or reload the browser
Disable in this text field
Rephrase
Rephrase current sentence
1
Log in to edit with Ginger