CLAT PG 2023 Application Alert:
If you are planning to take the CLAT PG exam this year and haven't filled out the application yet, please hurry!
Here is a reminder to fill out your application, as the registration process is coming to an end soon.
The Consortium of National Law Universities released the CLAT PG application form 2023 notification for the exam on August 8th. As always, the registration process is conducted online through the official site of CLAT PG.
The CLAT PG application process or the CLAT PG 2023 registration is a one-time process, therefore, be mindful and alert while you fill in the CLAT 2023 application form.
Ideally, there are four steps to the application process:
CLAT 2023 online registration
Filling out the application form
Uploading documents
Paying the application fee
On completing graduation in Law (a 3-year LLB degree or a five-year Integrated Law degree) from a university recognized by the Bar Council of India, with a minimum of 50% aggregate marks, you are eligible to fill out the CLAT PG Application Form 2023. If otherwise, your candidature is likely to be cancelled.
Continue reading to know every piece of information related to CLAT LLM 2023 registration, CLAT PG 2023 application form, and more.
Download FREE Study Material for CLAT PG 2023 by LegalEdge After College
CLAT PG 2023 Application Form Dates
If you are interested in applying for the CLAT PG Entrance Exam 2023, please ensure to fill out the CLAT application 2023 form beforehand.
Check out the table below to know all the important events related to the CLAT PG 2023 dates:
| | |
| --- | --- |
| CLAT PG Application | CLAT PG 2023 exam date |
| Starting Date to Apply | 8 August 2022 |
| Last Date for CLAT Registration | 18 November 2022 |
| Last Date for fee payment | To be announced |
| Application Form Correction | To be announced |
| CLAT Exam Date | 18 December 2022 |
The registration process ends soon; those who haven't filled out the applications, hurry!
You have a few months left for your CLAT 2023 preparations; do not hesitate to seek help.
Prerequisites for CLAT PG Registration 2023
Before proceeding with the CLAT PG application form, you should keep the following documents handy.
A working mobile number
A working E-mail ID
Class 10th and 12th mark sheets
Law UG degree certificates and scorecard
Front-facing passport-size recent photograph with a plain background
Signature
Category certificate if you belong to SC/ST/OBC category
Relevant PWD certificate issued by the competent authority (if applicable)
Relevant BPL certificate issued by the competent authority (if applicable)
How to Fill CLAT PG Application Form 2023?
Before proceeding with the registration form, you must make sure to check whether you meet the required Eligibility Criteria for CLAT PG or not.
As said above, there are four stages involved in the CLAT PG Application Form 2023. Go through the step-by-step instructions below to complete the form without any mistakes.
Step 1: Online Registration
Visit the official website of CLAT Consortium, i.e., consortiumofnlus.ac.in, or "click the link below."
Direct Link to Fill CLAT PG Registration Form 2023
You will be redirected to the new page and click on the "New Register" button.
A pop-up window that includes the Name, Mobile Number, and Password appears.
Enter the details correctly and click on the "Register" button.
Once registered, you need to activate your account by entering your mobile number, and OTP will be received at your registered number.
After submitting all details, click on the "OK" button.
Your account will be activated. Now you can proceed with filling out the application form.
Check: CLAT FREE PG Mock Tests 2023 to know where you stand with your CLAT 2023 preparations.
Step 2: Filling the CLAT PG 2023 Application Form
Re-login to the website using your registered mobile number and password.
Click on the "Login" button.
After logging in, you can find two options, "UG" and "PG."
Click on your respective course and click on the "Apply for CLAT 2023" button.
You must fill in all the details in the online form to take the registration process a step further.
| | |
| --- | --- |
| Details | Details to be filled |
| Personal Details | Name, Father's Name, Date of Birth, Gender, Mother's Name, Nationality, All India Category, If NRI sponsored Category, If person with a disability(PWD), Scribe Requirement, If Below Poverty Line(BPL) |
| Communication | Address for Correspondence, Permanent Address Nativity, State of Residence, State of Domicile PIN Code Mobile Number/Contact Number of the Applicant, Email Address of applicant |
| Educational Qualification | Exam Qualified, Board/University's name, Month and Year of Passing, Percentage, Exam Status(appearing/Appeared/Passed) |
| Previous Year's CLAT Question Papers required | Yes/ No |
| Reservation Category | General/OBC/PWD/NRI/SC/ST/PIO/BPL/OCI |
| Exam Center Preference | Select any 3 test cities from the list |
| NLU Preference | Mark NLU in order of your preference from most to least preferred |
Step 3: Upload Documents
The next step is to scan the photograph and signature and upload the pictures per the designated guidelines.
The brief specification details are given in the following table.
| | |
| --- | --- |
| Documents | Format |
| Photograph (front-facing passport-size recent photograph with plain background) | JPEG/JPG |
| Signature | JPEG/JPG |
| Category certificate if belonging to SC/ST/OBC/PwD/BPL category | PDF |
Check: CLAT PG 2023 coaching
Step 4: Pay the CLAT PG Application Fee
After completing the CLAT PG Application Form 2023, you will be redirected to a new page. You can either "Edit Application," "Delete Application," or "Make Payment."
Click on the "Make Payment" button to complete the registration process.

The application fee varies for different categories. You can pay the application fee online mode using a debit card/credit card/net banking.
Check out the table below to know the application fee as per your category.
| | |
| --- | --- |
| Category | CLAT PG Application Fee |
| General/OBC/PwD/NRI/PIO/OCI | Rs. 4,000/- |
| SC/ST/BPL | Rs. 3,500/- |
Note:
You can purchase the previous year's CLAT PG question papers by paying Rs. 500 online, which is not included in the CLAT PG application fee.
Also, you will have to bear the bank transaction charges for remitting the fee online. The actual bank transaction charges will be displayed on the payment gateway page after you choose the mode of payment.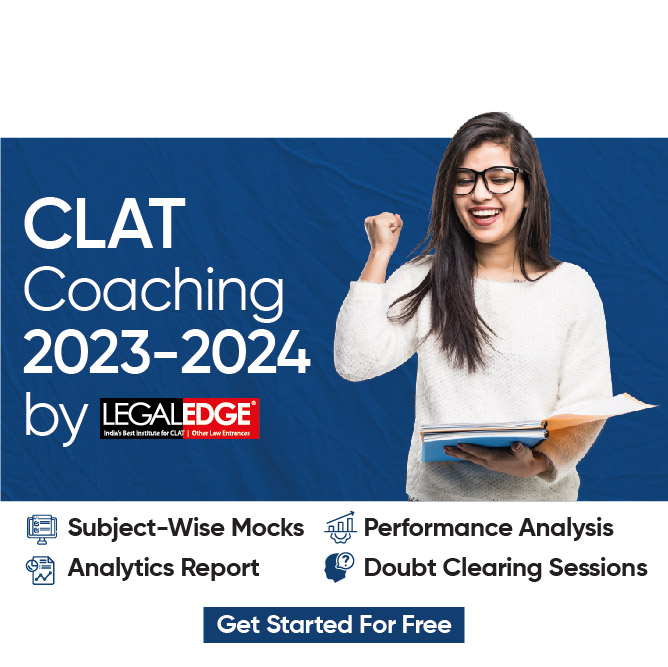 How to Retrieve CLAT PG Login Password 2023?
If you forgot your login password, you should follow the instructions given below to retrieve your password.
Visit the official website of the CLAT Consortium
Click on the "CLAT 2023" tab.
On the Login window, click on the "Forgot Password" link.
Enter your registered mobile number and click on the "Request OTP" button.
You will receive an OTP to your registered mobile number.
Enter the OTP and create a new password.
Check: CLAT PG Constitutional Law
Mistakes to avoid while Filling CLAT PG Application Form 2023
Here are a few suggestions to avoid making mistakes while filling out the CLAT PG application form 2023:
1. Having a slow internet connection
You can undoubtedly fill out the application even with a slow internet connection; however, note that you risk losing information.
You do not need to fill in the details repeatedly to waste your valuable time. Therefore, it's advised to have a disinterested and fast internet connection while filling out the application.
2. Not reading the application guidelines
To ease and enhance your application-filling experience, the official website has published a set of instructions you got to follow for an easy registration process.
By strictly following the instruction, you are unlikely to face any issues while filling CLAT PG application form 2023.
3. Not having the required documents
Start filling out the AILET PG Application Form 2023 once you have all the documents handy, like the following:
Photograph
Signature
Caste certificates
Educational certificates etc
Be sure to check if your email account is active and provide functional phone number details in the CLAT PG 2023 application form.
5. Forgetting password or Application number
Although retrieving the lost password is easy, it can be a waste of time and effort.
You must remember the application number as you must also verify the information in the CLAT PG Admit card.
4. Not entering the correct information
Every information you fill in must be correct for your application to get through the verification process. No amount of negligence must be shown while filling out this form.
Be honest when entering your marks, caste information etc. As the team will be verifying the supporting documents you have uploaded. Any mismatch in the data can lead to the cancellation of your application.

CLAT PG 2023 Registration Form - Important Points to Keep in Mind
You can only fill out the application form online from the official website.
Always read all the instructions carefully and give correct and authentic information in the online form.
You must spell your name and your parent's name correctly in the application form as it appears in the certificates/mark sheets/identity proof. Any change/alteration found in the name may disqualify the candidature.
Ensure to upload the documents in the specified format correctly.
You must submit only one application form. If the authorities find more than one application form with a similar phone number and e-mail, the form filled in later will be considered. However, the application fee for the previous application forms will not be refunded.
You can make the payment only through online mode, and there is no offline mode of payment.
Note that you cannot change the program, category, and BPL filled once the application is submitted and paid.
Do not wait to start your preparations till your finish applying for CLAT 2023 application. Go through the exam pattern and CLAT PG Syllabus.
Conclusion
Filling out the application for CLAT PG is not a difficult task. However, you must concentrate and be alert while filling out the form.
To avoid last-minute emergencies, every student taking the exam this year must fill out their applications as soon as possible.