Summary: Arbitration law is a fast-growing practice area in law, and many students show interest in taking up Arbitration Law. You can do exceedingly well in this field if your strong suit is analytical thinking and smart communication. Here are a list of preparation tips and sub-topics to ace your preparations.
Arbitration Law is one of the prominent subjects in the CLAT PG examination 2024. It accounts for twenty to thirty questions from sub-topics like
Section 89 of CPC
Section 2(1)
Conciliation and Arbitration Act 1966
other Arbitration Laws, and Section 2(1)b
The syllabus released by the agency for the CLAT PG 2024 has notified that this is a compulsory topic with good weightage. To secure high marks in the CLAT PG 2024, you should prepare all the Arbitration Law sub-topics.
CLAT PG 2024 Important Topics: Arbitration Law
If you have applied for the upcoming CLAT PG 2024, you must prepare the topics below for the Arbitration Law. It is advisable to prepare these topics since they are limited in number and can be prepared quickly.
Check out the table below to learn about the topic-wise CLAT PG syllabus.
Important concepts of Arbitration Law are as follows:
Topics
Syllabus
Section 89 of CPC

Counselling
Conciliation
Arbitration
Meditation
Negotiation

Section 2(1)

Ad hoc
Constitution
Contractual
Statutory
Domestic
International
Foreign

Conciliation and Arbitration Act 1966

Foreign Awards, 1962
Arbitration Act, 1937
Arbitration Act 1940

Other Arbitration Laws

Conjugal Matter
Revenue Matter
Criminal Matter
Determination of Guardianship
Issues related to the company
Finality of Arbitration
Jurisdiction of Arbitration Tribunal
Arbitration Tribunal
Grounds of Arbitration Tribunal
Arbitration Awards

Section 2(1)b

Writing
Agreement between parties
Parties between Ad-idem
Intention of parties
Check: LLM online coaching 2024
Arbitration Law Preparation Strategy for CLAT PG 2024
CLAT PG is one of the toughest entrance examinations for admission into the LLM programs.
The syllabus of the examination is very vast. However, the candidates who are found to be using a well-drafted preparation strategy can cover the exam blues efficiently. Are you one of them?
Begin by covering the bare acts for the CLAT PG examination. Try to note the important summaries of these Acts and use them to revise before the examination.
Identify your weakness and strength before the CLAT PG examination and work on them. Go through the syllabus and mark the laws or acts you need help to connect and work on
Go through the court's landmark judgments and note the important pointers. Do not read the commentaries.
Go through the judgment and argument put forth.
Revise your notes regularly. The weightage for the question based on the Arbitration law is not mentioned. Hence it is important to cover everything before the exam.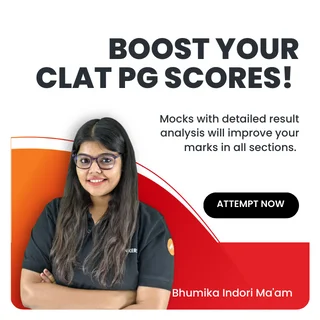 Conclusion
Remember also to check the strategies followed by Toppers of CLAT PG and try to implement them if it works for you.
Analyze previous year's papers and exams, collect samples and previous year's question papers and solve them. Take mock tests every week!
Read more: Best Books for CLAT PG 2024