Summary: Better Late than Never, they say! However, starting your preparations early for its evident benefits is always smart. If you have started your preparations late, here's how you can cover the CLAT PG syllabus in One Month, 2024.
The CLAT PG exam is one of the country's most challenging and coveted law entrance exams, with thousands of students appearing for the exam every year. Most students want to study in NLUs with limited seats for LLM programs.
With such tough competition and limited seats, you must start the exam preparation beforehand. We all know that CLAT PG Exam 2024 will be conducted much earlier than anticipated. With a few days left and having to solve challenging questions? You must have a smart and strategic preparation plan to crack the exam.
The authorities have also introduced a few changes to the subjects and pattern last year that will be followed this year as well. With these changes being introduced, let's check how to prepare for the CLAT PG exam in one month.
Types of Questions that can appear in CLAT PG 2024
Go through the section below to learn about the topics based on the previous year's analysis of CLAT PG papers:
6 Judgement-based passage
6 Article-based passage
Different Types of Law
Case-based questions on Law
Excerpts
Contemporary issues
Provisions
Background
Family Law
Criminal Law
International Law
Law of Contract
How to Prepare for CLAT PG in One Month 2024?
The syllabus of the CLAT PG is very vast. Therefore last month's preparation strategy for CLAT PG plays a vital role. There are a lot of subjects and topics that you have to cover before the examination.
However, this is not possible for a short duration. Hence, the candidates are advised to follow a good preparation strategy from the first day. Go through the section below to learn about the major preparation tips for CLAT PG 2024 exam.
Ace your preparations with the best CLAT PG online coaching centre and take mock tests to know where you stand with your preparations.
1- Clear Basics
The first step toward CLAT PG preparations is understanding the basics of the syllabus prescribed by the authorities.
You should go through the subjects and topics asked in the examination. To understand the basics, you can use several relevant books prescribed with the latest editions.
Once you understand the topics, making notes and referring to them anytime is safe, which can also be helpful during your revisions.
Covering the whole syllabus will be difficult; therefore, analyzing the previous year's papers and preparing topics with higher weightage is important.
2 - Emphasis on Current Affairs
Try being proficient in the current affairs section. You can choose to read a newspaper or use news apps daily. You have several apps helping you study and ace your current affairs preparation.
You can stay updated with the latest news related to Indian law or any landmark judgments. The reason being the CLAT PG exam has a separate current affairs section that accounts for maximum marks. Therefore note that this section is important.
Make it a habit to start your day reading the newspaper; this might also help to drive away boredom as you sit to prepare for your exam.
Take the LegalEdge After College AISAT 2024 scholarship test to get a discount on the CLAT PG coaching classes conducted by the experts at LegalEdge after College.
3 - Mapping Strategy
The best way to prepare for the CLAT PG examination is to map the important landmark judgments.
You can study the same and make short notes for the major judgments.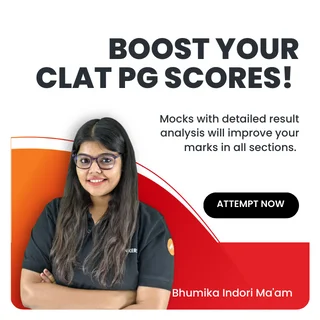 4 - Practice with Mock Test
Your preparations are not good enough if you don't take mock tests. Once you understand and learn a topic, start attending mocks every week. Practising mock tests is the best way to prepare for your CLAT PG entrance.
A good quality mock test is advisable to crack the CLAT PG examination. Take mock tests that are quite difficult in nature, so you are fully prepared for what comes in your main CLAT PG exam.
Talking about mock tests, you can take one right away by clicking on the CLAT 2024 free mock test series mentioned Toprankers site and examining where you stand with your preparations.
By doing this, you can get to work on the speed and accuracy of answers.
Besides this, the mock test also helps strategize for the upcoming exam.
We have the scholarships provided by Legaledge After College. The topics asked in scholarship tests are also designed for your CLAT PG preparations. Therefore, don't miss the opportunity of attending this.
5 - Revise Regularly
Consistency is the only fastest way to grow. Therefore do not forget to revise the important concepts of the CLAT PG regularly.
You can remember important facts and figures correctly with a proper revision strategy.
Remember not to prepare any new topic as the exam is approaching; this might reduce your confidence to take the exam. Plan ahead smartly for how to prepare for the CLAT PG exam in one month, and stay positive.
Conclusion
Practice questions from Universal Guide to LLM entrance exam, S.S. HandBook for the LLM entrance exam, and Singhal's solved paper for LLM.
Revise and solve as many questions as possible to crack the exam with excellent scores.