Like other law entrance exams, CLAT PG is also a highly competitive exam. Therefore, you are required to start your preparations at the earliest; as they say, "Better to start early than finish late."
Clearing the CLAT PG exam with excellent scores requires time and dedication. CLAT PG Exam Pattern has seen some significant changes in recent years.
It is essential to recognize that the CLAT PG Exam is moderate to a difficult paper and that to remain ahead of the competition, you will need to devise a set of strategies to help you succeed in the exam.
Through this post, we will examine how to prepare for CLAT PG with the appropriate mindset and preparation strategies and how to perform to the best of one's ability.
Download FREE Study Material for CLAT PG by LegalEdge
What are the recent changes in the CLAT PG exam?
In recent years the

CLAT PG

has become an objective-type question paper.
Earlier Consortium used to provide subject-wise demarcation. This is the reason the preparation of CLAT PG was much easier.
Now, as there is not much topic-wise demarcation given by the consortium, you need to cover entire subjects and sub-topics.
When is the best time for a final-year student to begin CLAT LLM preparation?
CLAT-PG needs two different types of preparation. Namely:
Those interested in Public Sector Undertakings should: You must rank in the top 20, which necessitates a year of diligent study because the subjects are vast, and questions might arise from any angle.
Those interested in pursuing an LL.M. at one of the NLUs: Anyone with a good understanding of the law can get into NLUs with six months of preparation. However, if you want to get into elite NLUs like NLSIU or NALSAR, you'll have to work hard.
Check: Best Books for CLAT PG 2023
How to prepare for CLAT PG 2023?
Thorough understanding of the syllabus
The first and most fundamental step is to understand the

CLAT PG Syllabus 2023

​​​
Stay tuned with recent developments
Divide your time wisely
First focus on highlighted subjects having the maximum weightage; Constitutional law, Advanced Jurisprudence, International Law
These three subjects usually carry maximum marks and require maximum attention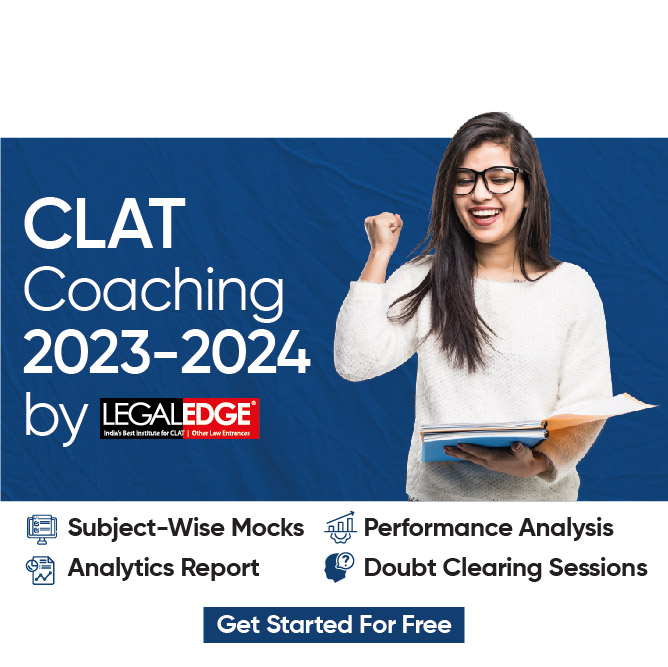 Include current affairs
Read current affairs daily as it has been an inseparable part of the exam.
Recently, RTI Act, Sedition- (related sections 124- A, Right to Protest) were in the news.
Use a mapping strategy
Try to connect important sections and topics. Map important landmark judgments. This will not only help you to connect, relate and remember but also will improve your understanding.
Practice

Landmark Judgement Questions For CLAT PG 2023

. In CLAT Exam, understanding various concepts of law plays a crucial role. You should be aware of the imp
Since the trend is changing, focus on recent judgments and make tables to learn them. Apart from the exam point of view, Jurisprudence is also important for day-to-day affairs. So, focus on the Jurisprudence subject.
Read Newspapers
Reading newspapers will help you in a multitude of ways.
First, as

CLAT PG Exam Pattern

is comprehension-based, reading newspapers daily will enhance your reading and understanding speed.
Second, it will also help you with current affairs.

Mock test
Practice as many mock tests as possible to get familiar with exam level, pattern, and your strengths and weaknesses.
Practice comprehension-based questions.
Go through Important Topics for CLAT PG
Practice as many comprehension-based questions as you can from sample papers and previous year's papers. It will help you devise your problem-solving strategy under exam hall pressure.
Revision is the key
Incorporate daily, weekly, and monthly revision strategies in your exam preparation.
Follow a strict schedule
Make a study schedule that you can stick to – Instead of setting huge targets, start with a smaller study goal.
Manage your time wisely
It's crucial to keep track of your time. Don't squander your time. Concentrate on your study and take frequent breaks.
Check: LegalEdge After College AISAT 2022 [All India Scholarship Admission Test]