Summary - Last year, the Jurisprudence section had 12 questions with a moderate difficulty level, making it an important topic to score well in CLAT PG 2024. This article provides you with expert analysis and preparation tips for Jurisprudence.
Jurisprudence is one of the sub-sections in the CLAT PG 2024 that has a good amount of weightage as per the previous question papers analysis. Prepare for concepts like
Rights, Duties
Power Liability
Person and Liabilities
Ownership and Possession
Source of Law
Schools of Jurisprudence
Start your revision, bearing the exam date in mind. Let's check out How To Prepare Jurisprudence For CLAT PG 2024.
How To Prepare Jurisprudence For CLAT PG 2024?
One of the tough topics that students fear forgetting in the examination is Jurisprudence.
However, preparing it with a solid strategy is relatively easy. Take a look at these solid strategies!
And by solid strategy, we mean these strategies recommended by our experts:
Understanding the type of questions asked in the exam: You should refer to the previous year's papers to get an overview of what questions were asked in the last year's paper. It was observed that in 2021 students could answer questions related to Jurisprudence just by reading the passage provided. So having the basic concepts cleared is necessary for every topic covered in the subject.
Reference Books: Get your hands on a reference book like AK Jain, where you can easily clear your basic concepts. You can go for any reference book but avoid very detailed and bulky books (if you have less time to prepare). You need to complete other subjects as well.
What to study? In Jurisprudence, you need to memorize a lot, like Jurist's words, which Jurist belongs to which school, Jural Correlators, and Jural Opposites. These topics are significant and should be prioritized.
Notes: Since its memory based subject, preparing notes help!
Revise Regularly: Now that you have prepared notes, revise them daily. These notes will help you revise the concepts in less time.
Mocks: Solve the previous year's paper and as many mocks as possible. There are no preparations without taking CLAT PG mocks!
Passage-based questions: Try to solve passage-based questions and solve them with a timer.
Important Jurisprudence Topics For CLAT PG 2024
There are some selected topics that we have seen repeated from the CLAT PG previous year's question papers. So skipping these would cost you your desired seat for CLAT PG.
The video attached to the article has our expert explaining the complete strategy on how to prepare Jurisprudence for CLAT PG 2024.
Check: CLAT PG Constitutional Law
The picture below gives the important topics to prepare while studying Jurisprudence
You can also check out the other Important Topics for CLAT PG.
Rights, Duties, Power Liability
Person and Liabilities
Ownership and PossessionSource of Law
Schools of Jurisprudence
Analytical School
Natural School
Historical School
Philosophical School
Ethical School
Sociological School
Corporate Liability
Theories of Punishment
Definition/outlook of the subject/Nature of Jurisprudence
Law and Morals
Contemporary Jurists & Recent Contemporary Concepts and Maxims
Hohfeld's Legal Relation/ Jural Analysis
Check: Important Concepts of Jurisprudence for CLAT PG 2024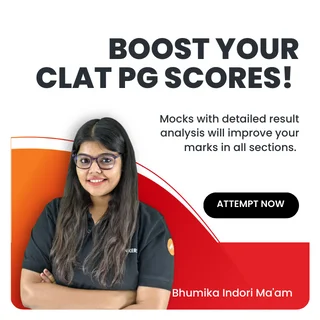 Conclusion
Since you have lots to memorize, revision is the key to scoring well in Jurisprudence. Writing notes can help you during your revisions.
We highly recommend you start solving mocks after you finish every chapter.
This way, you can solve even a tough CLAT PG paper.
Learn more: CLAT PG 2024 Online Coaching