Summary: Are you planning to appear for CLAT 2024? If so, don't miss out on our essential CLAT GK preparation tips for 2024! The General Knowledge section is a make or break section in the exam, and we have expert advice to help you score well. So, keep reading to enhance your knowledge and boost your chances of success in your CLAT entrance exam!
Just like other sections, the GK section plays a vital role in qualifying for the Common Law Admission Test. The questions in this section are designed to test your knowledge of current events and historical or legal events.
The importance of this section lies in the fact that you can save a lot of time in this section, wherein you can utilize this time in relatively challenging areas like legal aptitude and logical reasoning.
The GK CA Section of the CLAT is referred to as one of the make or break sections in the competitive exam, which is why the question of : "How to score well in CLAT 2024 GK and Current Affairs?" is one that arises in most students.
Ensure that whatever you do, your consistency is not wavered and revisions do not stop. Research and finalize your list of sources you will refer to, and stick to them sincerely and thoroughly.
Though the subject might look easy, you need a proper study timetable and preparation strategy to crack this section. The GK section includes questions from both static GK and current affairs.
Preparing for current affairs requires a tedious effort to read and analyze news through all mediums. For static GK, you must have a good hold on topics related to sports, history, politics, economics, etc.
To make it easier, this post shall guide you through CLAT GK Preparation Tips shared by our expert faculty at LegalEdge.
So, why late? Let's dive into the post to learn tips and tricks to enhance your GK & Current affairs preparation for the upcoming exam.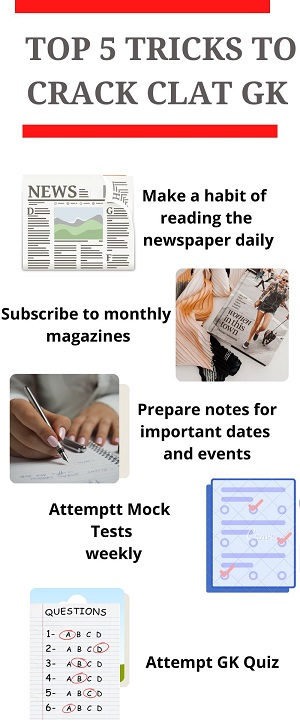 Tricks and Information to Enhance Your CLAT GK Preparation 2024
As per the new CLAT Exam Pattern, the total number of questions in the exam is 150. Out of these questions, 35 to 39 questions are from the GK section.
Based on the previous analysis, most of the questions are asked from current affairs than static GK. Therefore, it is extremely important to focus more on current affairs to score good marks in this section.
Reading is the key to scoring 30+ marks in the GK section since the question paper consists of comprehensive questions.
The most common misconception about the GK section in CLAT is that it requires a sharp memory, or rather memorization of all the data you see.
While yes, you need to remember certain things and that doesn't just come by revision, the usage of context clues is much more sustainable.
The best tip for aspirants is the usage of spaced repetition, which is essentially the revision of material at periodic intervals to consolidate that information, or to encode that with you.
Mock tests are considered to be one of the best resources to enhance your CLAT GK preparation.
What are the Important topics for CLAT GK Preparation 2024?
You should focus more on topics like Sports, History, Art & Culture, economics, government policies, science & technology, reports & indices, books, Geography, awards, national & international events, and organizations, as most of the questions are asked from these topics in the exam.
Which Books Should I Consider for CLAT GK Preparation 2024?
Although Static GK is not tested much in CLAT, and the majority of questions come from current affairs, one should not take risks, and make use of books like:
Legal General Knowledge by R. K Gupta
General Knowledge 2023 by Arihant Publications
Current Affairs Yearly by Arihant Publications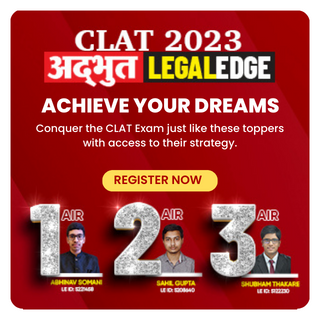 What is the CLAT GK Preparation Strategy 2024?
The GK section in the CLAT exam has the ability to make or break it for you, and it takes minimal time to answer maximum marks.
The best initiation of the day and preparation for the exam depends on the Time table for CLAT Preparation. Spending at least 1-2 hours daily on GK would be sufficient.
You can follow the CLAT GK Preparation Tips given below:
Make a habit of reading the newspaper daily.
Also, there is a higher chance that you will know about the current happenings in the nation and around the world.
Make sure to study at least the past 1-2 years of current affairs.
Prepare your own notes, as this will help during your revision time.
Do not cram dates or events. Rather, understand why something happened. Get an idea behind these matters.
Refer to Magazines, Newspapers, E-Newspapers, Blogs, etc., to be more aware of all the happenings around the world.
Watch News Channels for at least 40 minutes per day.
Solve questions from previous year's papers, as this will help you know the difficulty level and the type of questions asked in the exam.
Attempting mock tests is another way of testing the performance for the final exam. You can analyze your strong and weak points by solving these tests.
Follow

Daily Current Affairs

to keep pace with regular events and issues happening across the globe.
How to Answer CLAT GK Questions?
The questions in the GK section will be based on current events and affairs across the globe. So, focus on events of significance.
Solving CLAT Mock Tests 2024 will help improve your time management skills and speed and better succeed in the upcoming exam.
The more you solve questions, the more you get equipped with the skill of eliminating options you realize are set as traps or as confusing but tempting ones.
While attempting the questions, you must carefully read the information given in the passages and answer the questions accordingly.
You need not worry about memorizing the passage but the ability to comprehend it and find out the focus points and important pieces of information.
Try to avoid guesswork in the exam
Do not spend time on a single question in case you are not aware of the answer.
Previous Year's Analysis of CLAT GK Questions
The GK section includes questions on various topics like Sports, Polity, History, Art and Culture, etc.
The below table shows the number of GK questions asked from each topic over the years in CLAT Question Papers.
| | | | | |
| --- | --- | --- | --- | --- |
| Subject | 2018 | 2019 | 2020 | 2021 |
| Sports | 4 | 1 | 5 | 2 |
| Polity | 13 | 6 | 1 | 4 |
| History, Art and Culture | 4 | 2 | 2 | 2 |
| Economics | 5 | 2 | 4 | 7 |
| Science and Technology | 2 | 1 | 2 | 7 |
| Events of National and International Significance | 3 | 7 | 1 | 12 |
| Miscellaneous | 19 | 7 | 8 | 16 |
You can join the best CLAT Online Coaching to learn concepts easily from top-notch faculties.
What type of Questions will be asked in CLAT GK?
As per the new pattern, the questions are comprehension-based. You have to read the given passage carefully and analyze it. Based on the passage, you must answer the questions.
We have listed sample questions below to help you get an idea about the questions. Here are a few sample CLAT GK Questions as per the latest syllabus and pattern. Try solving them to test your preparation.
Question 1: Which state government launched the Facial Recognition System (FRS) for Inner Line Permit (ILP) system in May 2023 to effectively check ILP holders?
a) Arunachal Pradesh
b) Mizoram
c) Nagaland
d) Manipur
e) Himachal Pradesh
Question 2: Which state government became the first in the country to introduce a Robotics Framework for promoting a robotic ecosystem in the state?
a) Andhra Pradesh
b) Telangana
c) Kerala
d) Gujarat
e) Uttar Pradesh
Question 3: Which airport in India became the first to have a reading lounge?
a) Lal Bahadur Shastri International Airport
b) Netaji Subhash Chandra Bose International Airport
c) Chennai International Airport
d) Guru Ram Dass Jee International Airport
e) Lokpriya Gopinath Bordoloi International Airport
Question 4: In May 2023, Bharti Airtel and which mobile telecommunication firm signed a binding term sheet for the merger of their Sri Lankan subsidiaries?
a) Hutchinson
b) Mobitel
c) Lanka Bell
d) Jio
e) Dialog Axiata
Question 5: 'Exercise Jal Rahat', a joint flood relief exercise, was conducted by the Indian Army's Gajraj Corps in which state?
a) Arunachal Pradesh
b) Assam
c) Odisha
d) West Bengal
e) Tamil Nadu
Question 6: Along with COVID-19, which disease did the WHO declare the end of the public health emergency of international concern?
a) Mumps
b) Kivu Ebola
c) Zika Virus
d) Polio
e) Swine flu
Question 7: In which city will Prime Minister Narendra Modi inaugurate the International Museum Expo 2023?
a) Mumbai
b) New Delhi
c) Lucknow
d) Indore
e) Surat
Question 8: Who was appointed as the Chief Justice of the Madras High Court in May 2023?
a) Bombay High Court
b) Patna High Court
c) Calcutta High Court
d) Delhi High Court
e) Madras High Court
Question 9: In May 2023, the Commerce Ministry arm, DGTR, recommended imposing anti-dumping duties on imports of a specific type of optical fibre from which countries?
a) China, South Korea, and Indonesia
b) Vietnam, Bangladesh, and China
c) China, South Korea, and Japan
d) Hong Kong, Bangladesh, and Vietnam
e) Vietnam, Seychelles, and Singapore
Question 10: In May 2023, IFSCA and IHub-Data signed an MoU for cooperation and understanding between two entities to collaborate in supporting and facilitating FinTech and TechFin entities. IHub-Data is a Technology Innovation Hub for Data Banks located at ________.
a) IIT Indore
b) IIT Roorkee
c) IIT Hyderabad
d) IIT Guwahati
e) IIT Madras
Question 11: Who has been appointed as the new chairman of the Petroleum & Natural Gas Regulatory Board?
a) Anil Kumar Jain
b) Manoj Soni
c) Gajendra Singh
d) Anjani Kumar Tiwari
e) Ajit Kumar Pande
Question 12: Which country received financial support of 2.25 billion dollars for its five projects – ACCESS, BEST, GCRD, SMART, and RIVER in May 2023?
a)India
b) Sri Lanka
c) Bangladesh
d) Ukraine
e) Pakistan
Question 13: What is the theme of the 6th International Indian Ocean Conference held in Dhaka, Bangladesh from 12-13 May 2023?
a) Securing the Indian Ocean Region: Traditional and Non-Traditional Challenges
b) Peace, Prosperity, and Partnership for a Resilient Future
c) Ecology, Economy, Epidemic
d) Building Regional Architectures
e) Contribution to sustainable development: toward the UN Decade of ocean science
In conclusion, students preparing for CLAT 2024 should focus on current affairs, revise consistently, practice through mock tests, and utilize reliable study resources to enhance their CLAT preparation.