General Knowledge section of the AILET exam entrance exam will have questions based on Static GK and current affairs. However, from the previous year's trends, current affairs dominated this section.
The importance of this section lies in the fact that you can save a lot of time in this section, wherein you can utilize this time in relatively challenging areas like legal aptitude and logical reasoning.
With proper preparation, you can easily score anywhere between 28-32 marks in the exam.
This post shall guide you through simple tips and tricks on preparing for AILET general knowledge and current affairs, best preparation books, sample questions, and more.
What are the Important Topics for AILET GK 2022?
The GK section includes history, polity, general science, science, technology, books, authors, sports, industries, etc.
Last year, the GK section had 30 questions from current affairs and only five questions on static GK. The below table gives you an idea about the essential topics for AILET Exam 2022.
| | | |
| --- | --- | --- |
| Topic | 2020 | 2021 |
| Sports | 2 | 2 |
| Economics & Govt. Policy | 7 | 11 |
| History/ Art & Culture | 1 | 2 |
| Polity | 3 | 3 |
| National & International Events/ Organizations/ people | 7 | 8 |
| Miscellaneous (Geography, Environment, Books, Awards, etc.) | 15 | 11 |
Download Free Mini Booklet For AILET GK Section by LegalEdge
How do I Start Preparing for AILET GK/Current Affairs Section 2022?
Most of you might think that you can prepare for the GK section at the end. But this is not a good practice.
As the syllabus is vast, you would need at least six months to one year to cover all the topics and revise the topics that you have studied earlier.
Make a habit of reading the newspapers for 1 hour daily. Also, focus on covering Daily Current Affairs regularly for at least 5-6 months.
Consume daily short videos for some insights about the questions that can be asked in the exam
What is the Best Way to Prepare for the AILET GK 2022?
The following are some of the best tips that you follow to enhance your preparation for the AILET GK section.
Firstly, you should build a habit of reading the newspaper daily in the morning as it will help improve your vocabulary and stay updated about all the happenings around the world.
You can prefer either the Hindi or the Times for preparing current affairs.
Also, you can write short notes in one to two liners and blanks on what seems vital to you from the exam point of view.
For current affairs and GK preparation, writing is the best way. So, note down important dates, events, names of famous personalities, and important terminologies as it will help during your last-minute preparation.
The questions in the static GK are easy and straightforward. You can easily solve around 90% of questions if you prepare from reliable sources.
It would help if you focus more on topics like books, awards, national & international events as most of the questions are asked.
Make sure to practice more and more questions from the

Previous Year Question Papers for AILET

. as it will help you understand better the type of questions and the difficulty level.
Also, ensure to revise all the topics that you have learned on the previous day and the same day.
Which Books Should I Consider for AILET GK Preparation 2022?
Selecting the right books for the GK current affairs is a challenging task as there are many resources available both offline and online.
So, referring to the following Preparation Books for the AILET Exam can help clear the exam with a high score.
General Knowledge Book by Arihant
Lucent's General Knowledge NCERT Book (History and Civics) by Lucent
Manorama Year Book by Mammen Mathew
Current Affairs Yearly 2022 by Arihant Experts
Is Solving Mock Test help in Scoring More Marks in the AILET GK Section 2022?
Yes. Solving mock tests would help improve your speed and accuracy on the final exam and score good marks.
Practising AILET Mock Tests will help improve your time-management skills and build your confidence levels for the upcoming exam.
With the help of mock tests, you can analyze your performance levels and work on weaker areas.
How to Attempt Gk Questions in the AILET 2022?
Read the given question carefully.
You do not have much time to spend reading questions again and again. So, make sure you read it with a focus on the first time.
Note that the

AILET Entrance Exam

has negative markings. So, try to avoid guessing the answer.
Move to the next question if you are not able to identify the correct answer.
You can save time in this section as the questions are all direct, and you can utilize that time for other tricky sections like legal reasoning and legal aptitude.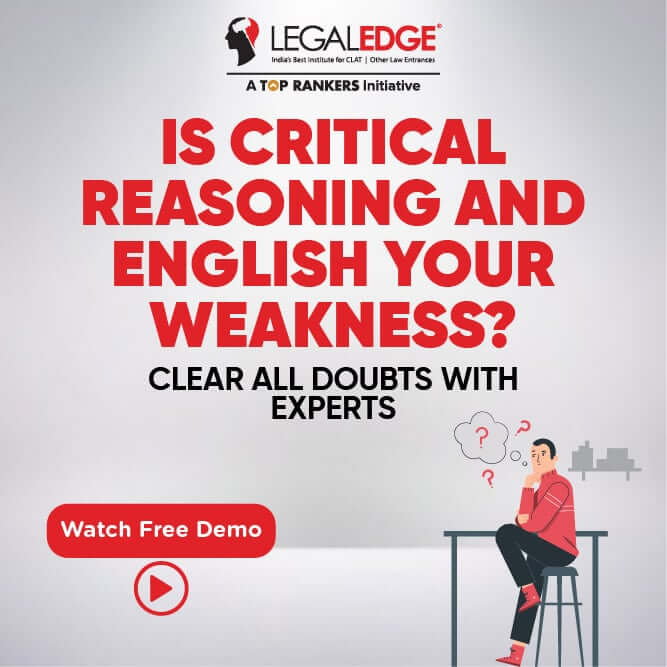 Sample GK Questions for AILET 2022
To help you get an idea about the type of questions asked in the exam, we have provided a few sample questions that are curated from the previous year papers.
Try to practice all these questions to enhance your AILET GK Current Affairs Preparation.
1. Which Movie won the Best Picture in 92nd Academy Awards 2020?
(A) Joker
(B) Parasite
(C) Jojo Rabbit
(D) Once Upon a Time in Hollywood
2. Which State in India tops the Sustainable Development Goal (SDG) India Index 2019?
(A) Kerala
(B) Gujarat
(C) Andhra Pradesh
(D) Himachal
3. Who among the following is not a recipient of the Padma Vibhushan Award 2020?
(A) Sushma Swaraj
(B) George Fernandez
(C) Arun Jaitley
(D) Teejan Bai
Read More: Short Tricks to Crack AILET on First Attempt
4. What is the main reason for people's protests in Hong Kong in 2019-20?
(A) Unemployment
(B) Economic slow down
(C) Extradition law
(D) labour laws
5. Apple has started a credit card named "Apple Card" in collaboration with which of the following companies?
(A) MasterCard
(B) CitiBank
(C) American Express
(D) Goldman Sachs
6. Where is the Nine-Dash Line located?
(A) the South China Sea
(B) North Atlantic Ocean
(C) the Arctic Ocean
(D) the East Philippine Sea
7. Sound cannot travel through
(A) Gas
(B) Liquid
(C) Metal
(D) Vacuum
8. Who has been appointed India's first Lokpal?
(A) Justice (retd.)Pinaki Chandra Ghose
(B) Shri. Suresh Mathur
(C) Justice (retd.) A. D. Koshal
(D) Justice (retd.) A.K. Sikri
9. In which of the following countries, a law to criminalize fake news come into effect in October 2019?
(A) Singapore
(B) Finland
(C) China
(D) India
10. Who has been elected as the Speaker of the 17th Lok Sabha?
(A) Rajiv Gauba
(B) Om Birla
(C) Adhir Ranjan Chowdhary
(D) Sumitra Mahajan