The National Law University, Delhi, has revised the All India Law Entrance Test (AILET) syllabus. As per the revised syllabus, the question paper includes only three sections (not five), which means authorities deleted legal aptitude and Mathematics sections from the paper.
As per the new syllabi, the logical reasoning section holds almost 50% weightage in the exam. However, the number of questions, time duration, and negative marking remain the same as last year.
You can expect authorities might include legal principles questions in the logical reasoning section to test your familiarity with legal reasoning.
Latest Update:

The National Law University, Delhi, has rescheduled the AILET 2022 to June 26, 2022, from May 01, 2022. Also, the university extended the last date of submission of the online application form. You can check out the

AILET latest news

to know all the information related to the exam dates.
Meanwhile, the university has added a descriptive section to the LLM question paper, which means the question paper will have two sections: section A and Section B.
Note that your descriptive paper is evaluated only based on your scores in section A.
This post will guide you through the detailed AILET Syllabus 2022, including section-wise topics, best preparation books, and more.
AILET 2022 Syllabus for BA LLB
According to the modified syllabus, the AILET BA LLB question paper includes only three sections:
English
Current Affairs & General Knowledge
Logical Reasoning
Download Free Study Material For AILET Exam by LegalEdge
The question paper shall include a total of 150 MCQ questions, and each question carries one mark. There is a negative marking of 0.25 marks for each wrongly answered question.
The total time duration of the LLB exam is 1.5 hours (90 minutes). Let us look at the detailed syllabus of AILET 2022 from the post below and enhance your preparation.
AILET 2022 Syllabus for English
This section tests your proficiency in English based on a comprehensive passage and grammar. The AILET 2022 syllabus is based on elementary-level English grammar.
Making a habit of reading newspapers will help enhance your English preparation for the AILET exam.
| Chapter | Topics |
| --- | --- |
| English Vocabulary | Synonyms, Antonyms, Homonyms, Word definitions, Analogies |
| English Proficiency | Idioms and Phrases, One-word substitution, Sentence improvement & rearrangement, Fill in the blanks with suitable words, Subject-Verb Agreement, Conditionals, Noun, Pronoun, Articles & Conjunction, Adjective, and Determinants. |
| English Usage Errors | Grammatical errors like tense, voice, preposition usage, speech errors, Correct Spelling, Spotting errors, Inappropriate usage of words. |
| English Comprehension | Based on the passage provided, various questions will be asked. First, it is advisable to go through the questions and then read the passage. Doing this will help you point out the answers and gather information relating to the questions. |
AILET 2022 Syllabus for GK/Current Affairs
In this section, the questions are based on static and dynamic general awareness. You are required to be well acquainted with the current affairs at both national and international levels.
Following daily current affairs will help enhance your AILET GK preparation and crack this section easily.
Check out the table below to know the essential topics you need to prepare under the General Knowledge section of AILET syllabus 2022.
| | |
| --- | --- |
| Politics | Ancient, Medieval, Modern, and World History |
| Geography | Economics (Outline of Indian Economy, Five Year Plans, National Income of India, Indian Tax Structure) |
| Science and technology | Environment & Ecology |
| General Science | National & International Burning topics |
| Books and Authors | Environment |
| Industries | Major Industries in India |
| Agriculture | Awards and Achievements |
AILET 2022 Syllabus for Logical Reasoning
The questions in the Logical Reasoning section are designed to test your logical ability and thinking skills. Practice is the only key to scoring good marks in this section.
Try to solve as many questions as possible to enhance your logical reasoning skills for AILET.
Check out the table below to know the detailed AILET 2022 syllabus for the logical reasoning section.
| | |
| --- | --- |
| Statement & Assumptions | Statement & Conclusions |
| Statement & Arguments | Statement & actions |
| Assertion – Reason | Syllogism |
| Number test | Direction and distance test |
| Coding and Decoding | Blood Relationships |
| Ranking | Analogy |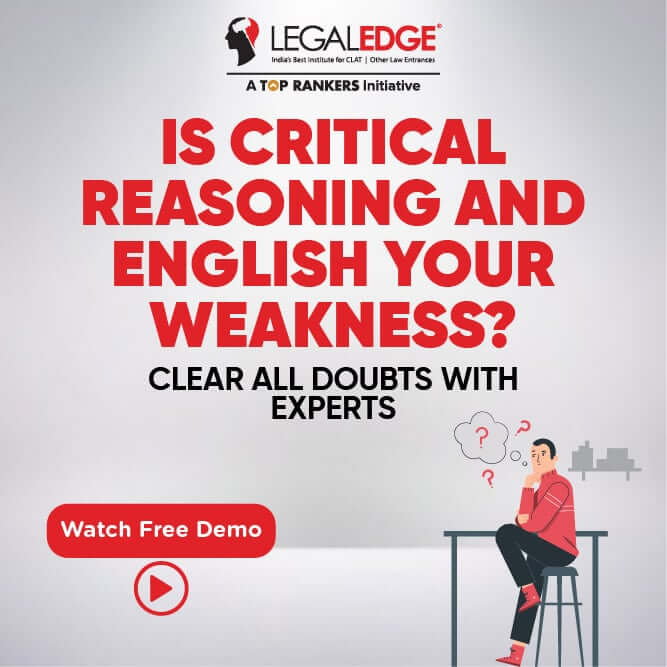 AILET LLM Syllabus 2022
According to the modified AILET LLM Syllabus, the question paper will have two sections: Section A comprises 100 multiple choice questions, and Section B will have two descriptive questions.
Each MCQ question carries one mark, and the essay-type question is for 50 marks.
The time duration of the exam is 1.5 hours, i.e., 90 minutes.
Read more: Short tricks to crack the AILET exam on the first attempt
| | |
| --- | --- |
| Subject | Syllabus |
| Law of Torts | It is considered wrong for the claimant to suffer from legal liability for committing the cruel act in a common-law jurisdiction. |
| Jurisprudence | This is the theoretical study of law to understand legal reasoning, legal systems, legal institutions, and their role in society. |
| International Law | It works as a framework for the practice of stable and organized international relations. The law consists of rules, agreements, and treaties that have to be implemented. These rules and norms are used to bridge the gap between the nations. |
| Family Law | This section consists of rules related to marriage, family, adoption, paternity, surrogacy, child custody, and juvenile laws. The candidate needs to be well aware of the rules on the subtopics, as mentioned earlier. |
| Law of contracts | This section deals with the rules required to be followed when two or more parties are involved in an agreement. The services promised, be it to provide a product or commit to providing a service, are enforceable by law. There are several types of laws with their terms and conditions, which have to be followed by the involved parties. This law governing body is called the law of contracts. |
| Property Law | This section governs various types of ownership and tenancy in real property and private property, which comes under the standard legal law of the system. Under the civil law system, there is a division between movable and immovable property. |
| Criminal Law | Laws dealing with crimes are mentioned in this section. This section deals with the laws related to threatening, murder, and otherwise endangering to safety, health, property, and moral welfare of an individual, inclusive of one-self. |
| Intellectual Property Law | It consists of rules securing and enforcing legal rights of invention, artwork, and design. This law protects the personal ownership of a property and protects the exclusivity of intangible assets. |
AILET Preparation Books 2022
You can refer to the following best Preparation Books for the AILET exam as these books cover all the topics per the syllabus.
High School English Grammar by Wren and Martin
Quantitative Aptitude for Competitive Exams by RS Agarwal
Lucent's General Knowledge NCERT Book (History and Civics)