Time Management Tips for AILET Exam is that one armor which you will need in this battle of Entrance Examination of Law.
So if you don't have the idea about the right material or the strategies you need to adopt to excel in this examination, then it might become an uphill battle for you, which will be both effort-consuming and inefficient.
That is the reason why you need to be very careful with the contents you are consuming and the time you are investing in the preparation of AILET.
AILET is one such prestigious and high-end entrance examination that is organized by the NLUD (National Law University Delhi) to provide Admission to the Qualifying Candidates in a 5-year Integrated LLB Degree at the UG level and 2-year PG Law Programme (LLM).
It also encapsulates the intention of promoting Research-based studies on the domain of law and encouraging more students to choose law as their mainstream career.
AILET will cover the most common sections appearing in all other Law Examination such as English, Reasoning (Analytical and Logical), Current Affair and GS, and Legal Reasoning Questions.
So the aspirants must know well about the Examination Pattern, Types of Questions, and how they can effectively do the Time Management Tips for the AILET Exam.
How to Manage Time in AILET Exam 2023?
The AILET Entrance Exam creates pathways for candidates looking for admission to the National Law University Delhi.
It is a National Level Exam, and although it is not as tough as the other All India Level Examination, the Difficulty level of the question is pretty much onerous and requires unfathomable efforts and dedication while you prepare for the Examination. Once you clear this exam, you will be able to enroll either at UG (LLB) or PG (LLM), whatever you have applied for.
Allow us to take you to the preparation tips and tricks of this examination on a section-wise basis, and then you can practice the same in your routine.
Download Free Study Material For AILET 2023 Exam by LegalEdge
AILET Time Management Tips 2023: Knock it with Subject wise preparation
If you are the one who is preparing for the UG (BALLB) program, then you have to face only 3 sections of the question which will be carrying 50 marks each making it a total Weightage of 150 marks.
Candidates will be allowed the time of 1 hour and 30 mins when they are expected to attempt all the questions. However, you have to be careful while attempting the question because the AILET marking scheme is what makes each wrong answer very dear to you.
Per the AILET Exam Pattern, candidates will achieve +1 for the answers marked correctly. At the same time, the wrong one will charge a negative marking of .25, and the rest unattempted questions will not be counted in either of the sections, so it will give you a 0.
Let's begin with the sectional dissection of the paper and the strategies involved to prepare for the same.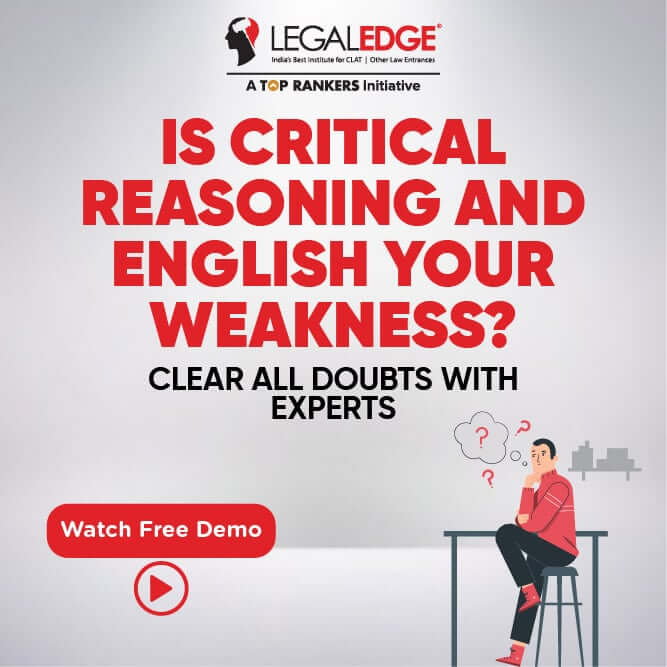 AILET 2023 Time Management Tips: Be ready with Current Affairs
Never invest more than 1 min on each question; you can even curtail it to 30 sec because it is a memory-based Question.
The newspaper will be your 'Brahamastra' while preparing for the

Current Affairs

.
Watch News from Independent Sources to collect concrete information about the news of National and international importance.
Focus more on the Current Affairs than the pre-recorded GK information as the pattern includes more questions from day-to-day happenings
Refer to the Weekly, Fortnightly, or monthly magazines from Educational Publication houses
The topics which you must be focusing on are
| | |
| --- | --- |
| Social Science and Cultural Questions | Arts and Entertainment World |
| Books and Journals | Sports |
| Recent Political Events | Awards |
| Sports | Legal Amendments etc. |
Time Management Tips for AILET 2023 Exam: Get a Grip on English
You are expected to invest the precious 60 sec on 1 Question in this section because it calls for the "read between the lines" approach.
The Section will have questions to test your comprehension skills and knowledge of the language.
Be prepared with "synonyms, antonyms, and how to use a word" techniques.
Nothing could add more value than reading every day and building your Vocabulary bit by bit.
Wren and Martin could be the best book to refresh your Grammar and enhance your

AILET English Preparation

.
Learn all the rules for each part of speech because you never know what you will be asked.
Practice Unseen passage on a regular basis. It will develop speed, accuracy, and analysis Power.
AILET 2023 Time Management Tips: Master Stroke of Reasonings
There will be a total of 70 Questions having a total of 70 marks, where each question is of objective type. Hence you need to implement your Intellectual skills to solve these questions.
This section is going to carry a mix of Verbal and non Verbal Questions, which are mostly designed to test the Analytical and Logical skills of the Brain.
To Ace this section, you must practice from the books along with the

Previous Year's AILET Question Papers

and attempt mock tests.
This Section will include Question patterns, Directions, Probabilities, and other questions which puts intelligence and quick wit to the test.
Time Management Tips for AILET Exam: Crack the Shell in 60 days
Preparing for the AILET Exam within 2 months is quite a big challenge; however, it can be achieved if you make the right plan. For that, you have to maximize practicing the mock tests as well as the sample papers carrying questions from the previous year.
You can set off to achieve your target by first checking on the syllabus and analyzing the question pattern of AILET.
Next, you have to follow the topics by dividing them into broad sections and then working on clearing the concepts of each of the topics separately by creating a schedule and dividing your time in such a manner that each section receives enough time to practice and prepare.
Here we can help you with an outline for a 60 monthly Preparation plan.
Go through the detailed

AILET Syllabus

and select a topic to begin and start learning its basics.
Set off by attempting the easy difficulty questions and then move to the medium and then hard level Questions.
Don't Skip attempting the Sample paper, mock test, and previous year's questions for each topic to gain clarity and practice simultaneously.
Keep a keen eye for the tips and tricks of solving each topic, as it will help a great deal in exams.
Try to Solve 1-2 topics/ Passage each day from the English Language and Literature section.
Refer to the Newspaper and credible sources on a daily basis to collect important news as much as possible
Memo and notes will add perks to the short-term preparation as they will help with a quick revision.
Time Management Tips for AILET Exam: Be a master in 30 days
In case you didn't get enough time and still wish to attempt AILET Exam with just one month of preparation, then we have something for you too.
Cover all the Monthly editorials issued by the Educational Publication houses for current affairs.
Take AILET mock tests, perform as well as you can, and keep constantly practicing to gradually improve your score.
Being consistent because of your slacking can cost a lot to your performance and reduce your chances of scoring in the AILET exam.
Never get subjected to anxiety and panic attacks; instead, focus on calming your mind and practice consistently.
Look into your weak points and work on improving them by going through the previous years' Questions.
Create Equilibrium between boards and AILET 2023
AILET is scheduled to be held right after 30 days of the commencement of the 12th board. That's Why many aspirants start to prepare for this Examination along with their 12th boards.
However, if one fails to create a perfect balance between these two, they might end up ruining both their 12th and AILET. That's why here are our Useful tips about how you can balance the preparation for the board and the Entrance Exam.
To understand the exam fundamentals of AILET, navigate through the syllabus carefully.
Create a parallel plan for the Board so that you can have 2 years to create equilibrium between 12th and AILET.
Divide your day between School and

Self Study for the AILET

.
Practicing mock papers will be a cherry on the top, so do it religiously.
You can also opt for the coaching center to receive expert guidance and study materials and to enhance your practice on a regular basis.
Students are suggested to create the timetable and divide their priorities depending on their potential, which they can execute. So focus on your boards more.
Time Management Tips for AILET Exam Preparation: Generalized Tips to Remember
There are other generalized tips for the aspirants who are planning on being a part of AILET, irrespective of how early or how late they have begun their preparation.
That's why we have created this pocketbook of Instructions that anyone can adopt, implement, and pass the examination with flying colors. At Least we hope so.
Stick to Schedule
A proper Schedule with careful planning and distribution of time between each section is important because if you don't manage your time between the topics and create harmony between them, then your preparation is likely to become a chaotic task that you will not prefer, of course.
Practice Regularly
Read, Write, Revise and Repeat. This must be your mantra while preparing for the AILET.
You must be very punctual with the Preparation and invest your time of the day (at least 5-6 hours) in practicing the AILET Mock Tests, attempting tests and Questions, and Skim and Scanning through the news daily.
Practice Last Year's Questions
Previous year's questions are the best tools to analyze the types of questions you will be presented within the examination as well as the difficulty levels.
These questions will familiarize you with the question's structure so that the final exam paper doesn't seem alien to you.
Credible Sources and Materials
Always try to source your materials that are tried and tested because you are to gain knowledge, not collect a bunch of information.
That's why you must also note from your seniors or from multiple coaching centers to avoid the void of information created because of the unavailability of resources.
Consult a Coach
You can also approach the Best Coaching Center for AILET, that are offering LLB/LLM Entrance Examination Preparation classes.
This will provide you with additional perks like Group Discussion, Live Sessions with mentors, and doubt-clearing sessions to improve your rankings and score in the AILET Exam.