Being a law student, you will have to read through a lot of comprehensive passages, Therefore, making a habit of reading the newspaper daily will help improve your vocabulary, reading speed, comprehension skills, and concentration power.
Reading editorials and interviews from the newspaper will help you get better perceptions of the ongoing issues and clear GK section easily. Also, will help you score better in English and reasoning sections.
Read through the post that will give you a complete insight on simple tips and tricks to read the newspaper, important areas to focus on, time required for reading the newspaper, and more.
How Much Time is Required to Read a Newspaper for AILET 2022?
Being an law student, you must give equal importance to all the subjects including reading a newspaper regularly. You need to set up a time in your Study Plan for reading a newspaper for the AILET exam.
According to the expert's opinion, you can give maximum 45 minutes to 60 minutes for reading a newspaper. But not more than that!
Also, it is always better to read the newspaper early morning. You can read it while making your breakfast or while travelling to work. If you don't have time during the day, make sure to read it at night every day.
Download Free Mini Booklets For AILET Exam by LegalEdge
Which is the Best Newspaper for AILET Exam 2022?
It might be confusing for most of you to choose the best newspaper, as there are numerous papers available in the market.
You must opt for only one newspaper during your AILET exam preparation rather than reading multiple newspapers each day, which will waste your time.
If you are a beginner and have never read a newspaper, you can start with reading the Times of India or the Tribune.
Both papers are easier to read and understand the given information effectively.
Once you build the habit of reading the newspaper, you should read the Hindu or the Indian Express for relevant information.
Areas to Focus on while Reading a Newspaper for AILET 2022
As we all know, newspaper reading is a time consuming factor Therefore, you should opt for selective reading.
In this way, you can develop your ability to filter the important topics for AILET exam, while developing your knowledge on how to ignore the non-relevant topics.
The following are the important areas that you need to focus while reading a newspaper:
Front page
Editorial page - language, knowledge, terminology
Recurring issues like Hong Kong protests, news related to elections, etc.
Standard Questions News such as appointments, records, awards, etc.
Business related news
International news
Topics to Avoid while Reading a Newspaper for AILET Exam 2022
As said above, you need to focus only on 20% of the newspaper and 80% you can skim through.
The following are some of the areas that you can skip while reading a newspaper for the All India Law Entrance Test.
Interviews
Minor sporting events
Opinions
Reviews related to books, movies, festivals, etc.
Science and Technology news
Financial news
Accidents of minor nature
State news
Health
Cultural news
Matrimonial
Short Tricks for Reading a Newspaper for AILET Exam 2022
Generally, students who read the newspaper regularly does not have to prepare it separately for the AILET Entrance Exam.
Reading newspapers is a good practice, especially if you are a law aspirant. If you don't want to read the newspaper offline, read up online. Numerous telegram channels provide analysis of newspapers.
You can read about the important topics from there and then make your own notes to increase your exposure.
Most of the passages in the GK section are more likely to come from newspapers, so if you regularly read newspapers, it will help you fetch more marks in the exam.
Let's dive into the post to understand better how to read a newspaper for the AILET exam.
Research from Previous Year Question Papers
Before picking up any newspaper, you must analyze at least five Previous Year's Question Papers for AILET as this will give you an idea about what to read from the newspaper.
It is crucial to understand what type of news is important from the exam point of view.
Go through the question papers and understand what type of questions were asked in the GK section.
By developing a habit of reading the newspaper, you will know what to focus on more on and what you can skip.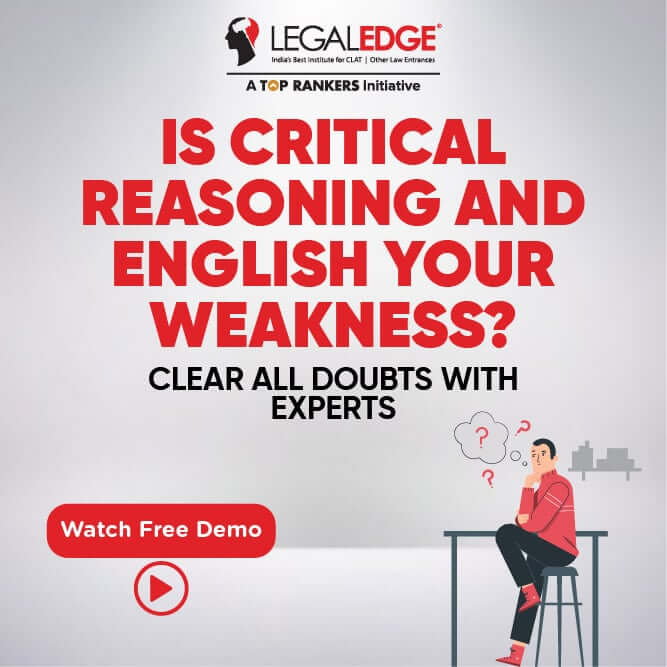 Choose Current Affairs Magazine
Most of you might be thinking, why should I choose current affairs magazine? Well, to make sure that you do not miss any important current affairs while reading the newspaper, you should subscribe to any one monthly magazine or any magazine of your choice.
It will help you add extra news to your notes and score good marks in the upcoming exam.
It would help if you no go overboard. Instead, you need only one magazine to supplement your current affairs preparation.
How to Make Notes While Reading a Newspaper for AILET 2022?
While reading the newspaper, make sure to note down the headline or title in your words, as this will help you memorize them for a long time.
Also, make notes for the research that you have conducted related to each topic.
If you are an AILET aspirant, it is imperative to research the topics related to

Daily Current Affairs

.
One of the smartest ways to make notes is dividing the topic into various sections like national, international, awards, sports, etc.
You can also make your own notes date wise or month wise.
How to Revise the Notes?
You can not remember all the news that you have studied earlier. Therefore, it is essential to revise your current affairs with the help of Mock Tests for AILET or quizzes.
Make sure to revise your notes at the end of every week and every month. In this way, you can enhance your preparation levels.
Also, treat monthly news or topic-wise news as chapters when planning to revise your notes.
Make cycles wherein you quickly revise the news of all the months here and there.