Reader's Digest: From choosing the right newspaper to honing in on the most important information. We'll guide you through every step. So, are you ready to become a news ninja? Read the blog to learn the secrets of mastering the art of newspaper reading for AILET success!
Are you preparing for the All India Law Entrance Test (AILET) 2024? If so, you probably already know that newspapers are an invaluable resource for your preparation. Reading newspapers helps you stay up-to-date with current affairs and sharpens your critical thinking skills.
Here are some of the must-do things to excel in newspaper reading for AILET:
Choose the Right Newspaper:

The first step is to select a reliable newspaper that covers a wide range of topics, from national and international news to sports, business, and entertainment.

Focus on Relevant Section:

While reading the newspaper, focus on sections directly related to the

AILET syllabus

.

Read Editorials & Opinions:

These are essential for developing analytical and critical thinking skills.

Take Notes & Create Mind Maps:

It is an effective way to remember what you've read. As you read, jot down essential points, dates, and names.
4 Short Tricks for Reading a Newspaper for AILET Exam 2024
Reading newspapers is a good practice, especially if you are a law aspirant; it's nothing short of a boon. If you don't want to read the newspaper offline, read up online. Numerous telegram channels provide analysis of newspapers.
In backward areas where high internet is a dream come true, the newspaper is an invaluable source of information.
Know why it is important to read a newspaper for AILET.
You can read about the essential topics and then make notes to increase your exposure.
As a law student, you must read through many comprehensive passages; therefore, reading the newspaper daily will help improve your vocabulary, reading speed, comprehension skills, and concentration power.
Reading editorials and interviews from the newspaper will help you better understand the ongoing issues and clear the GK section quickly.
Also, it will help you score better in the English and reasoning sections.
Daily reading of newspapers sharpens your mind and hones your logical abilities.
Many questions in law entrances like CLAT and AILET are asked from this area.
Generally, students who read the newspaper regularly do not have to prepare it separately for the All India Law Entrance Test.
Most of the passages in the GK section are more likely to come from newspapers, so if you regularly read newspapers, it will help you enhance your AILET GK Preparation and fetch more marks in the exam. So, start reading newspapers today.
Discover the ultimate CLAT GK preparation strategy! Tune in to our video and master the art of reading a newspaper for AILET 2024 success!
Research from Previous Year Question Papers
Before picking up any newspaper, you must analyze at least five Previous Year's Question Papers for AILET, as this will give you an idea about what to read from the newspaper.
Understanding what type of news is important from the exam point of view is crucial.
Go through the question papers and understand the questions in the GK section.
When learning how to read a newspaper for AILET 2024, cultivating a consistent reading routine will help you identify which sections to prioritize and which to overlook.
Choose Current Affairs Magazine
Most of you might wonder why I should choose the current affairs magazine. Subscribe to any monthly magazine or magazine to ensure that you do not miss any important current affairs while reading the newspaper.
Discover the advantages of selecting a current affairs magazine, as outlined below, focusing on how to read a newspaper for AILET 2024.
It will help you add extra news to your notes and score good marks in the upcoming exam.
It would help if you no go overboard. Instead, you need only one monthly magazine to supplement your Current Affairs preparation.
You can also attempt Current Affairs Quiz to analyze your monthly preparation levels.
Make Crisp Notes
While going through the newspaper for AILET 2024 preparation, jot down the headlines or titles in your own language, as doing so will aid in retaining them for an extended period.
Also, note the research you have conducted related to each topic.
If you are an AILET aspirant, it is imperative to research the topics related to Daily Current Affairs for CLAT.
One of the most innovative ways to make notes is by dividing the topic into sections like national, international, awards, sports, etc.
Additionally, you can organize your notes by date or month while learning how to read a newspaper for AILET 2024.
Revise Notes
You can not remember all the news that you had studied earlier. Therefore, revising your current affairs with the help of Mock Tests for AILET or quizzes is essential.
Revise your notes at the end of every week and every month to enhance your preparation levels.
Also, treat monthly or topic-wise news as chapters when revising your notes.
Make cycles wherein you quickly revise the news of all the months here and there.
Read Also: AILET Legal Aptitude Preparation Tips 2024
How to Read a Newspaper for AILET 2024 Under 60 Minutes?
Being a law student, you must give equal importance to all the subjects, including reading a newspaper regularly. You must schedule a time in your AILET Study Plan.
According to the expert, spend a maximum of 45 to 60 minutes reading a newspaper. But not more than that!
Read the newspaper early, preferably during breakfast or while travelling to work.
If you don't have time during the day, read it at night every day before going to sleep.
6 Major Focus Areas While Reading a Newspaper for AILET 2024
As we all know, newspaper reading is a time-consuming factor. Therefore, you should opt for selective reading.
In this way, you can develop your ability to filter the essential topics from the AILET Exam syllabus while expanding your knowledge by ignoring the non-relevant topics.
The following are the critical areas that you need to focus on while reading a newspaper:
Frontpage
Editorial page - language, knowledge, terminology
Recurring issues like Hong Kong protests, news related to elections, etc.
Standard Questions News such as appointments, records, awards, etc.
Business related news
International news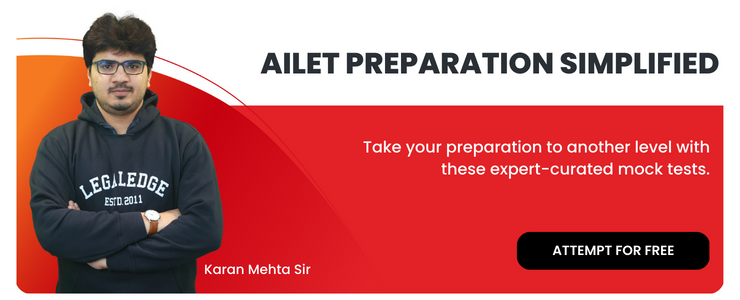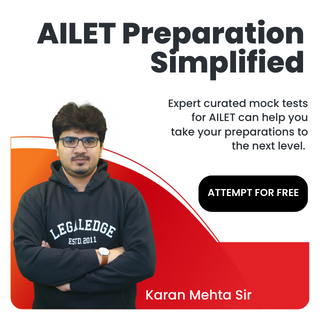 11 Must Avoid Topics While Reading a Newspaper for AILET Exam 2024
How to read a newspaper for AILET? Which topics should I avoid? These are the common doubts of every AILET aspirant.
As said above, you need to focus only on 20% of the newspaper, and 80% you can skim through.
You can skip the following areas while reading a newspaper for the AILET Entrance Exam.
Interviews
Minor sporting events
Expert's opinion
Reviews related to books, movies, festivals, etc.
Science and Technology news
Financial news
Accidents of minor nature
State news
Health
Cultural news
Matrimonial
Read Also: Time Management Tips for AILET Exam 2024
Which is the Best Newspaper for AILET Exam 2024?
What is the best newspaper for law students? This is the most asked question asked by the AILET aspirants. It might be unclear for most of you to choose the best newspaper, as numerous papers are available in the market.
You must opt for only one newspaper to ace AILET Exam Preparation Tips rather than reading multiple newspapers each day, which will waste your time.
If you are a beginner, the

Times of India

is the perfect newspaper to build a strong foundation in current affairs and legal knowledge.
Elevate your AILET 2023 preparation like a pro with Tribune to dive deeper into legal intricacies.
Both papers are easier to read and understand the given information effectively.
Once you read the newspaper, you should read the Hindu or the Indian Express for relevant information.
Top 10 Legal Magazines in India for AILET Preparation
You must know the importance of staying updated with legal developments and trends. To help you ace the AILET, we've compiled a list of India's Top 10 Legal Magazines for AILET Preparation.
These magazines are some of the best law magazines in India and are valuable resources for law students. Let's dive into the world of legal magazines for law students in India and find the best monthly law magazine in India to complement your AILET preparations.
LawZ Magazine: It is one of the best law magazines in India, offering in-depth analysis and updates on various legal topics. Its comprehensive coverage of legal news and expert opinions makes it an indispensable resource for AILET aspirants.

Legal Era Magazine: It provides insightful articles on legal developments and trends in India and globally. Its focus on contemporary legal issues makes it one of the most popular legal magazines for law students in India.

Live Law Journal: It is a reputed monthly law magazine in India that covers legal news, judgments, and analysis on important legal matters. With a strong online presence, it's a valuable resource for AILET preparation.

Bar and Bench: It offers a unique blend of legal news, interviews, and in-depth analysis. Its focus on the Indian legal system makes it a must-read for law students preparing for the AILET.

India Legal Magazine: It offers comprehensive coverage of India's latest legal news and developments. It's an extensive analysis, and expert opinions make it one of the best law magazines in India for AILET aspirants.

The Practical Lawyer: It is a popular legal magazine for law students in India, offering practical insights into various aspects of the legal profession. It's an excellent resource for those preparing for the AILET and looking to build a successful career in law.

Supreme Court Cases (SCC) Journal: It is an authoritative source of Supreme Court judgments and legal analysis. It's a great monthly law magazine in India for AILET aspirants who want to stay updated on the latest legal developments and case laws.

Indian Law Journal: It covers many legal topics, including constitutional law, criminal law, and human rights. It's a valuable resource for law students preparing for the AILET and seeking in-depth knowledge of the Indian legal system.

The Lex-Warrier: Online Law Journal The Lex-Warrier is an online law journal offering articles, case studies, and expert opinions on various legal subjects. Its comprehensive coverage makes it one of India's best legal magazines for law students.

Legally India Magazine: It is a popular legal magazine for law students in India, covering law school news, career advice, and legal updates. It's an excellent resource for those preparing for the AILET and aiming to build a successful career in law.
Conclusion
We have discussed all the golden rules of how to read a newspaper for AILET. Go through the focus areas, and ignore the unimportant stuff. Share these super quick newspaper reading tips with your friend too. Happy Reading!
"Doing things properly in the first place is the best way to be more productive later, and you simply have less to do."