The legal aptitude section is one of the most challenging sections of the AILET exam. You can expect two types of questions from this section: Legal Reasoning and Legal GK.
This section carries a weightage of 35 marks and is immensely important since most of you may not have prior exposure to legal terms and legal maxims. However, you can easily crack this section with a high score with the right strategy.
In this post, our experts at LegalEdge have curated some of the best AILET Legal Aptitude Preparation Tips, essential topics, sample questions, and more.
Try to follow all the tips given below and be prepared for the upcoming exam.
How to Prepare for AILET Legal Aptitude?
Questions are designed to test your legal reasoning, research aptitude, and problem-solving ability in the legal aptitude section.
Most of you often tend to freak out while preparing for this section. Therefore, following simple tips and strategies will help you better understand How to Score Good Marks in the AILET Exam and plan your preparation in a better way.
The Legal Aptitude section is divided into three sections:
Legal Reasoning
Legal Facts
Legal GK
Download Free Mini Booklet for AILET Legal Aptitude by LegalEdge
Legal Reasoning
In this section, the passage will be based on a legal principle. Hence, as per the AILET Legal Aptitude Preparation Tips, the best way to solve the questions is to analyze the facts and apply the legal principles.
Practice lengthy questions from

previous year's papers for AILET Legal Reasoning

as most of the questions from the past two years were lengthy.
Choose the option closer to your pre-decided answer if you find two solutions to the same question.
Do not assume anything while answering the question in the exam.
Legal Facts
You must have explicit knowledge of judgments and amendments to answer the legal facts questions in the

AILET Entrance Exam

.
Make sure to focus more on essential topics like Fundamental Rights, Directive Principles, Preamble, Important Amendments, Important Judgments, landmark judgments, Recommendations & Chairpersons of law commissions.
Ensure to check the facts only from authentic sources, as fake news is most of the time on social media.
To score more in this section, note down the meanings of difficult words that you come across while preparing and revise them daily.
Legal GK
You must be aware of current legal issues' national and international significance.
Make a habit of reading the newspaper daily, as this will help you accurately attempt the legal GK questions.
Important Topics under AILET Legal Aptitude Syllabus 2023
Before starting the preparation, it is vital to go through the detailed syllabus to understand better the topics that need to focus more on as per their weightage.
In this way, you can enhance your AILET legal aptitude preparation and perform well in the upcoming exam. Here is the list of essential topics for the AILET Legal Aptitude section.
Indian Constitution
Indian Penal Code
Indian Contract Act
Family Law
Law of Torts
Property Law
Legal Maxims
Important Landmarks
Supreme Court Judgements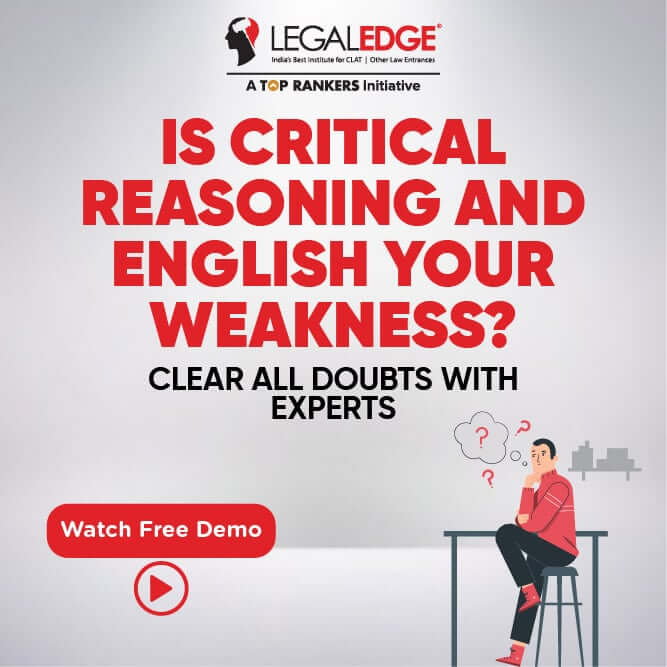 AILET Legal Aptitude Preparation Tips: Best Study Plan
Step 1: You first allocate 2-3 hours daily for the legal aptitude section.
Step 2: Collect the required study material from Legal Edge or any proper online resources.
Step 3: Make a timetable for each topic and complete all the topics within a fixed time.
Step 4: Set aside the time-consuming topics and revise them at the end of the day.
Step 5: Improve your legal vocabulary by reading the newspaper or watching the news.
Step 6: Try to attempt more and more questions regularly to know the difficulty level and the type of questions asked from the legal aptitude.
Step 7: Use the order like Principle - Fact - Option while answering the legal fact questions.
Step 8: Practice mock and sectional tests to improve speed and accuracy.
How to Manage Time while Solving AILET 2023 Legal Aptitude Questions?
Along with answering the questions accurately, you need to manage the time in the exam.
Many of you may be performing well in sectional tests, but you cannot reach the expectation when attempting a complete paper.
The time management skills for AILET given below will help you better understand how you can manage time to succeed in the upcoming exam.
Total time duration for legal aptitude section - 25 to 35 minutes
Easy Questions - 30 to 35 seconds
Tricky Questions - 50 to 55 seconds
Practice More Questions on Legal Aptitude for AILET Exam
How to Attempt the AILET Legal Aptitude Section 2023?
Following the AILET legal aptitude preparation tips given below will help you attempt this section in a matter of seconds.
The first and most important thing to follow is to read the given passage carefully.
You do not have much time to spend reading questions again and again. So, make sure you read it, focusing on it the first time.
After reading the passage, identify all the principles and roles in the passage.
Try to relate the facts drawn with the question and analyze if they justify the argument fully without any assumptions.
Be aware of the minor tweaks given in the passage or questions.
Attempting

AILET Mock Tests

is one of the best ways to analyze your preparation levels.
Try to keep your assumptions outside the principle facts and stick to the theories that the principle is always correct.
Do not waste more time on a single question if you cannot identify the correct answer.
Move to the next question if you feel the question is tricky and time-consuming.
AILET Legal Aptitude Preparation Tips 2023: Best Books
As per experts, opting for the best AILET Preparation Books for legal aptitude is complicated as many resources are available both offline and online.
The following are some of the best books for the AILET Legal Aptitude preparation.
Legal Aptitude for CLAT and other Law Entrance Exams by A. P Bhardwaj
Universal's Guide to CLAT and LLB entrance examination by Universal
Legal Awareness and Legal Reasoning - For the CLAT and LL.B. Entrance Examinations by Bhardwaj
Sample Questions for AILET Legal Aptitude 2023
To help you get an idea about the type of questions asked in the exam and the difficulty level of the questions, we have provided a few sample questions that are curated from the previous year's AILET Question Papers.
Practice these questions regularly to enhance your speed and accuracy in the final exam.
Directions: Apply the legal principles to the facts given below and select the most appropriate answer.
Legal Principles:
Negligence is a legal wrong that is suffered by someone at the hands of another who has a duty to take care but fails to take proper care to avoid what a reasonable person would regard as a foreseeable risk.
The liability test requires that the harm be a reasonably foreseeable result of the defendant's conduct. A relationship of proximity must exist, and it must be fair, just, and reasonable to impose liability.
The claimant must prove that harm would not have occurred 'but for the defendant's negligence.
Duty of care is a legal obligation imposed on an individual requiring adherence to a standard of reasonable care while performing any acts that could foreseeably harm others.
Conversations between a doctor and a patient are generally confidential, but there are a few exceptions.
Q) Soman was a student of PRQ University. He met Pamela at a youth festival and fell in love with her. However, Pamela was not interested in having any serious relationship with Soman. Due to this, Soman went into an emotional crisis and started consulting a psychologist at the PRQ Memorial Hospital. In October 2018, Soman murdered Pamela. Pamela's parents contended that only a short time prior, Soman had expressed his intention to murder their daughter to his therapist, Dr. Surana, a psychologist employed by the University. They further alleged that Dr. Surana had warned campus police of Soman's intentions and that the police had briefly detained him but then released him. Pamela's parents filed a case of negligence against the Police Department and the University officials on two grounds: the failure to confine Soman despite his intentions to kill Pamela and the failure to warn Pamela or her parents. Defendants maintained that they owed no duty of care to the victim and were immune from suit. Which of the following is incorrect?
(A)The police did not have the requisite proximity or special relationship with their family of Pamela, sufficient to impose a duty to warn her of Soman's intention.
(B)The public policy favoring the protection of the confidential character of patient psychotherapist communications must yield to the extent to which disclosure is essential to avert danger to others. The protective privilege ends where the public peril begins.
(C) The therapists and Regents of the University are liable for breach of duty to exercise reasonable care.
(D) Soman only once expressed the desire to kill Pamela. Such kinds of feelings are normal in any mentally ill patient. Moreover, information received during a counseling session is confidential in nature, so therapists cannot reveal it to their parents of Pamela.
You can solve more questions to understand the difficulty level and type of questions asked. Click on the below quiz link to attempt more questions and enhance the preparation level.