With the CLAT exams approaching you must already be aware of the CLAT Syllabus and the exam pattern thoroughly to crack the exam this year.
The Consortium of NLUs released the official syllabus of CLAT 2023 for both UG and PG programs and as per the notification, there is no change in the syllabus.
The UG syllabus that comprises English, Mathematics, Legal Aptitude, Logical Reasoning, GK & Current Affairs evaluates your comprehension and reasoning skills and abilities.
The PG syllabus includes the mandatory subjects of the UG program, Constitutional Law, and other law subjects, and the questions are designed to evaluate your comprehension abilities.
Only after you check the CLAT Exam Pattern and Syllabus you can plan your preparations accordingly. Knowing the syllabus is the first step to succeeding better in the Common Law Admission Test, as it will help you get an idea about the essential topics from the exam point of view.
This post will walk you through the detailed CLAT exam Syllabus 2023 for UG and PG programs, section-wise essential topics, and preparation books to help you with your CLAT preparations.
CLAT 2023 Syllabus For LLB (Important Topics)
The difficulty level of the Common Law Admission Test for UG programs will be class 12.
As per the

CLAT UG Exam Pattern

, each section of the question paper will have reading comprehension passages of 400-450 words each, except the mathematics section.
In the mathematics section, the questions are from graphs, pictorial representation, a set of facts, etc. You have to derive the answers from the given data.
Download FREE Study Material for CLAT Exam by LegalEdge
To make it easier, we have provided the subject-wise syllabus in the post below.
Check out the topics given below and plan your preparation in a better way.
| | |
| --- | --- |
| Sections | Important Topics |
| English | Grammar, Antonyms, Synonyms, Vocabulary, Adverb, proverbs, One-word substitution, English Comprehension |
| GK & Current Affairs | Contemporary Events from India & world, Arts, culture, International Affairs, Historical events |
| Elementary Mathematics | Percentage, Algebra, Areas, Number system, time, speed, distance, Profit, Loss, Probability, Statistical Estimation, Ratios, and Proportion |
| Legal Aptitude | Constitution, Law, Polity |
| Logical Reasoning | Analogies, Series, Seating Arrangement, Syllogisms, calendar, clocks, sequence and matching, blood relation |
CLAT English Syllabus 2023
The CLAT Exam Syllabus for English includes topics that test your grammatical and vocabulary knowledge.
This section includes passages with a minimum word count of 450 words.
CLAT Scholarship Test 2023 by LegalEdge - Get up to 100% Off
The source of these passages is primarily fictional and non-fictional writings with contemporary and historical significance.
There are a few objective-type questions that follow these passages. You can score good marks in this section by following a few tips for CLAT English preparation.
You will have to demonstrate your comprehension and language skills, including abilities to:
Understand and comprehend the main objective of the passage, including the viewpoints discussed in it
Derive conclusions and inferences based on comprehension
Create an excerpt of the passage in your mind
Bring out contrast and comparisons between various arguments derived from the passage
Comprehend the meaning of multiple words and phrases included in the passage
The CLAT Syllabus for English is primarily segregated into three categories: language/vocabulary, proficiency, and usage errors.
Read more: Short tricks to enhance your CLAT English including comprehension
CLAT Current Affairs Syllabus 2023
Though the subject might look easy, you need a proper

CLAT GK preparation strategy

to crack this section.
This section again includes passages up to 450 words. These passages are extracted from news, journalistic sources, and non-fictional writing.
The questions are related to the passage but emphasize the legal information or topics discussed in the paragraph.
The questions may not require any additional legal knowledge apart from the one conveyed through the passage.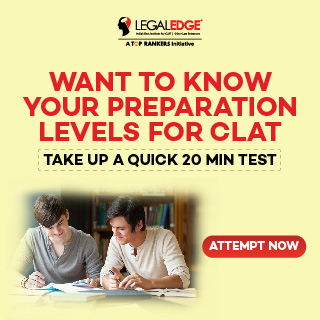 The series of questions asked in this section will require you to exhibit your awareness of GK and Current Affairs aspects. The CLAT Syllabus for current affairs includes:
Contemporary events of significance from India and the world
Arts and culture
International affairs
Historical events of continuing significance
Read more: Short tricks to prepare for CLAT exam in one month
CLAT Exam 2023 Syllabus for Legal Reasoning
The word count for the passages included in this section is 450 words. These passages will relate to factual events or scenarios which involve legal solutions, public policy questions, or moral philosophical inquiries.
You needn't be well versed with legal terminology for this section. It will be advantageous to have a general awareness of contemporary legal and moral issues and easily apply them to the given scenarios.
Check out the detailed syllabus from the post below and enhance your CLAT Legal Aptitude Preparation. The questions that follow the passages given in this section require you to:
Identify and infer the rules and principles mentioned in the passage
Apply such rules and principles to various fact situations and
Understand how changes to the rules or principles may alter their application to various fact situations.
Prepare accordingly by referring to CLAT legal reasoning syllabus.
CLAT Logical Reasoning Syllabus 2023
Just remembering the concepts is not enough to crack this section, and you have to be thorough with each kind of question asked on this topic.
You must plan your CLAT logical reasoning preparation diligently and learn to crack this section with a high score with curiosity and fun.
The CLAT UG Logical Reasoning section has passages of around 300 words. These short passages will be followed by one or more objective type questions that require you to
Identify an argument, its premises, and inferences;
Read and recognize the arguments given in the paragraph;
Critically analyze patterns of reasoning, and assess how conclusions may depend on particular premises or evidence;
Conclude the objective of the passage and apply the conclusions to new situations;
Draw relationships and analogies, identify contradictions and equivalence, and assess the effectiveness of arguments.
Read more: Short tricks to attempt lengthy passages in CLAT
CLAT Exam 2023 Syllabus for Mathematics
The Quantitative Techniques/Maths section in CLAT is non-comprehension-based. This section will comprise short sets of facts of propositions, graphs, and any other textual, pictorial, and diagrammatic representation-based questions and the CLAT maths syllabus goes this way.
Regular practice is required to enhance your CLAT Maths Preparation levels.
You will have to apply mathematical operations to representations, graphs, or word problems. The questions additionally will require you to:
Understand, conclude and manipulate information given in the graphical or diagrammatic representations; and
Implement various 10th standard-based mathematical operations on topics such as ratio & proportions, algebra, mensuration, and statistics.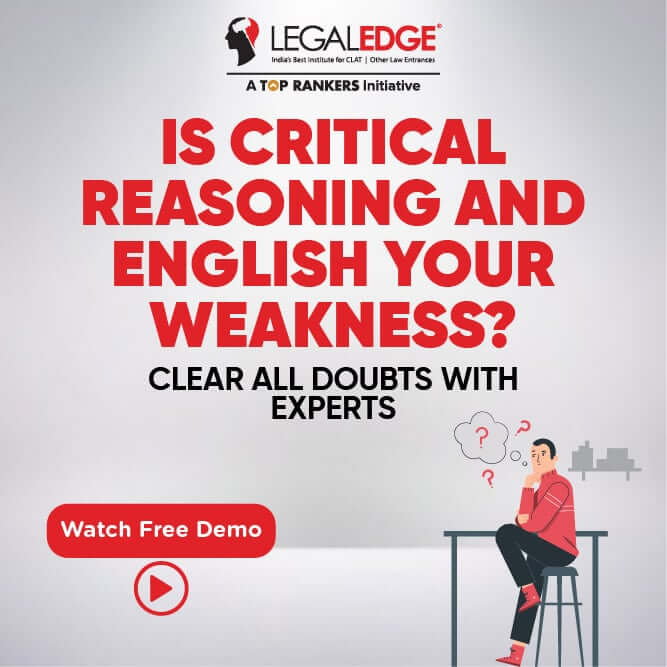 CLAT Subjects Weightage
Check the weightage of each section of the CLAT exam 2023 as represented in the table below:
| | |
| --- | --- |
| CLAT Sections | Weightage |
| English Language | 20% |
| Current Affairs, including General Knowledge | 25% |
| Legal Reasoning | 25% |
| Logical Reasoning | 20% |
| Quantitative Techniques | 10% |
Having this information can help you prioritize and prepare accordingly.
CLAT 2023 Syllabus for LLM
As per the notification, the CLAT PG question paper will have 120 objective-type questions, and each question carries one mark.
Like the UG pattern, this exam also has questions based on reading comprehension. Also, there shall be a negative marking of 0.25 marks for each wrongly answered question.
The CLAT Exam 2023 Syllabus for the PG program includes the undergraduate program's mandatory subjects and the subjects given below.
Check out the detailed CLAT PG Syllabus from the post below and enhance your preparation levels for the upcoming exam.
Constitutional Law
Jurisprudence
Administrative Law
Law of Contract
Torts
Family Law
Criminal Law
Property Law
Company Law
Public International Law
Tax Law
Environmental Law
Labour & Industrial Law
Read More: Short tricks to crack the CLAT PG exam on the first attempt
The exam conducting body will provide you extracts from primary legal materials such as important court decisions in various fields of law, statutes, or regulations followed by a series of objective-type questions, which will require you to demonstrate:
Ability to read and comprehend the issues discussed in the passage.
Any arguments and viewpoints discussed or set out in the passage.
Awareness of the issues addressed in the passage.
Legal issues and facts related to and arising from the passage and the judgment or statute extracted from it.
Summarise the passage and your ability to apply your knowledge of the fields of law discussed in the passage.
Read more: Short tricks to read the newspaper for CLAT
Best Books for CLAT 2023
It might be confusing for most of you to opt for the right books, as there are many online and offline books available. As per the expert's opinion, you should opt for the books covering all the topics per the CLAT Exam 2023 syllabus.
The following are some of the best books for CLAT 2023 that you include during your preparation.
| | |
| --- | --- |
| Book Name | Author |
| Objective General English | AP Bharadwaj |
| Legal Awareness and Legal Aptitude | AP Bhardwaj |
| Current Affairs Yearly | Arihant Publications |
| Quantitative Aptitude | Pearson |
Having the knowledge of the CLAT syllabus in detail will always help you understand and prepare better for CLAT exams.