As there is only one month left for the CLAT entrance exam, it is obvious that most of you might be worrying about how to cover all the topics in such a short period, where to begin, how to begin, and more.
In the last month of your preparation, you should be very smart while revising the topics, as the syllabus is vast.
I hope most of you have already started your revision for the Common Law Admission Test. If not, don't panic! This post shall guide you through how to prepare for CLAT in one month.
Try to follow all the tips provided in this post and perform well in the exam. So, why late? Dig into the post to learn tricks and strategies to crack the exam.
Top 5 Tips to Prepare for CLAT 2024 in One Month
As long as you have consistently prepared, there is no need to pressure during the last month.
You should mainly focus on practicing and time management and keep yourself updated about all the latest happenings worldwide.
Ensure to put all your efforts into last-month preparation because these 30 days can change how you are going to perform in the exam.
Deep understanding of patterns & syllabus
For any preparation to be successful, you need to understand the pattern and syllabus for the CLAT exam of the examination.
Know if there are any changes introduced in CLAT and topics to be studied. Also, check the weightage of each topic.
Revising all the topics from each subject
As the last month is said to be a revision period, ensure to revise each topic. Give a quick glance at easy topics.
Make sure to read the notes you had prepared during the initial time of studying.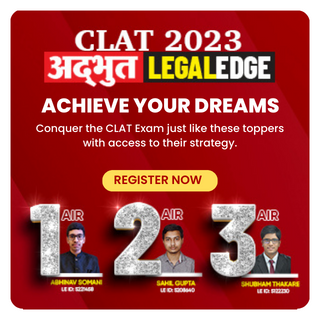 Solving previous year's papers
One of the most important tips for scoring good marks in the CLAT entrance exam is to practice question papers.
Try solving as many previous year's questions papers for CLAT as possible to understand the exam's difficulty level and the type of questions asked in the upcoming exam.
Taking up Mock Tests Regularly
Attempting mock tests regularly will help analyze your preparation levels. You can improve your confidence levels and know in which topic you are weak.
Also, in many instances, similar concept-based questions are asked. So, if you practice enough, you can quickly answer the questions.
Do not read any new Topics
Since the last month is for revising topics, don't read any new stuff. Try to revise whatever you have studied earlier.
Reading new topics can make you get confused and forget other stuff.
Enhance your preparation with the help of the best online coaching classes for the CLAT exam.
Week-Wise Preparation Strategy for CLAT 2024 Exam
You must make sure that you are practicing more and more in the last month of your preparation. Suppose you are preparing for 8 hours a day; make sure to allocate at least 2-3 hours to solve sample papers and previous year's papers.
Go through the week-wise preparation plan from the post below and enhance your last-minute preparation for the CLAT Exam.
Week 1 Preparation for CLAT 2024
Pick out 100-200 words, find out their meanings and practice them.
Make sure to be thorough with the basics of all subjects. Take up one subject at a time.
Read newspapers every day, along with editorials.
Also, read

Daily Current Affairs

to be aware of the latest issues across the globe.
Week 2 Preparation for CLAT 2024
Solve as many questions as possible from each subject. Try solving at least 1000 questions overall.
Also, make sure to analyze your answers so that you know your errors.
Try to improve on the topics you are weak on.
Don't miss reading newspapers and current affairs.
Learn and practice at least 200 legal terms, 200 idioms, 100 proverbs, and 100 new words. This shall improve your vocabulary.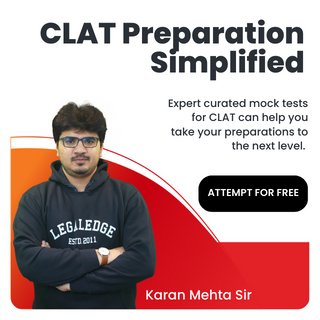 Week 3 Preparation for CLAT 2024
Practice makes you perfect and cracks the exam easily. So, ensure to practice as many questions as possible.
Newspapers are a great resource to crack the GK section. Make a habit of reading them daily.
Take up

CLAT Mock Tests

to know your level of preparation. Also, analyze your test report to know where you are going wrong.
Solve question papers to get an idea about the difficulty level and type of questions asked in the exam.
Week 4 Preparation for CLAT 2024
The last week can generally make you get tensed and worried. So, make sure you don't panic and get stressed.
Read the newspapers and current affairs without fail.
Attempt as many possible tests to improve your confidence level.
Keep all the documents you need to carry to the exam center ready in hand.
One Month Subject-Wise Preparation Plan for CLAT 2024
You can begin with the easier subjects, so you have enough time for the tough ones. Try to revise as many times as you can until you are perfect.
Gear up your preparation for CLAT Entrance Exam by checking the quick tips and tricks given below.
How to Prepare for CLAT Legal Aptitude in One Month?
Legal aptitude continues to be the most crucial section of CLAT 2024. The questions in the legal aptitude section are designed to test your problem-solving ability in legal issues.
The following are some of the best Preparation Tips to enhance your CLAT Legal Aptitude preparation.
This section mainly tests your critical thinking and analytical skills.
It is an add-on advantage if you have prior knowledge about Legal issues, but it is not compulsory.
Ensure to clear your basics and apply the knowledge in solving problems.
Solve as many mock tests and question papers as possible to enhance your preparation levels.
How to Prepare for CLAT GK in One Month?
Knowing about all the latest current affairs and general knowledge issues is important for this section.
One of the best

CLAT GK Preparation tips

is making a habit of reading the newspaper daily.
Reading newspapers regularly plays an important role in cracking this section with a high score.
Read current daily affairs to stay updated about the latest issues happening across the globe.
How to Prepare for CLAT English in One Month?
Around 28-32 questions are asked in this section. You can not learn the English language in a day. Instead, you need to read a lot to become an expert in the English language.
The following are some of the tips that will help enhance your CLAT English Preparation.
You are mainly tested on vocabulary, reading, and grammar topics.
Identify the words that you are not familiar with and try to understand their meaning.
Solving question papers lets you understand the difficulty level of the exam. You can also know which type of questions are asked.
How to Prepare for CLAT Mathematics in One Month?
You can follow the CLAT Maths Preparation Tips given below to enhance your preparation.
Practice is the only way to score full marks in this section.
Make sure to solve as many problems as possible for a better understanding of concepts and to score good marks.
There will be questions on topics such as percentage, time, speed, distance, number system, probability, profit and loss, averages, fractions, time and work, ratio and proportion, and simple and compound interest.
How to Prepare for CLAT Logical Reasoning in One Month?
Following are some of the best CLAT Logical Reasoning Preparation Tips that you can follow during your preparation.
In the logical reasoning section, questions related to puzzles, diagrams, arguments, statements, age, etc., can be asked.
Try to solve previous year's question papers to get an idea about the type of questions asked.
Solve mock tests to enhance your preparation level.
The main trick to sole questions in this section is to analyze the given question carefully.