Reader's Digest: You name it; we solve it! Read this blog post to learn how to balance your daily routine for CLAT 2024 preparation. Get insights into the daily, monthly, and yearly task table for CLAT 2024 and more.
Why Is It Important to Make a Task Table for CLAT 2024?
Due to the increasing competition, it might be difficult for most of you to prepare for the CLAT exam. However, it is easy to crack the exam by following a well-structured study plan for CLAT.
Following a single task table that will help you achieve good results is a myth because every aspirant's preparation strategy is different.
Each of you will have weak and strong areas, and your preparation strategies may vary. Hence, we recommend you prepare your task table based on the following factors:
Amount of syllabus left
Status of revision
Weak areas (based on your mock performance)
Targets to be met (if you are aiming for AIR below 10, your task table looks completely different)
Study capacity (based on your ability to study for long hours)
Best Short Tricks to Make the Best Study Schedule for CLAT 2024
The following techniques will help enhance your CLAT exam preparation and score good marks in the upcoming exam.
Instead of making a timetable for 7-8 hours a day, creating a task table that includes 5 to 7 tasks a day is always recommended.
Please write what to study each day, as it will help you not miss out on any topic.
Be specific: Don't just write the subject's name to study on a particular day. Instead, try to write down the subject name followed by the topic name, book name, and page number. Suppose you are preparing from LegalEdge's study material; write down the assignment numbers.
Ensure to strike out after completing each topic or assignment, as it will motivate you and build your confidence.
Remember, even if you cannot complete all the tasks listed by you by the end of the day, don't get demotivated. It is okay even if you do not finish all the listed tasks.
Just try to find out whether the task list you have completed until that time is covered entirely or not.
How to Make a Daily Task Table for CLAT 2024?
You must keep the following points in mind while creating a daily task table for the CLAT entrance exam:
Read the newspaper for 45 minutes daily (it is advisable to read the "Hindu newspaper" along with GK Today).
If you are a LegalEdge student, read the essential articles provided by LegalEdge faculty on the telegram channel.
Try solving two to three reading comprehension passages from the

CLAT previous year's question papers

for the English section.
Also, try to learn at least ten new vocabulary words across all the sources, including the newspaper, section tests, or most essential articles page.
Last but not least, revision of current affairs daily for a specific month.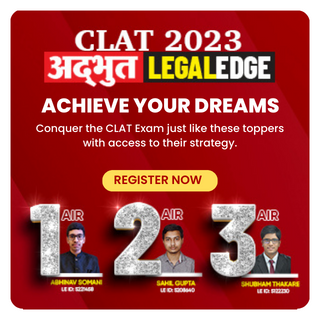 In addition, it is advised to include at least two weak subjects in your daily task table.
For example:
If quantitative aptitude is your weak area, you can add two specific daily tasks related to this subject.
Revise the percentages concept and try to solve as many questions as possible from any source like RS Aggarwal, previous question papers, etc.
Revise the profit & loss concept and attempt as many

profit & loss questions for CLAT

as possible from any of the best resources.
Similarly, you can cover all the topics to enhance your preparation levels.
If legal reasoning is your weak area, you can plan your preparation as explained below.
Revise theory from RSM (mention topics and page numbers) and practice as many questions as possible on legal reasoning.
Cover current legal knowledge and practice the previous year's question to enhance your

CLAT Legal Reasoning preparation

.
You can follow the task table below if English is your weak area.
Try to practice more RCs and focus on questions around the central theme, purpose, time of passage, vocabulary, and figures of speech.
Read more articles and editorials to improve your vocabulary.
Practice the close test regularly, as it plays a vital role in improving your

CLAT English preparation levels

.
If GK and current affairs are your weak area, follow the tips suggested below.
Spending more time on newspapers, GK Today, and researching a particular topic would be best.
Ensure to acquire a sound knowledge of what's happening in the country, as it is essential to enhance your

CLAT GK preparation

.
Also, watch the news regularly to stay updated with all the latest issues happening across the globe.
Focus more on topics like Sports, History, Art, Culture, National & International Events, and Awards, as most of the questions, are asked from these topics in the exam.
If Logical reasoning is your weak area, you can follow the tips below to enhance your preparation levels.
Practice critical reasoning questions from any best resources.
If you need to revise the basics of critical reasoning, you can add specific topics, sources, and page numbers to your task table.
You may include analytical reasoning two or three days a week for revision and practice as many questions as possible to enhance your

CLAT logical reasoning preparation

.
Weekly Strategy for CLAT 2024 Preparation
The following are tips you can track weekly to enhance your CLAT time management skills and speed, which are essential to qualify for the exam.
Solve and analyze at least one mock test weekly.
Try to practice your strong subjects.
Revise the notes you have prepared for vocabulary and the newspaper pointers.
Complete all your pending assignments.
Practice analytical reasoning (weekly practice is enough).
Customize your week as you have proper division among your sections along with its revision and mock attempts.
Devote four days towards your regular studies by making sectional pairs among these days and keep other days for proper revision of the sections.
Make sure to keep the last day for

CLAT Mock Test

and analysis.
Monthly Strategy for CLAT 2024 Preparation
You must include English, legal reasoning, current affairs, critical reasoning, and reading the newspaper in your monthly study plan.
Remember, reading newspapers will help build your vocabulary, GK, critical reasoning, and legal reasoning.
The following are some of the best preparation tips to crack the CLAT exam on the first attempt.
English
You should follow reading newspapers and improve your vocabulary every month.
Practising RCs won't help you score good marks unless you have a good vocabulary level.
GK & Current Affairs
Along with reading the newspaper daily, you must follow at least one additional source for the GK section every day.
You can prepare GK and current affairs from any website like GK Today and CLAT post.
Also, if you can follow two additional resources, that would be great, but remember not to follow more than two.
Legal Reasoning
For current legal knowledge, you can read the newspaper daily.
Practice legal issue questions from mock tests.
Try to research passages in and out.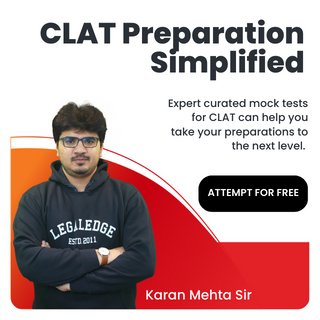 Logical Reasoning
Make sure to revise all the core concepts such as paradox, conclusions, assumptions, etc.
Try to practice as many

CLAT critical reasoning questions

as possible from the previous year's papers.
Quantitative Techniques
First, focus on essential topics, including pie charts, bar charts, time & distance, and time & speed.
If you are not good at quantitative, then focusing on core concepts and practice questions from RS Aggarwal and RSM is recommended.
If you don't have time to work on all the RS Aggarwal textbook questions, you can cover the bare minimum of a topic and move to the next one.
Summing Up - Now, you know what the daily routine of CLAT aspirants should look like. You may adopt this daily routine to ace CLAT 2024 like a pro. Make a task table for CLAT 2024 preparation and follow it religiously to maintain consistency throughout. Good Luck with your preparation! Happy Reading!
PUSH YOURSELF BECAUSE NO ONE ELSE IS GOING TO DO IT FOR YOU.