Summary: IPMAT is a renowned exam admitting students to the most prestigious institute Indian Institute of Management. The exam centres allocated by the officials are scattered all over India. Here you can check out the nearest centres from your location for attempting the IPMAT Indore exam.
Indian Institute of Management is one of India's most prestigious Business Schools. It has limited seats and a high number of aspirants, making the IPMAT the toughest exam to crack.
The IPMAT exam is specially conducted for admissions of students to the IPM program. IPM program is a specially designed program that offers students a bachelor's as well as a master's degree in management course. The course is a five-year-long programme that IIM Indore first introduced.
IPMAT Indore Centre Allotment
The IPMAT exam is conducted in a total of 28 cities all across the country. The need to know about the exam centres is because you can easily prepare yourselves for any travel or stay you need to book for the exam period.
The process begins during the IPMAT 2024 application form filling, where you need to select at least 3 centres where you prefer to appear for your IPMAT 2024 exam. The officials strictly decide these centres at IIM Indore.
So you should choose your exam centres carefully. In the worst-case scenario, you must be aware of the travelling time and the expenses to stay there.
List Of Centres For IPMAT Indore 2024 Exam
Before moving to the list, please check the IPMAT 2024 Eligibility criteria so that you can fill out the IPMAT application form.
Here is the list of exam centres that are currently going to conduct the IPMAT exam 2024-

| | |
| --- | --- |
| Exam Centre | State |
| Ahmedabad | Gujrat |
| Bengaluru | Karnataka |
| Bhopal, Gwalior, Indore | Madhya Pradesh |
| Bhubaneswar | Odisha |
| Chandigarh | Chandigarh |
| Chennai | Tamil Nadu |
| Dehradun | Uttrakhand |
| Ghaziabad, Lucknow, Noida, Varanasi | Uttar Pradesh |
| Gurgaon | Haryana |
| Guwahati | Assam |
| Hyderabad | Telangana |
| Jaipur | Rajasthan |
| Kolkata | West Bengal |
| Kozhikode, Thiruvananthapuram | Kerala |
| Mumbai, Nagpur, Pune | Maharastra |
| New Delhi | Delhi |
| Patna | Bihar |
| Raipur | Chattisgarh |
| Ranchi | Jharkhand |
| Visakhapatnam | Andhra Pradesh |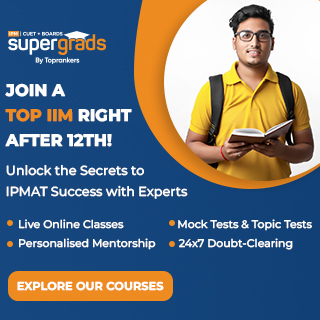 The availability of seats affects the final allotment of the IPMAT 2024 exam centre. Sometimes due to a high number of preferences for a particular city, students might get a different centre near the preferred one. IIM Indore has all the right to change the exam centre for any reason.
Conclusion
The exam centres you prefer will also be mentioned in the printed/online IPMAT admit cards. So You don't need to memorise the chosen locations. You will also get to know other details like venue, timings, etc., via the admit card itself.
The IPMAT exams are already closing in, and are you done with your IPMAT preparations? If not, quickly register yourselves to the latest batch at SuperGrads and boost your preparations now. SuperGrads is India's largest online management coaching institute with a great track record of selected students.