Eligibility criteria is the prerequisite of any examination application form. It is crucial to understand the eligibility criteria before proceeding with the application process for the JEE Main Exam.
This year, a few significant modifications to the JEE Main Eligibility Criteria have been implemented, discussed in this post.
One of the most important eligibility criteria to consider is that the Joint Entrance Exam 2022 has no age limit. Isn't it fantastic?
This article will walk you through all the various parameters under eligibility criteria like age limit, educational qualifications, nationality, and reservation criteria.
Let us understand all these parameters in detail through this article.
JEE Main Age Limit 2022
Good news is, for appearing in the JEE (Main) - 2022, there is no age limit.

If you have passed the class 12 or equivalent examination in 2020, 2021, or appearing in 2022 irrespective of your age can appear in JEE (Main) 2022 examination.

But, you need to fulfill the age limit prescribed by the respective Institute that you desire to get admission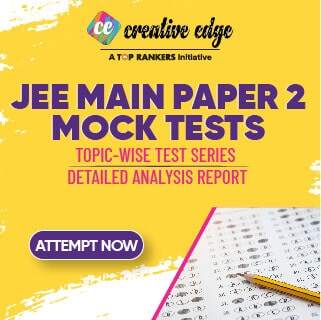 JEE Main Educational Qualification 2022
As per the JEE Main Eligibility criteria, only those who have passes class 12/ equivalent examination in 2020, 2021 or 2022 can apply.

Also, those who are appearing in Class 12 / equivalent examination in 2022 can apply.

But, note that those who passed Class 12 / equivalent examination in 2019 or before as well as those who will appear in such examination in 2023 or later are not eligible to apply for JEE Main 2022 Exam.
JEE Main State of Eligibility 2022
State code of Eligibility is the code of state from where you have passed class 12 or equivalent.

Remember that the State code of eligibility does NOT depend upon the native place or the place of residence of the candidate.

For instance, if you have appeared for the class 12 examination in New Delhi and you are a resident of Noida, UP, then your state code of eligibility will be New Delhi and NOT UP.

If you have passed the Class 12 (or equivalent) qualifying examination from one State but appeared for improvement from another State, than yours State code of eligibility will be from
where you have first passed the Class 12 (or equivalent) examination and NOT the State from where you have appeared for improvement.

If you appeared or appearing for class 12 from NIOS, then you must select the state code of eligibility as per the state in which the study center is located.

For Indian nationals passing the Class XII (or equivalent) examination from Nepal/Bhutan, the State code of eligibility will be determined based on a permanent address in India as given in the passport.

The State code of eligibility of OCI/PIO passing Class XII (or equivalent) examination in India is at par with Indian nationals.

Also note that, OCI/PIO passing the Class 12 (or equivalent) examination from an institution abroad are eligible for Other State quota seats or All India quota seats (but NOT for Home State quota seats) in all NITs, IIEST and Other-CFTIs
Download JEE Paper 2 Question Papers PDF
List of Qualifying Examinations
If you are applying for JEE Main, then make sure you have qualified in any of the below-listed exams and have the concerned documents.
The final examination of the 10+2 system, conducted by any recognized Central/ State Board, such as Central Board of Secondary Education, New Delhi; Council for the Indian School Certificate Examinations, New Delhi; etc.

Intermediate or two-year Pre-University examination conducted by a recognized Board/ University.

Final examination of the two-year course of the Joint Services Wing of the National Defense Academy

Senior Secondary School Examination conducted by the National Institute of Open Schooling with a minimum of five subjects.

Any Public School/ Board/ University examination in India or any foreign country recognized as equivalent to the 10+2 system by the Association of Indian Universities (AIU).

Higher Secondary Certificate Vocational Examination.

A Diploma recognized by AICTE or a State board of technical education of at least 3 years duration.

General Certificate Education (GCE) examination (London/Cambridge/Sri Lanka) at the Advanced (A) level.

High School Certificate Examination of the Cambridge University or International Baccalaureate Diploma of the International Baccalaureate Office, Geneva.

If you have completed the Class 12 (or equivalent) examination outside India or from a Board not specified above should produce a certificate from the Association of Indian Universities (AIU) to the effect that the examination they have passed is equivalent to the Class12 Examination.
JEE MAIN Two sessions:
JEE (Main) - 2022 will be held in two sessions for admissions to the next academic year.
You will thus get benefit in the following ways:
If you are unable to put your utmost effort in first attempt, this will allow you two chances to improve your exam marks.

In the first attempt, you will get a first-hand experience of taking an examination and will know your mistakes which you can improve while attempting for the second time. This will reduce the chances of dropping a year and droppers would not have to waste an entire year.

If someone missed the exam due to circumstances beyond their control (such as the Board exam), they will not have to wait for one entire year.
You do not have to show up for both Sessions. If you appear in more than one session, the best of your JEE (Main) - 2022 NTA Scores will be used to compile the Merit List/Ranking.
Check detailed: JEE Main Paper 2 Application Form 2022
JEE Main Eligibility Criteria - Reservations
As per the central government norms, the reservations for categories is as tabulated below:
| | |
| --- | --- |
| Category | Reservation Percentage |
| Scheduled Caste (SC) | 15% |
| Scheduled Tribe (ST) | 7.5% |
| Other Backward Classes (OBC) Non-Creamy Layer (NCL) candidates as per the Central List | 27% |
| General Economically Weaker Sections (General - EWS) | 10% |
| Persons with Disability (PwD) with 40% or more disability | 5% |
JEE Main Eligibility Criteria for Persons with Disability (PwD)
As per RPwD Act, "Persons with Disability (PwD)" means a person with long term physical, mental, intellectual, or sensory impairment which, in interaction with barriers, hinders his full and effective participation in society equally with others.
As per Section 2(r) of the RPwD Act, 2016, "persons with benchmark disabilities" means a person with not less than forty percent (40%) of a specified disability where specified disability has not been defined in measurable terms and includes a person with a disability where specified disability has been defined in measurable terms, as certified by the certifying authority.
The specified disabilities included in the Schedule of the RPwD Act, are as follows:
Category
Type of Disability
Specified Disability
Physical Disability
Locomotor Disability*
a. Leprosy cured person, b. cerebral palsy, c. dwarfism, d. muscular dystrophy, e. acid attack victims
Visual Impairment*
a. blindness, b. low vision
Hearing Impairment*
a. deaf, b. hard of hearing
Speech & Language Disability
Permanent disability arising out of conditions such as laryngectomy or aphasia affecting one or more components of speech and language due to organic or neurological causes.
Intellectual Disability
-
a. specific learning Disability (Perceptual Disabilities, Dyslexia, Dyscalculia, Dyspraxia & Development Aphasia) b. autism spectrum disorder
Mental Behaviour
-
a. mental illness
Disability caused due to
i. Chronic Neurological Conditions
a. multiple sclerosis b. Parkinsonism
ii. Blood disorder
a. Haemophilia, b. Thalassemia, c. Sickle cell disease
Multiple Disabilities
-
More than one of the above specified disabilities including deaf blindness
JEE Main Eligibility Criteria: Important Points to Keep in Mind
It is the candidate's responsibility to double-check all eligibility criteria information before completing and submitting form.
Candidates who do not meet the eligibility criteria but apply for JEE Main 2022 risk having their application cancelled at any stage of the admissions process.
Candidates must fill out their application form with the correct information based on the original documents and eligibility requirements.
There are no age restrictions for appearing in JEE Main 2022; the only requirement is that they appear in three consecutive years after passing class 12.
There are no requirements for a minimum percentage of marks in class 12 to participate in JEE Main 2022.