Reader's Digest: Hurray, you have decided to appear for the judiciary exam. And we have decided to help you in your judicial preparation. Read the blog post to get complete insights to prepare judiciary exams from scratch in India. Check out the various steps to study for the judiciary exam. What are you waiting for? Get set, ready, and read now!
3 Quick Tips to Prepare for Judiciary Exam from Scratch
The following mentions the super easy tips for all those who must prepare for judiciary exam from scratch.
Bare Act is the bible to crack any judiciary exam.
Essays, judgment writing, and language paper can easily fetch you more marks with little effort.
The interview is the game changer. Mould your personality as an ideal civil judge as soon as you decide to prepare for the judiciary exam.
Know the Priority List to Prepare for Judiciary Exam from Scratch
For those new to judiciary exam preparation, it is important that they know that there are two types of books available in the market for judiciary exams. The first is the reference books, and the other is the practice books. The former provides the common concepts and practical approach to dealing with that situation, and the latter has previous year sample questions of judiciary exams.
Know from the list how to prepare for judiciary exams from scratch with the help of Bare Acts, reference books, and practice books.
How to Prepare for Judiciary Exam from Scratch with the Bare Acts?
You may be wondering why you need to read basic-level Bare Acts. They are the most important book you should study on a priority basis. We will share with you why, but first, let us show you some common reasons why Bare Acts are vital in preparing for a judiciary exam from scratch.
Bare Acts are the foundation stones to success in the judiciary exams. Bare Acts is the bible for the state-level judiciary exams. Most questions are asked in the Judiciary Prelims Examination. Studying these Bare Acts can help you understand the kind of questions that might appear in your judiciary exam, along with the concepts required to solve them. Have a rock-solid approach while studying it.
While preparing for the exam, one must know when to focus on one topic fully, and once the topic is done, one must move on. Once you have finished one topic from the Bare Acts, move on to the reference books.
Download FREE Study Material for Latest Judiciary Exam by Judiciary Gold
How to Prepare for Judiciary Exam from Scratch with Reference Books?
Reference books and commentaries are the intermediate stepping stones for preparing for the judicial services examination from scratch. One of the most important things while preparing for any exam is to stick to one topic and cover it fully, either with books or notes.
However, a candidate must also know that once he is done with one topic, he should shift to the other books or notes covering the different topics. Do not be tempted or get overwhelmed in the heat of the moment to hop on to more than 2 resources from each topic.
If you feel that you need a more detailed understanding of a particular subject, you should refer to books available on that particular topic from the judiciary exam syllabus.
How to Prepare for Judiciary Exam from Scratch with Practice Books?
Practice books are the last but the most crucial stepping stone to ace the judiciary exam. However, these books are most important to prepare for judiciary exam from scratch. One must know that these books should be supplemented by other resources such as lecture notes from a course of law, previous year question papers, and mock tests to ensure full understanding and better consolidation.
To be sure that you are progressing towards your goal, try solving previous year question papers or online mock tests available online. These practice books will also help you understand what kind of questions are asked in the judiciary examination and how much you are progressing toward cracking it.
When preparing for the judicial exam from scratch, you must have these must-have books in your library. If a candidate wishes to crack the examination, we believe that s/he should go through this book cover to cover and must analyze the previous year's question papers and at least 10-15 mock tests of the Civil Judge Exam.
How to Prepare for Judiciary Exam from Scratch for General Knowledge?
Follow the steps mentioned below on how to prepare for the GK section of the judiciary exam from scratch.
Candidates should also read the newspaper regularly to stay updated with current affairs.
When you read a newspaper, do not simply read an article or two and forget about it. Keep track of important events happening worldwide and how they will affect India's economy, politics, and other sectors.
Connect all the dots and utilize them while attempting a question regarding the same topic in your judiciary exam.
All candidates should give importance to static GK and dynamic GK so that no concept slips.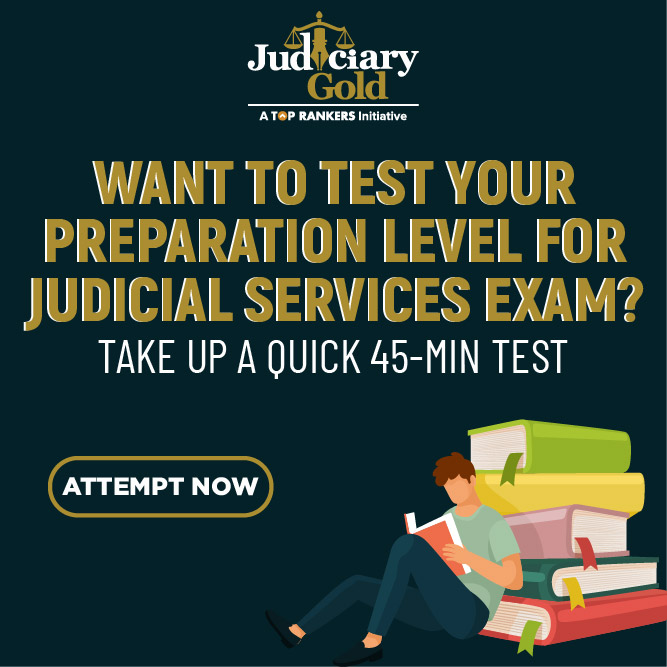 Best Books to Prepare for Judiciary Exam from Scratch
Here is our list of the Top 6 Best Books To Prepare for Judiciary Exam from Scratch. See which one suits you the best.
| | | |
| --- | --- | --- |
| Book Name | Author | Price |
| Textbook on Indian Penal Code | K.D Gaur | Rs. 800 |
| The Law of Evidence | Batuklal | Rs. 550 |
| Indian Contract Act | R.K. Bangia | Rs. 360 |
| Modern Hindu law | Paras Diwan | Rs. 580 |
| Limitation Act | J.D. Jain | Rs. 204 |
| Civil Procedure with Limitation Act | C.K. Takwani | Rs. 653 |
Summing Up: Follow the above-mentioned strategies to prepare for the judiciary exam from scratch. Learn from the best books. Do not run behind every other law book. Remember, you just have to become a Civil Judge. "Success is no accident. It is hard work, perseverance, learning, studying, sacrifice, and most of all, love of what you are doing or learning to do." Good Luck!