Reader's Digest: What are the most important general knowledge questions for judiciary exams? How to increase your score in GK for the judiciary exam? How to prepare general knowledge for judiciary exams? From where should I study judiciary GK questions? Continue reading to get the answers to all these questions!
General Knowledge is the most common section in almost all judiciary and other entrance exams.
You can expect at least 10-15 questions from the general knowledge section in Judiciary Exams that you can quickly secure with daily practice.
Hold on, my friend! Read this article till the end to know the most important GK questions for Judiciary Exams.
Types of General Knowledge Questions for Judiciary Exams 2023
The General Knowledge section primarily evaluates your general knowledge competencies and familiarity with current affairs.
This section is typical in all three stages of the Judiciary Exam: i.e., Prelims examination, Mains examination, and Interview round.
If you appear for any Judicial Services Examination 2023, you need to know that you can get GK questions based on the state you have applied for.
For example, if you appear for the MP judiciary exam, the questions will be about the MP state's current affairs and general knowledge facts. Similarly, for the Judiciary Exams in Delhi, Haryana, and any other state. Hence, it is advised to be thorough with the current affairs of your state.
Important General Knowledge Questions for Judiciary Exams 2023
Here are a few critical questions that can be asked in the General Knowledge section of various state-wise Judiciary Exams. Solving previous year's Judiciary question papers will enhance your preparation levels and help you understand the difficulty level of the exam.
General Knowledge Questions for MP Judiciary Exam 2023
Q 1. According to the 2011 census, Madhya Pradesh is the _______ most popular state.
Fifth
Sixth
Eleventh
Seventh
Q 2. Where is the headquarters of the Auditor General/Accountant General of Madhya Pradesh?
Bhopal
Gwalior
Dewas
Panna
Q 3. Where is the headquarters of the Madhya Pradesh state legal service authority situated?
Jabalpur
Bhopal
Indore
Gwalior
Q 4. First ISO certified police station is at
Habibganj
Hoshangabad
Mhow
Dewas
Q 5. Tropic of Cancer passes through how many districts of Madhya Pradesh?
12
14
13
17
Q 6. Which district of Madhya Pradesh touches the boundary of Maharashtra and Chattisgarh simultaneously?
Mandla
Balaghat
Satna
Panna
Q 7. What was the number of districts in Madhya Pradesh in the year 2020?
49
51
50
52
You will find How to Prepare for Judiciary Exams 2023? Helpful!
Q 8. Which is the most prominent tribe in Madhya Pradesh?
Gond
Bhil
Baiga
Korku
Q 9. MP's first Special Economic Zone has been set up in _________
Bhopal
Gwalior
Dhar
Indore
Q 10. __________ District is considered the energy capital of MP.
Jabalpur
Singrauli
Khargone
Neemuch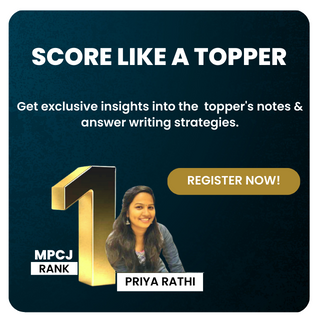 General Knowledge Questions for Haryana Judiciary Exam 2023
Q 1. The highest point of the Satpura ranges is _________.
Kalibhit
Sujangarh
Bijalgarh
Dhupgarh
Q 2. ________ is also known as 'Mogliland'.
Panna National Park
Pench National Park
Sanjay National Park
Madhav National Park
Q 3. Who built Machu Picchu?
Atahualpa
Huayna Capac
Pachacutec
Viracocha Inca
Q 3. The Taj Mahal was built by which Mughal Emperor?
Akbar
Shahjahan
Jahangir
Humayun
Q 4. Who was the last Indian Governor-General of Independent India?
Mountbatten
Linlithgow
Willingdon
Rajagopalachari
Q 5. Who was the first Field Marshal of India?
Field Marshal Kondandera Madappa
General S.H.F.J. Manekshaw
Hiralal Jekisundas Kania
Kondandera Madappa
New to Judiciary Exams? Here's a little help for you How to Start Judiciary Exam Preparation at Beginner Level?
Q 6. Who is the first Indian who won a Grammy Award?
Pt. Ravi Shankar
Pt. Bhim Sen Joshi
Pt. Jasraj
Pt. Hariprasad Chaurasiya
Q 7. Who was the first person to win the Nobel Prize for Peace?
Lilie Ducommum and Charles Albert Gobat
Jin. F. Dunant and Frederic Peiry
William Randal Cremer
Bertha von Suttner
Q 8. On which date World Red Cross Day is celebrated?
6 May
7 May
8 May
9 May
Looking for guidance to crack your Judiciary exams with an excellent score? Join us on our Online coaching classes for Judiciary
Q 9. Exchange Telegraph Co. Ltd (EXTEL) is the news agency of which country?
France
Germany
England
Italy
Q 10. Where do Cryogenic engines find their applications?
Washing machine
Frost-free refrigerator
Rocket technology
Sub-marine propulsion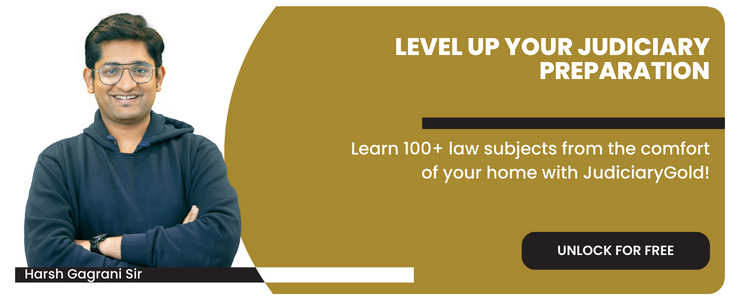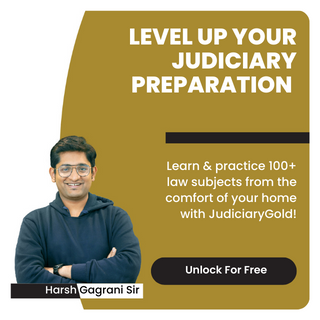 General Knowledge Questions for Delhi Judiciary Exam 2023
Q 1. Which award is given for excellence in sports coaching in India?
Arjun Award
Dronacharya Award
Dhyan Chand Award
Rajiv Gandhi Khel Rama
Q 2. Who was the first woman judge of the International Court of Justice?
Dame Rosalyn Higgins
Robert Frost
Alia Bhatt
Indira Gandhi
Q 3. Which judgment of the Supreme Court in 1992 upheld OBC reservations while separating the creamy layer?
Shah Bano Case
Keshavnanda Bharti Case
Minerva Mills Case
Indira Sawhney v. Union of India
Q 4. How many Fundamental Duties are listed in Article 51-A of the Constitution of India?
07
10
11
09
Q 5. Who was the first Attorney General of India?
Annie Besant
Rani Laxmibai
Sonia Gandhi
M.C Setalvad
Q 6. Who was the first Law Minister of Independent India?
Dr B.R Ambedkar
APJ Abdul Kalam
Dr Rajendra Prasad
Pt. Jawaharlal Nehru
Q 7. What is the minimum number of judges in a Constitutional Bench?
Two
Five
Three
Ten
Q 8. The Supreme Court is open to the general public on which day?
Sunday
Thursday
Saturday
Tuesday
Q 9. Who is the current chairman of NHRC (National Human Rights Commission)
Dr Amir Khan
Elon Musk
Narendra Modi
Arun Mishra
Q 10. Which case is related to protection against handcuffing?
Keshavnanda Bharti Case
Minerva Mills Case
Indira Sawhney v. Union of India
Prem Shanker vs Delhi Administration