Are you aspiring to appear for Judicial Services Examination? If yes, then this post shall provide you with a roadmap for clearing state-wise Judiciary Exams.
Our mentor and Product Head, Shubham Upadhaya from Judiciary Gold, has explained in-depth Judiciary Exam preparation strategies for beginners in this post.
Read through the entire post carefully to know how to begin preparation for Judicial Services Exam from scratch.
Prerequisites for Judiciary Exam Preparation 2023
To begin with the preparation for any state Judiciary, you need to have a few prerequisites essential for smooth practice. Divide your preparation into three levels:
Download FREE Study Material for Judiciary Exam by Judiciary Gold
Foundation
At the foundation level, you need to start with the Bare Acts.
It is considered the primary preparation material for beginners.
Unless you are perfect with the bare acts, it isn't easy to understand other topics at the Intermediate level.
Most of the provisions in the Prelims exam are asked from the Bare Acts.
Solve as many bare-act questions as possible from the previous year's

Judiciary Exam Question Papers

to test your preparation levels.
Clearing the prelims exam is essential to get shortlisted for the next stage.
Intermediate
Intermediate will include Commentary books and reference books.
As you have a basic understanding of Bare acts, you can boost your preparation by studying recommended books.
You can improve conceptual knowledge by referring to the

best Judiciary Exam Books

.
Professional
At the professional level, you have two categories: Mains and Prelims Preparation.
It would help if you began preparing with Mains exam topics as you will simultaneously prepare for prelims.
Whatever you study in prelims is the extended version of Mains; hence beginning with the mains session preparation is recommended.
You need to practice as many question papers as possible and attempt mock tests. You can get an idea of what type of questions could be asked under each section.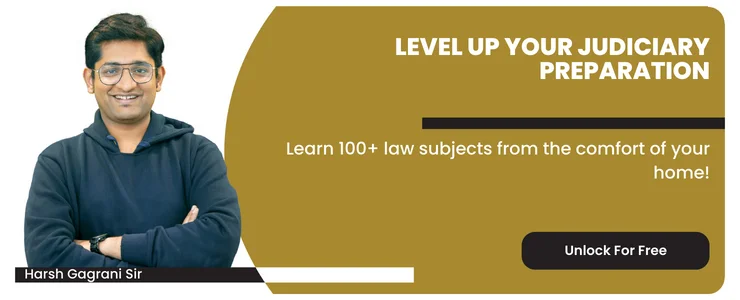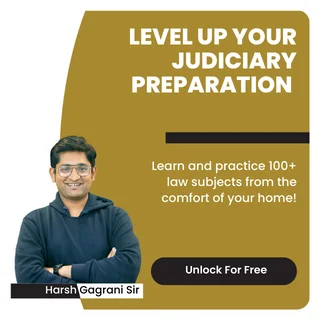 How to Start Preparation for Judiciary Exam at Beginner Level?
Considering this query from many of you, our expert Shubham has given the following suggestions for the preparation:
The first and basic step to starting civil judge exam preparation is starting the preparation reverse. Begin with the mains exam preparation, and you will be automatically preparing for the prelims examination.
Remember to begin with the Foundation substantive subjects like the Constitution of India, the Indian Penal Code etc.
You need to move from Bare Act to Commentary.
Prepare notes for substantive laws. You can refer to expert-curated tips on

how to prepare notes for Judiciary Exams

.
After completing substantive subjects, you can move to procedural subjects like IPC, CRPC, etc.
Make a habit of preparing notes for procedural subjects as well. It can help a lot in the last-minute preparation for the Judiciary Examination.
What are the Important Aspects of Judiciary Exams 2023?
Apart from judiciary-related topics or subjects, there are other essential concepts that you need to be well-prepared for better results.
The following are the important subjects you need to give more importance to, along with law subjects.
General Knowledge and Language
GK includes static GK, which involves various sub-topics like science, history, and geography.
Follow the model of UP or Bihar Judiciary Paper to get an idea about GK questions.
You can refer to

Judiciary Exam GK Preparation Tips

by experts to know what to study and prepare.
Current Affairs
This is yet another important topic in the GK section.
Along with static GK, you need to be well-prepared for

Current Affairs

.
Reading newspapers is one of the best-suggested methods to stay updated about the latest issues happening across the globe.
Judgement Writing
Translation
This is also state-specific. So, make sure to know if your state is asking for translation in the examination or not and prepare accordingly.
What should be my Target for Judiciary Exam Preparation?
Before you prepare for the examination, make sure you fix a target and stick to it. This way, you will have confidence in clearing the examination.
State-Specific Approach - Target 2-3 states and prepare only for that. Don't go by the number of vacancies. Focus on clearing any of the targetted state-specific examinations.
Preparing Unorthodox Law - These laws are not parts of the foundation law like tort, family law or jurisprudence. They do not focus on any state.
Preparing for State-Specific Law - Some states have specific laws. If you are preparing for a particular state, make sure you know the local and specific laws you must prepare for.
Hence, these shall be your targets. Ensure to focus on reaching the target with the right strategy.
How to Complete Revision for Judiciary Exams 2023?
The last stage to success is revision. It plays a vital role as you can glance at all topics you have studied earlier.
It would help if you revised each subject at least 3 to 4 times. Try to complete your first round of studying the topics at least 1 or 2 months before the examination so that you are left with more time.
Utilise this time for revising every concept from each subject. Also, most importantly, you need to solve previous year's papers regularly as this will help boost your confidence and know which type of questions could be asked in the exam.