Unlike other judicial services exams, the Uttar Pradesh Judicial Services examination is quite different because it requires preparation in law subjects and general studies.
Most aspirants preparing for the UP PCS J exam may feel that cracking the exam is challenging. However, it is easy to clear the exam on the first attempt with proper guidance and preparation strategy.
Note that you may require at least one to two years of dedicated preparation starting from scratch. It will help if you begin your practice when you are in college itself.
Are you wondering how to start your preparation for the Uttar Pradesh Civil Judge Exam? Well, no need to worry!
Our experts at Judiciary Gold have curated some useful UP PCS J Preparation Tips in this post to ease out your preparation.
So, what are you looking for! Follow the tips given below and enhance your preparation for the upcoming exam.
Table of Contents
How to Prepare for UP Judiciary Exam 2022-23?
As per the expert's opinion, please start your preparation at least one year or six months before the exam, as the syllabus is vast.
On the other hand, if you start your preparation in law school and study cases and bare acts and not from guided books, you can clear the exam quickly with six months of preparation.
Download Free Study Material for UP Judiciary Exams by Judiciary Gold
Before starting your preparation, create a well-structured study plan and stick to it. You can stick to a plan of about 2 hours for general knowledge, including newspaper reading, 1 hour for language and essay, and 4-5 hours for law subjects.
In the UP Judiciary exam, most of the questions are asked from the 22 Bare Acts. Hence, it is essential to allocate at least 1 hour a day for preparing bare acts.
If you are already well versed with any topic, then give less time to that topic. Instead, concentrate on the topic you are weak on.
Try to solve at least one to two

previous year's questions Papers of UP Judiciary

weekly to improve your time management skills and speed.
You can prepare your notes for both prelims and mains from the major and minor topics of the syllabus, as this will help during revision time.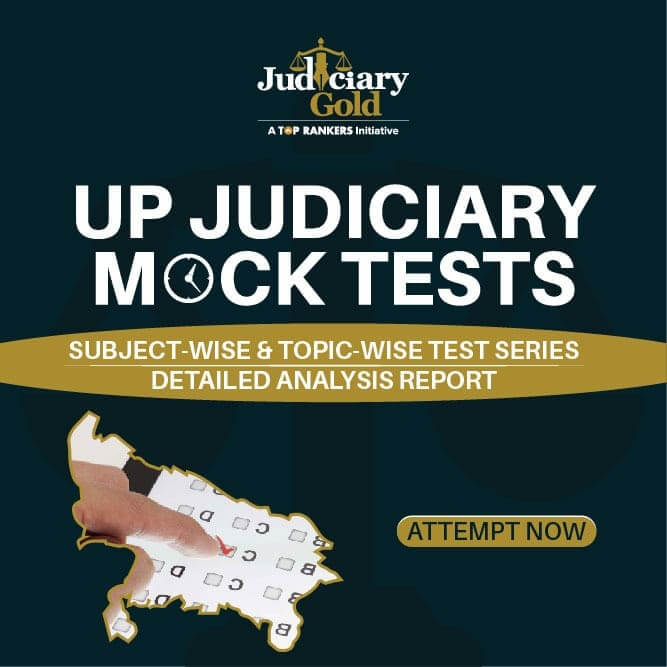 What are the Important Topics under UP Judiciary Syllabus?
You are advised to focus more on topics like Indian history and Indian culture, Indian geography, Indian politics, current national affairs, India and world, Indian economics, international affairs, etc., to score good marks in the upcoming exam.
Let us look at the table below to know the important topics for the UP Judicial Services Exam.
| | |
| --- | --- |
| Civil Procedure Code | Indian Penal Code |
| Criminal Procedure Code | Current national affairs |
| Hindu Law | Constitutional Law |
| Law of contracts | Uttar Pradesh Zamindari Abolition and Land Reforms Act 1951 |
| UP Consolidation of Holding Act | Indian history and Indian culture |
UP PCS J Preparation tips for Prelims Exam 2022
As the prelim exam consists of two papers, make sure to set a different preparation strategy for each paper.
Follow reverse engineering technique, i.e., start from solving MCQs and then move to solve Bare Act questions like the long answer questions while preparing for the prelims exam.
Focus on topics like the Indian national movement, Geography, current affairs from the last six months, and static GK of UP.
Make sure to prepare a question bank of 50 questions from each major topic and create 50 HOTS questions, as this question bank will help you at the time of revision.
Note down questions from the previous year's papers, and make sure to practice those questions as part of your preparation.
Take

UP Judiciary Mock Tests

regularly to test your preparation levels and improve in weak areas.
Practice as many speed tests as possible to enhance your speed and accuracy.
Practice!!!
Practicing more and more questions from the previous year's papers is most important to get an idea about the type of questions asked in the exam and improve your time management skills.
Also, practice will help you in two ways:
Building your confidence levels
Improving speed
UP PCS J Preparation Tips for Mains Exam 2022
Here, we have provided some simple tips to help you plan your Mains Preparation for the UP Civil Judge exam.
UP PCS J Preparation Tips for Interview 2022
Have you reached the last stage of the Uttar Pradesh Judicial Services Exam? Here are a few tips to crack the Up Judiciary Interview, the final stage of the exam.
The most important thing when you are going for an interview is that you should be confident.
Watch online videos related to the presentation, personal development, etc.
Ensure to prepare contemporary topics primarily related to the field of law.
You must be thorough with the Bare Acts, as this will help you answer tricky questions quickly in the interview.
Prepare a list of

UP PCS J Interview Questions

that are commonly asked and revise them regularly.
You should see as many mock test interviews online as possible to understand how interviewers will ask the questions and the atmosphere inside the interview room.
Understand your strengths and weakness and try to work on them.
How to Prepare for UP Judiciary General Studies 2022?
Follow the simple tips below to understand better how to plan General Studies Preparation for UP PCS J Exam.
The first and foremost tip shared by the experts for general studies preparation is focusing on current affairs.
Also, be well-versed with what is happening in the country and worldwide.
Emphasize the constitution law, mainly dictated by the honorable Supreme Court.
Watching the news for at least 45 minutes will help you stay updated about all the current events.
Prepare your notes that include the nationalization of banks, historical events, banking systems, etc.
How to Master in Bare Acts for UP Judiciary Exam 2022?
Solving previous year's papers will help you cover almost 80 percent of the syllabus. You can follow the Preparation Tips for Bare Acts given below while attempting the last year's papers.
Make a chart for each act year-wise and start your preparation accordingly.
Read the content from each section and observe it. Try to write the definition of each act as a one-liner word.
Try to read all the definitions of bare acts and practice them without seeing them.
Also, the candidates need to attempt the other state judiciary exam papers as part of the Judiciary Exam Preparation, which will help candidates understand the different modes.
Read such-wise MCQs from the books and solve them regularly.
Focus on the latest amendments of every act of the UP Judiciary Syllabus.
Which are the Best UP PCS J Preparation Books 2022?
Referring to the best books covering the entire syllabus is one of the most important things during the UP Judicial Services Exam Preparation.
You can refer to the following best books for UP Judiciary while preparing for the exam.
| | | |
| --- | --- | --- |
| Subject | Book Name | Author |
| Criminal Law, Indian Penal Code, Indian Evidence Act | Bear Act Criminal Manual | Universal |
| Criminal Procedure | Criminal Procedure | K.N. Chandrashekaran Pillai |
| Indian Evidence Act | The Law of Evidence | Central Law Agency |