Excelling in the GK section, can you help you gain those extra marks to help you win the race with your competitors.
Preparing for general knowledge is as important as preparing for law subjects as it has a separate paper in the UP PCS J exam.
In the prelims exam, you can expect multiple-choice questions, whereas subjective questions in the main examination.
The interview round will also have several current affairs and GK questions. Do you see the importance of prioritizing this section? Hence, GK plays a vital role in qualifying for the Uttar Pradesh Judicial Services Exam.
This post shall guide you through some tips on how to prepare GK for the UP PCS J Exam, essential topics, best books, and more.
Important GK Topics for UP PCS J Exam 2022
As per the previous year's trends, the questions are mainly based on Indian politics, Indian history, Indian culture, India and the world, etc.
Check out the table given below to know the essential topics that need to be prepared in the general knowledge section for the Upcoming Judiciary Exams 2022
| | |
| --- | --- |
| Indian history and Indian culture | Indian geography |
| Indian politics | Current national affairs |
| India and world | Indian economics |
| International affairs | International Organizations |
| Science and technology | Information technology and space |
GK Preparation Tips for UP Judiciary Exam 2022
Most of us often overlook the GK section and procrastinate it till the end. And, normally when the admit cards are out we start revising the other subjects, again ignoring the GK section. This approach is incorrect as it directly hampers the opportunity of securing easy marks from this section.
You must require a proper preparation strategy to crack this section with a high score.
The best way to prepare for the GK paper is to maintain consistency in making judiciary notes from newspapers and revising all the essential news regularly.
To ease your GK preparation, we have curated the best Preparation Tips for UP Judiciary Exam provided by our expert faculty at Judiciary Gold.
You also prepare for current affairs by watching youtube channels that will help you stay updated about all the happenings around the world.
1. Do Smart Study
Preparing an intelligent study plan would help you fetch more marks in this section.
Try to focus only on essential topics rather than studying all the subjects.
Along with

Law subjects

allocate at least 1.5 - 2 hours of your daily time for GK.
2. Know the Syllabus
Before starting the preparation, make sure to go through the detailed

GK syllabus for UP Judiciary Exam

Mainly the GK section is broadly divided into two categories: Static and Current Affairs.
Most of the questions are solely based on Indian Economy, Geography, Indian History, Current Affairs, art and culture, the person in the news, and Science.
In the UP PCS J Exam, you can expect 4-5 questions from the science category.
Download Free Study Material for Judiciary Exams 2022 by Judiciary Gold
3. Recommended GK Books
For static GK, you can refer to Lucent GK or Ghatnachakra as these are highly

recommended UP Judiciary Books

for GK Preparation by experts and toppers.
Ghatnachakra's book provides a compilation of questions on each topic. Also, this book contains GK questions asked in the previous year's judiciary exams.
Lucent GK's book covers all the topics of Static GK. While studying this book, you need to focus more on Modern History than on Ancient and Medival History.
Make sure to highlight important questions and most commonly asked questions from these books.
4. Newspaper Reading
Newspaper plays a vital role while preparing for the

Daily Current Affairs section.
You can find many newspapers. However, the most reliable is The Hindu and The Indian Express.
You cannot just read the newspapers randomly. Instead, pick the important news.
Don't read irrelevant news or political news.
Jot down the important news related to government schemes, meaningful person death, and an agreement between countries, which will help your revision.
5. Practice Current Affairs Quiz
Practice is the key to preparing well for the current affairs section.
By solving daily current affairs questions and monthly quizzes, you can build your confidence levels and analyze your preparation levels.
Also, you can take up Indian Monthly Current Affairs Quiz as this will help you revise the full month's news.
Also Read: UP PCS J Preparation Tips
6. Focus on Science
Science is an essential segment of the UP Judiciary Exam. You can refer to Lucent GK for reading topics related to science.
Practice as many questions as possible from GK today as this will help you get an idea about the type of questions asked in the exam.
7. Previous Year Paper Analysis
By analyzing the previous year's

Question Papers of the UP Judiciary Exam

, you will get an idea about the difficulty level of the questions.
Also, you can know on which topics the questions are asked consistently.
You can estimate which topics are prominent in the GK section and focus more on those topics.
8. Make Notes for GK
Please don't refer to multiple resources as it will create confusion.
Try to choose any 2 to 3 reliable sources and stick to them.
Do not get demotivated by seeing others' preparation.
9. Attempt Mock Tests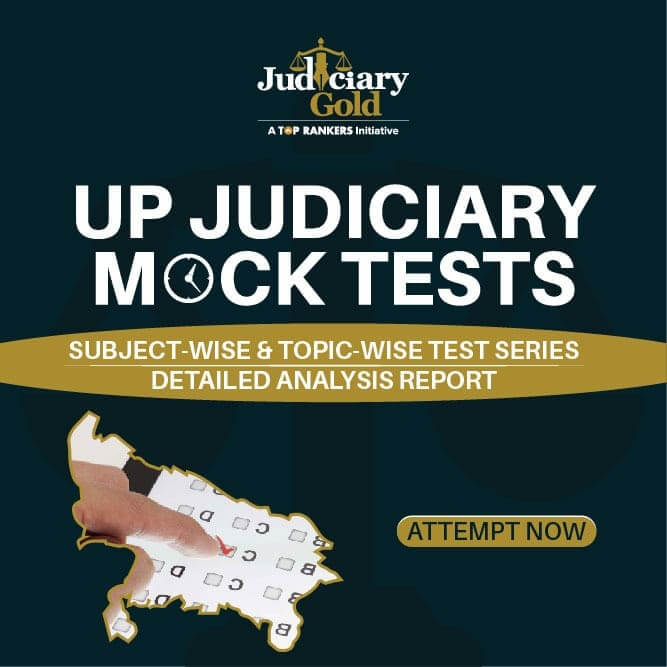 Practicing mock tests is one of the best preparation methods to enhance your time management skills and speed in the final exam.
With the help of

UP Judiciary Mock Tests

, you can build your confidence levels.
Experts recommend attempting at least 1 to 2 mock tests weekly to analyze your preparation levels.