Did you know that the Uttar Pradesh Judiciary Exam a state-level examination has high competition compared to other state Judiciary exams? This tells how well you must be prepared to crack these exams.
One of the most important aspects of cracking any exam is knowing the syllabus throughout the stages of the exam for enhancing your preparations.
It will also help you understand the topics to focus on more as per their weightage allotted. So, if you are looking for a detailed syllabus for the Uttar Pradesh Judicial Services exam? Read through the post that will give you a complete insight on UP Judiciary Syllabus 2022, subject-wise essential topics, and the best preparation books.
Table of Contents
UP Judiciary Prelims Exam Syllabus 2022
UP Judiciary Prelims Exam Syllabus 2022 is expected to remain quite similar to that of last year.
Papers in Prelims: The Prelims exam consists of two papers. The first paper will contain questions regarding :
and the second paper will include questions regarding:
Both papers will be objective type, Multiple Choice Questions based exams and the time duration of each question paper is for 2 hours.
Download Free Mini Booklet for UP Judiciary Exam by Judiciary Gold
Expected Topics: It would help if you focus more on the topics like Indian Evidence Act, Civil Procedure Code, Transfer of Property Act, Current national affairs, etc as many questions appear from it.
Look at the detailed General Knowledge and Law syllabus from the post below and enhance your preparation for the upcoming exam.
UP Civil Judge Syllabus for Paper-1: General Knowledge
As per the previous year's trends, the questions asked in the UP Judiciary paper I prelims exam are mainly based on Indian politics, Indian history, Indian culture, India and world, etc.
Let us look at the detailed UP Civil Judge Syllabus of the paper I prelims exam below.
| | |
| --- | --- |
| Indian history and Indian culture | Indian geography |
| Indian politics | Current national affairs |
| India and world | Indian economics |
| International affairs | International Organisations |
| Science and technology | Information technology and space |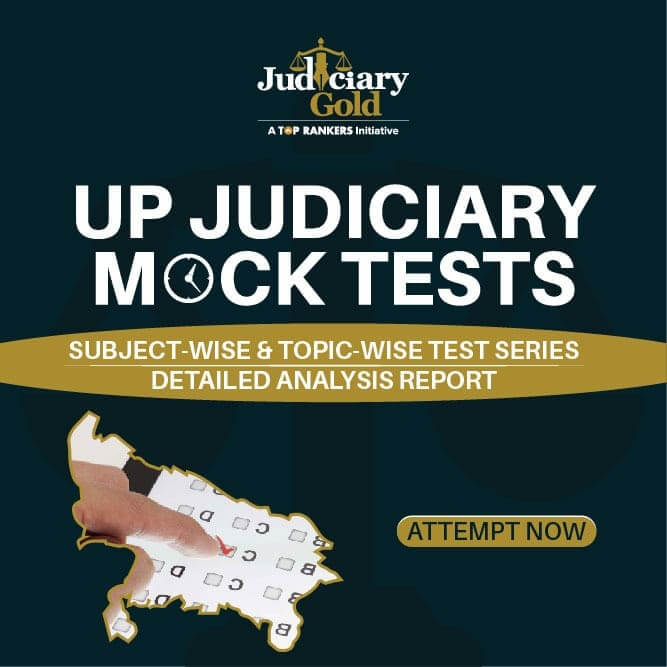 UP Civil Judge Syllabus for Paper-2: Law
The following are the essential topics you need to prepare under the Law subject for enhancing your UP PCS J Exam Preparation.
| | |
| --- | --- |
| Jurisprudence | International Organizations |
| Current International Affairs | Indian Constitution |
| Transfer of Property Act | Indian Evidence Act |
| Indian Penal Code | Civil Procedure Code |
| Criminal Procedure Code | Contract |
UP Judiciary Mains Syllabus 2022
According to the Paper Pattern of the UP Judiciary Exam, the mains question paper consists of five papers: three papers on Law, one paper on general knowledge, and the other is language paper.
Each paper is conducted for 200 marks, and all the questions are descriptive type.
The time duration of each paper is 3 hours. Go through the detailed Mains syllabus of the UP PCS J Exam from the post below.
Paper-1: General Knowledge
This paper will include questions based on topics relating to:
The History of India and Indian Culture,
Geography of India, Indian Polity,
Current National Issues and topics of Social relevance,
India and the world,
Indian Economy,
International Affairs and Institutions,
Development in the field of Science and Technology Communications and Space.
You can follow UP Judiciary GK Preparation Tips to understand how to crack this paper easily in the forthcoming exam.
Paper-2: Language
According to the UP civil judge syllabus the Paper-II of the mains exam shall comprise four questions as specified below:
Essay to be written in English - 60 marks
English Préci writing - 60 marks
Translation of passage from Hindi to English - 40 marks
Translation of Passage from English to Hindi - 40 marks
Secrets of scoring better marks in exams - Short tricks to score well in the UP Judiciary Mains Exam
Paper-3: Law-I (Substantive Law)
Check out the table below to know the syllabus of paper 3 of the UP PCS J mains examination.
| | |
| --- | --- |
| Law of contracts | Law of Partnership |
| Law concerning easements and torts | Law relating to the transfer of property |
| Law of trust and specific relief | Hindu Law |
| Mohammedan Law | Constitutional Law |
Paper-4: Law-II (Procedure and Evidence)
This paper covers topics like the Law of evidence, the Criminal Procedure Code, and the Code of Civil Procedure, including the principles of pleading.
The question set will relate mainly to practical matters such as the framing of charges and issues, the methods of dealing with the evidence of witnesses, the writing of judgment, and the conduct of cases generally but will not be restricted to them.
How to clear your UP Judiciary Interview? Read more to learn the Important interview questions for UP Judiciary Exam
Paper-5: Law-III (Penal, Revenue, and Local Laws)
Indian Penal Code
Uttar Pradesh Zamindari Abolition and Land reforms Act 1951, Uttar Pradesh
Urban Buildings (Regulation of Letting, Rent, and Eviction) Act, 1972
Uttar Pradesh Municipalities Act
UP Panchayat Raj Act
UP Consolidation of Holding Act, 1953
Uttar Pradesh Urban (Planning and Development) Act 1973, together with rules framed under the acts described above
UP Judicial Services Syllabus PDF in Hindi (Download)
The UP Judicial Services Exam syllabus is also available in Hindi. If you are an aspirant preparing for the exam in the Hindi language, you can go through the subject-wise essential topics from the UP Judiciary Syllabus 2021 PDF provided below and plan your preparation accordingly.
Download the Hindi PDF by clicking on the direct link provided below and start your preparation well in advance to score good marks in the upcoming exam.
Download UP Judiciary Syllabus PDF (Hindi)
Best Books for Uttar Pradesh Judicial Service Exam 2022
As per the expert's opinion, you should opt for the books that have been updated recently, and books must provide sample questions and practice questions at the end of each topic.
Following are some of the best preparation books for the UP Judiciary exam, as these books cover all the topics per the syllabus.
| | |
| --- | --- |
| Book Name | Author/Publisher |
| Guide to Up Judicial Service | Universal Law Publishing Co |
| Uttar Pradesh & Uttarakhand Judicial Services (Preliminary Examination) - The complete preparation Manual | LexisNexis |
| Manorama Year Book 2017 | Manorama |