Summary: Looking for NPAT previous year papers and sample papers? You are in the right place to look out for. Here we have curated the previous year's papers for NPAT and sample papers for NMIMS, which you can easily download in PDF format. So go through the article to find the link to the NMIMS sample paper PDF.
Every year, more than 80,000 students appear for the National Test for Programs After Twelfth (NPAT) exam. Therefore, focusing on improving your time management skills and speed plays a vital role in qualifying for the entrance exams like NPAT.
As per the expert's opinion, practising sample papers is one of the best methods to enhance both these skills in the final exam. Also, it will help you understand the difficulty level and the type of questions asked in the exam.
To ease your preparation, we have curated NPAT Sample Papers for BBA, Design & Architecture programs in the post below.
You can download NPAT Sample Paper PDFs by clicking on the direct links provided below and start practising today for better results.
Download Free Study Material for NPAT 2024 Exam by SuperGrads
Sample Question Papers for NPAT 2024 Exam Preparation
Sample Papers are model tests of the actual exam that follows the exact exam pattern and the time limit. Practising NPAT sample test papers will help analyze your NPAT exam preparation levels and focus on weak areas.
If you solve NMIMS NPAT sample papers with full dedication, the results can prove a great source of motivation for you. But, if you lack in attempting them with full concentration, they can make you demotivated.
Hence, it is essential to take attempt sample papers seriously as they act as swords with two edges.
NPAT Previous Question Papers PDF Download
Solving previous year NPAT question papers will let you understand the essential topics from the exam point of view and plan your preparation better.
Also, it will help you to develop smart techniques to complete the exam with the utmost precision and negligible error. You can download NPAT Design & Architecture question papers by clicking on the link below.
Sample Questions for Narsee Monjee NPAT Exam 2023
Learn more about Narsee Monjee NPAT sample papers.
NPAT exam consists of two papers: Paper 1 (common for all courses) and Paper 2 (only for the design course). In the paper 1 exam, you will be tested on your proficiency in English and quantitative and logical reasoning skills. And paper 2 is to test your spatial ability and visualization skills.
To help you get an idea about the type of questions asked in the NPAT Entrance Exam, we have provided a few sample questions for your reference here.
Quantitative Ability Questions
Q) The average age of 13 girls and their teachers is 15 years. If the teacher's age is excluded, then the average age reduces by 2 years. What is the teacher's age?
A) 39 years
B) 41 years
C) 36 years
D) 43 years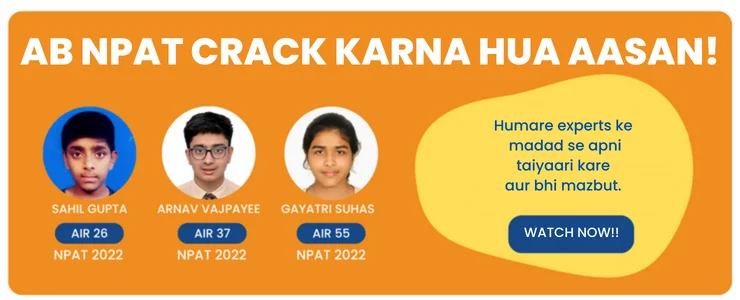 Q) A train 220m long running at a speed of 60km/hr. At what time will it pass a man who is running at 6km/hr in the direction opposite to that in which the train is going?
A) 12 seconds
B) 17 seconds
C) 13 seconds
D) 14 seconds
Q) How many following numbers are divisible by 132?
264, 396, 468, 762, 968, 2178, 5184, 6336
Q) A money lender lends out Rs. 25000 in two parts, one at 8% and the other is at 8.5%. If the total annual income on the amount is Rs.2031.25, the money lent at 8% is?
A) Rs.12500
B) Rs.6250
C) Rs.10000
D) Rs.18,750
Q) If 3/5 of a number is 23 more than 50% of the same number, then what will be the 80% of the number?
A) 92
B) 184
C) 180
D) 186
Verbal Ability Questions
This is a test to see how well you 'know' English. Your English language ability would be tested through questions on functional grammar, vocabulary, sentence completion, synonyms, antonyms, comprehension of a passage, etc.
Attempt NPAT Mock Tests regularly to test your preparation levels and know the difficulty level of questions.
Directions: Pick out the most appropriate word from amongst the words given below each sentence to complete it meaningfully
Q. He quickly glanced .............................. the book to find what it said about the Indian economy.
at
through
in
to
over
Q. The counsel urged the court to ........................... down the obnoxious law.
enact
enforce
cancel
strike
declare
Q. The local official ........................... the Minister of the situation.
explained
warned
apprised
told
intimated
Which of the words/phrases (1), (2), (3), and (4) given below should replace the phrase underlined in the given sentence to make the sentence grammatically correct? If the sentence is correct as it is and no correction is required, mark (5) as the answer
Q. Bad movies affect people living in today's society more than they did in previous years.
they had done
they did those
they had been done
they would have done
No correction required
Q. The reason he has been so fat is that he never takes exercises.
that he has never taken
that he would never take
that he never takes
because he didn't ever take any
No correction required
Check Also: Best Books for NPAT 2024 Preparation
Importance of NPAT Exam Sample Papers
Solving the NPAT sample paper PDF is of utmost importance for the best results. Here are a few other advantages of practising NPAT previous year question papers.
Sample Papers help you to understand the important topics and types of questions repeatedly asked.
It will help you understand the

NPAT Exam Pattern

and syllabus in depth.
You can improve your time management skills.
Also, you can improve speed and efficiency by solving these NPAT sample question papers.
It will help analyze your strengths and weaknesses and focus on weaker sections.
You can familiarise yourself with the type of questions that can be asked in the exam.
Read More: NPAT 2024 Eligibility Criteria
How to use NPAT Sample Papers with Solutions?
Once you have acquired the question papers, make sure to go through the questions and understand the pattern and types of questions asked. This is how you can best use the exam papers.
When you begin your preparation, it is important to know all the topics of the

NPAT syllabus

.
Then start your preparation with easy topics and then proceed to difficult topics.
After studying all the topics according to the latest syllabus, begin your revision, during which you need to solve the NPAT Sample papers.
Solve at least 3 previous year question papers in a week so that you can have time to improve on weak areas or wherever you go wrong.
Take up each question paper and solve it by keeping a timer, just like the main NPAT exam.
After completing solving, check all your answers, and allot marks yourself for each question.
Analyze your performance and begin to correct your mistakes.
Note down where you go wrong and know how to improve in those areas.
Try to solve more and more NPAT question papers to be perfect in all the topics.
Read More: Last Minute Preparation Tips To Crack NPAT 2024
If you have all the previous year's NPAT Exam papers handy, you can easily get to know what kind of questions are asked in the main exam. Also, the sample papers are created by experts to replicate the difficulty and appearance of the exact paper. So download the papers and solve them, and make your study plans according to the important topics covered in the paper.
If nothing works out, just turn to SuperGrads, and hopefully, we will help you clear the NMIMS NPAT exam in no time. SuperGrads is one of the leading coaching institutes for all management examinations, including IPMAT, NPAT, SET and others.
Check Also: NPAT Cut Off Marks 2024