The Common Law Admission Test (CLAT) is a national-level entrance exam conducted by the Consortium of National Law Universities (NLUs) every year to provide UG and PG law programs offered by 22 NLUs.
Nearly 50,000 to 70,000 students compete for 2000 - 3000 CLAT seats every year. Cracking the exam and obtaining a seat in top Law institutions can be very challenging without a proper strategy.
Therefore we have curated CLAT Two Years Study Plan 2024 to help you determine the appropriate preparation method, details about the CLAT examination, such as the pattern and syllabus, and how to prepare and approach the CLAT exam.
Is 2 Years Ample Time for CLAT Exam Preparations?
In our research, it was found that in several educational platforms, students informed their preparation time varied from 45 days to 2 years to crack the entrance exam.
With this vast variation in preparation time shown by the CLAT aspirants, we can arrive at the conclusion that it solely depends on the individual preparing for the exam.
However, it wouldn't hurt to start your studies at the earliest. The faster you start with your CLAT preparation, the easier it is to crack the exam.
Although preparation time can vary from student to student! 2 years is still an adequate amount of time to prepare and revise the syllabus.
Download FREE Study Material for CLAT Exam 2024 by LegalEdge
Let's Dive into CLAT Entrance Exam Particulars
To prepare for any exam, you must be aware of the exam pattern, total marks, syllabus, and books to refer to during your studies. The information is related to the UG CLAT Exam.
CLAT 2024 Exam Highlights
| | |
| --- | --- |
| Exam | CLAT |
| Conducting Body | Consortium of NLUs |
| Duration | 2 Hours |
| Medium | English |
| Mode of Exam | Offline |
| Total Marks | 150 |
| Sections in the paper | 5 |
| Negative Marking | Yes (-0.25) |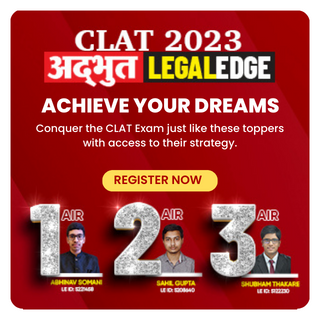 CLAT 2024 Exam Pattern
The paper consists of 150 MCQ-type questions, with the correct answer carrying 1 mark and incorrect with -0.25 marks. Hence it is advised to be mindful of the questions you attend.
According to the CLAT Exam pattern, the paper is divided into 5 sections, as explained below:
English language/ reading comprehension section: You will be asked to comprehend, understand, derive conclusions, summarize, verbalize arguments or viewpoints and understand various words and phrases used in the question passage.
Current affairs: You must be familiar with contemporary events of significance across India and the world, Arts and culture, International affairs, and Historical events of continuing significance.
Legal Reasoning: The paper consists of a passage; one must identify the rules and principles set in the passage. Then apply the rules and principles to various fact situations. Understand how changes to the rules or principles may alter their application to various situations.
Logical reasoning: You are required to understand the argument and summarize conclusions. Question the situation based on evidence, develop analogies, and identify contradictions and equivalence.
Quantitative reasoning: It involves numerical-type questions based on passages, diagrams, standard 10th numerical questions, and more.
CLAT Exam Last 1-month Study Plan
Read more: Short tricks to enhance your CLAT English preparation
CLAT 2024 Exam Weightage
Weightage for each topic is listed below:
| | | | |
| --- | --- | --- | --- |
| Sections | Number of Questions | Maximum Marks | Weightage |
| English Language | 28-32 | 28-32 | 20% |
| Current Affairs, including General Knowledge | 35-39 | 35-39 | 25% |
| Logical Reasoning | 28-32 | 28-32 | 20% |
| Legal Reasoning | 35-39 | 35-39 | 25% |
| Quantitative Techniques (Elementary Mathematics up to Class 10) | 13-17 | 13-17 | 10% |
| Total | 150 | 150 | 100 |
CLAT 2024 Exam Syllabus
As well know, the questions asked in the exam are now comprehension-based. So, being aware of the detailed CLAT syllabus and pattern make it easier to pay additional attention to topics that carry more weightage.
| | |
| --- | --- |
| 5 Parts of CLAT 2024 | Syllabus to Cover |
| English | Synonyms, Antonyms, Analogies, Word Rearrangement, Cloze Test, Spotting Errors, Spelling Errors, Reading Comprehension, Idioms & Phrases, Sentence Rearrangement, Sentence Improvement, One Word Substitution, Fill in the blanks |
| Quantitative Techniques | Percentage, Partnerships, Discounts, Areas, and Volumes, Simplification & Approximation, Averages, Ratio, HCF & LCM, Surds & Indices, Proportion, Interest, Fractions & Decimals, Square Roots, Number Systems, Profit & Loss |
| General Knowledge & Current Affairs | Static GK, current happenings, Books, Authors, Science & Technology, Persons and Places, Sports, Economics |
| Logical Reasoning | Coding-Decoding, Distance and Direction, Ranking, Syllogism, Series, Number Test, analogy, Statement & Assumption/ Argument/ Conclusion/ Course of action, Time & Sequence, Blood Relations, Alphabet Test, Classification |
| Legal Aptitude | Supreme Court Judgments and recent acts, amendments of the legislature, Contract law, Criminal law, tort law and Constitutional law, Legal GK, Current affairs, International treaties and conventions affecting national legal framework etc. |
CLAT 2024 Exam Reference Books
the following are some of the best preparation Books for CLAT, as these books cover all the topics as per the syllabus.
Logical Reasoning - Analytical Reasoning by MK Pandey, A Modern Approach to Logical Reasoning by RS Agarwal, Logical Reasoning by RK Gupta and Samiksha Gupta, Universal's Logical Reasoning for CLAT by Jain.
Quantitative techniques - Quantitative Aptitude for Competitive Examinations by Abhijit Guha, Quаntitаtive Арtitude fоr Соmрetitive Exаminаtiоns by Рeаrsоn's, Fast Track Objective Arithmetic by Arihant Publications, Quantitative Aptitude for Competitive Examinations by RS Agarwal
English - Objective General English 2024 by A P Bhardwaj, English is Easy by Chetananand Singh, Objective General English by SP Bakshi.
Current affairs and general knowledge - Pearson General Knowledge Manual 2024, Manorama Yearbook 2021 by Mammen Mathew, Current Affairs Yearly 2021 by Arihant, Competition Success Review
Legal Reasoning - Bare Acts of Indian Constitution, Legal Awareness and Legal Aptitude by AP Bhardwaj, Universal's CLAT Guide by Universal, Legal Aptitude by RK Gupta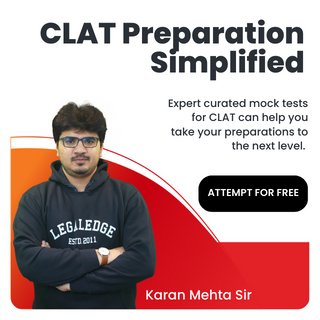 How to Approach the CLAT Exam 2024 with a Good Study Plan?
You should be smart enough while allocate time to each subject in your study plan, as all subjects play a vital role in qualifying for the exam.
The following are some important points you must keep in mind while making the CLAT Study Plan.
Note the exam date to plan your preparation strategy accordingly.
Timing is everything! Therefore start your preparations beforehand to study thoroughly, revise, relax, and be prepared for the exams.
With changes in protocols due to COVID constraints, you must keep a note of the latest updates on the official website.
Choose feasible studying hours and prepare a timetable to stick to it rigidly.
Understand the exam pattern and if there are any changes implemented in the current exam.
Check the weightage of each section. Go through the syllabus and cover all the essential topics thoroughly.
Do to hesitate to ask for help! If you think you require coaching? Several online and offline coaching centres are available to help you in your journey.
Refer to relevant authors and textbooks.
Study the sample and previous year's question papers for CLAT, and try solving a minimum of the last 3-year question papers. Also, try finding solved question papers to understand the explanations for the correct answers.
Our experts at LegalEdge can help you with preparations for CLAT; we advise you to check relevant youtube channels and social media platforms.
When the exam dates are approaching soon, do not concentrate on new topics but revise the concepts you are well prepared with.
Lastly, do not get carried away only with your studies; find time to rest and care for your health. Staying positive and confident is the best way to approach your CLAT exams.