Preparing well for an English subject is as important as having knowledge about other subjects to crack the CLAT exam.
Vocabulary is an integral part of the English language and it defines each and every aspect of our daily activities. Therefore, having sound knowledge of vocabulary is of utmost importance to crack entrance exams like CLAT.
It does not matter whether you have prepared vocabulary since your childhood or started at a later point in your school life.
What matters is that tackling the English section in CLAT will require some amount of dedicated effort on your part.
Note that vocabulary can not be mastered in a day. Instead, you require diligent efforts and persistence to prepare vocabulary.
Read through the post that will give you a complete insight into how to improve vocabulary for CLAT 2024, sample questions, and more.
Short Tricks to Enhance Your Vocabulary for CLAT 2024
Generally, teachers or mentors say to read at least ten new words daily. But, do you remember it? Commonly, you tend to forget because you just read it once and do not revise it.
As we know, the entire CLAT Question Paper includes comprehension-based passages. Hence, understanding the passage and answering the related questions are essential.
Here are a few tips that can help in remembering the words forever without forgetting and enhance your English preparation for the upcoming CLAT entrance exam.
Read Consistently
When you read any word and its meaning, make sure to revise it again each day.
Even when you pick up new words, try to revise the ones you read the previous day.
Maintain consistency until you are perfect.
No Mugging or Cramming
Do not mug up any words and their meanings.
For this moment you may remember it but you will forget the words eventually.
Mugging up is not a good practice.
Read Newspapers
Newspapers are definitely the best resource for improving vocabulary.
Every day you can get lots of words and know their meanings.
Try to read slowly to understand the context and meaning.
This way you are preparing for both the English and GK sections. You can also read

Daily Current Affairs

to know about the latest issues and check new words.
Read Fiction Books
Pick up fiction stories or novels to come across new words.
Concentrate on the story while you read. You can even note down the new words while reading.
You can also make a habit of fetching the meanings of these words and reading them.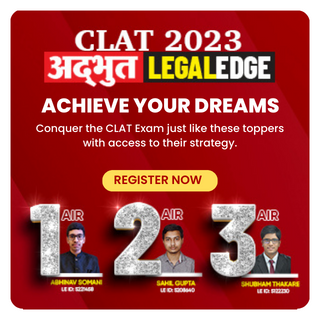 Prepare Dedicated Notes
When you come across any new word, note down the word in the notebook.
Check the form whether it is a verb or noun or adjective.
Find out its synonym and antonym.
Check the usage of the word. You can note down an example for future reference.
Read more: Short tricks to read the newspaper for the CLAT exam
Solving Quizzes
It is very important to attempt CLAT English Quiz for enhancing vocabulary preparation.
You can know which type of questions are asked and analyze your preparation.
You can improve your time management and speed. You can also know your errors and correct them.
How to Solve Vocabulary-Based Questions in CLAT 2024?
Along with CLAT English Comprehension-based Questions, you need to practice vocabulary as well to score better in the CLAT English section.
The vocabulary-based questions asked in the CLAT English section are Synonyms, Antonyms, Idioms, Foreign language words, and spellcheck.
When you are solving any question paper or appearing for an exam, make sure to read the word carefully.
Take your time and understand the word and its meaning. This way it is easy for you to answer the question.
Level of Words in CLAT Exam
You can check the previous year's CLAT Question Papers to get an idea about the degree of questions asked.
You will come across words picked from journalistic sources i.e., newspapers, magazines, etc.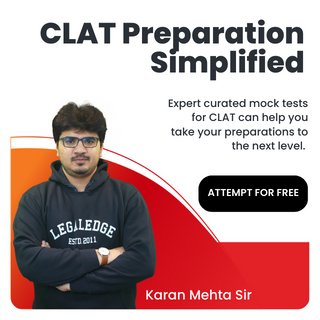 How to Improve Vocabulary for CLAT 2024 Exam?
About 20% of the question paper will include questions from English subject and the questions are designed to test your reading, analytical, and logical skills.
Improving vocabulary and enhancing your CLAT English Preparation is not difficult but studying from the right resource is important.
The following are some of the simple ways to improve your vocabulary for CLAT 2024.
1. Read "Word Power Made Easy" thoroughly
This book contains a total of 48 sessions. Try completing one or two sessions daily.
The book also includes a list of high-frequency words and exercises which can take 2-2.5 months to complete.
During the last few days left for the exam, revise all the topics so that you are prepared for the English section.
2. Read "The Hindu" Editorials everyday present on the left side of the page
The editorials of "The Hindu" newspaper are written by top writers in the world hence, there is very little scope for errors.
You are advised to read the editorials regularly.
Initially, you may face difficulties in reading but as days pass by you will love reading it.
Be consistent as well to reach your goal.
Read more: Best tips to crack the CLAT exam on the first attempt
How to Improve Vocabulary for CLAT 2024- Sample Questions
In the CLAT exam, around 28-32 questions appear from the English section which is 20% of the overall weightage.
Here are a few sample questions based on CLAT English Vocabulary. Along with these questions, try solving CLAT Mock Tests daily, as it will help analyze your preparation levels.
Passage 1
A session court in Delhi has affirmed the belief that dispassionate scrutiny of outlandish claims by the police is necessary for protecting the liberty of those jailed on flimsy, often political, reasons. Rejecting the purported evidence presented by the Delhi Police against climate change activist Disha Ravi, as "scanty and sketchy", Judge Dharmender Rana has granted bail to the 22-year-old arrested for nothing more than editing a document shared among a network of activists raising global support for the farmers' protests against three central laws. Even though it was quite obvious that the claim of a global conspiracy behind the unsavory and violent incidents that took place on January 26 in New Delhi lacked credence, the order of bail is still notable for subjecting the specific charges to strict judicial scrutiny at a fairly early stage. In particular, the judge has applied the established test for a charge of sedition under Section 124A of the IPC to pass muster: that the acts involved must constitute a threat to public order and incitement to violence. He found that there was not even an iota of evidence indicating that the 'toolkit', a shared Google cloud document with ideas on how to go about amplifying the protests, in any way incited violence. He was clear that there was no causal link between the violence and Ms. Ravi, a conclusion that confirmed widespread criticism that the arrest was unnecessary and that the entire case was nothing more than a reflection of government paranoia.
The episode highlights a trend that has caused concern in recent times: the tendency of the rulers to treat instances of dissent, especially involving strident criticism of policies and laws in which particular regimes are deeply invested, as attempts to provoke disaffection and disloyalty. Hence, it is significant that the judge not only saw Ms. Ravi's activism as related to her freedom of speech and expression but went on to say that an attempt to reach a global audience is part of that freedom. In the backdrop of the claim that those who prepared the toolkit made common cause with Khalistani separatists, Judge Rana showed refreshing clarity in maintaining that mere interaction with a group with dubious credentials could not be used to consider someone culpable. It should also be underscored that such bail orders should not be rare or special, but be routine judicial responses to cases in which there is a mismatch between the accusation and the evidence. It is by now fairly clear to everyone except, perhaps, the government and its vociferous supporters, that there is no place in a modern democracy for a colonial-era legal provision such as sedition. Too broadly defined, __(1)__ to misuse, and functioning as a handy tool to repress activism, the section deserves to be scrapped.
Q. The meaning of the word 'outlandish' used in the passage is:
Very strange or unusual
Very conventional
Very common
None of these
Q. The phrase 'scanty and sketchy' refers to
Insufficient
Abundant
Strong
Both (b) and (c)
Q. Which of the following is not the synonym of vociferous?
Blatant
Boisterous
Clamorous
None of the above
Q. Which of the following word is not an antonym of Dubious?
Unobscure
Certain
Definite
equivocal
Q. The best-suited word for (1) is
Prone
Immune
Upright
None of the above
Read more: Short tricks to enhance your time management skills for CLAT exam
Passage 2
In the flux after the 2008 financial crisis, an extraordinary instrument dubbed cryptocurrency was created. Bitcoin, the first cryptocurrency, was introduced by Satoshi Nakamoto, a pseudonym used by the mysterious originator. It turned our understanding of currency on its head. Inspired by the philosophy of "self-sovereign identity" cryptocurrencies are an asset which is not anyone's liability; neither is there a single authority or institution to maintain records. What we have are digital currencies designed for decentralised operations, cutting out a regulated intermediary like a bank.
Conventional money, or fiat currency, is issued by the state. It is usually the liability of a central bank such as RBI, which also oversees the recordkeeping of transactions. Its essential features are the credibility that comes from being guaranteed by the state, which leads to a central record keeper like RBI. Cryptocurrencies such as Bitcoin and Ripple are just the opposite. They are underpinned by a network called blockchain, run by anonymous computers linked together by a ledger of anonymized transactions. There are two potential issues that arise from cryptocurrencies. Will they supplant conventional currency, a state monopoly? Highly unlikely because the inherent limitations of cryptocurrencies limit scalability and mass use.
A cryptocurrency like Bitcoin is also __(1)__ on exchanges, including in India, taking on the role of an asset. Here many governments, including India's, have taken a dim view. Cryptocurrencies thrive on anonymity. They open the door to peer-to-peer transactions that circumvent state controls. FATF, the inter-government body that sets standards to combat money laundering and terror financing, worries about this instrument becoming a safe haven for illegal deals. Will a ban on cryptocurrencies solve the problem? It won't because not only do they already exist, they are designed to ___(2)___ normal filters. It is a tricky issue that needs a well-thought approach.
Q. What is a pseudonym?
The official name
The fake name
The surname
The fictitious name
Q. Which of the following is not the correct statement about cryptocurrency?
Ripple is also a cryptocurrency.
Cryptocurrency is the state's liability.
The cryptocurrency was created after 2008.
None of the above
Read more: Best online coaching platform for CLAT exam
Q. The best-suited word for (1) is
Compromised
Traded
Given away
None of the above
Q. The best-suited word for (1) is
Bypass
Stuck
Both (a) and (b)
None of these