The Common Law Admission Test (CLAT) 2023 is conducted every year for admission to the 22 National Law Universities (NLUs) of India.
This entrance test is conducted for admission to various undergraduate and postgraduate programs offered by the top 22 NLUs. They offer various programs like BA LLB, LLB, LLM, etc.
The CLAT 2023 entrance test will be conducted on 18th December 2022.
In this article, you will get to know all the information about the strategy to prepare for CLAT 2023 from scratch, subject-wise tips, and more.
CLAT 2023 Paper Pattern
Before starting the preparation, it is essential to go through the detailed paper pattern, as it will help you better understand the number of sections, the type of questions, and the marking scheme.
This will help you plan your preparation better and score good marks in the CLAT 2023 Entrance Exam.
The Common Law Admission Test is conducted for 150 marks.
The students will get 2 hours, i.e., 120 minutes, to attempt the test.
The CLAT 2023 is an objective type of questions examination which is MCQs type, and 1 mark is allotted for each right answer.
There is a negative marking of 0.25 marks for each wrong answer.
Check out the table below to know the detailed CLAT Exam pattern 2023:
| | |
| --- | --- |
| Sections | Number of Questions |
| English Language | 28 - 32 questions, or roughly 20% of the Paper |
| Current Affairs, including General Knowledge | 35 - 39 questions, or roughly 25% of the Paper |
| Legal Reasoning | 35 - 39 questions, or roughly 25% of the Paper |
| Logical Reasoning | 28 - 32 questions, or roughly 20% of the Paper |
| Quantitative Techniques | 13 - 17 questions, or roughly 10% of the Paper |
Download Free Study Material For CLAT Exam by LegalEdge
Things You Should Do While Starting Your CLAT 2023 Preparation
The Common law Admission Test preparation is a lot about balancing sections. You should divide your CLAT preparation 2023 into two parts:
Concept building: 75% time
Practicing question papers and analyzing your performance: 25% time
When we talked to All India Rank 1, rank 2, rank 3, rank 4, and rank 8, we got to know some of the important things you should do while starting your CLAT Exam Preparation 2023.
1. CLAT Preparation Strategy: Religiously Reading
They have started religiously reading. It means you have to read as much as you can because reading too much is the backbone of this entrance test.
So, if you are someone who hates reading and is scared of reading for them, it is the most important tip they should follow.
All the toppers had started building their reading and comprehension skills from the first day of their First Day of CLAT Preparation.
To build and enhance your reading and comprehension skills, you should start reading Novels, newspapers like The Hindu, Indian Express, Times of India, weekly magazines, articles, blogs, websites, editorials, etc.
You have to make sure that your reading skill should be sharpened. The benefit of sharpening your reading skills is that your English section will become strong, and you will be updated with all the facts. It is good for the current affairs and general knowledge section. And while reading, you can also enhance your critical reasoning topic also.
If you have a question on the topic you have just read, it will also help you answer that question easily because you have read about and around the topic and will be aware of what the topic says.

2. Build on your Legal Section
The legal section of the CLAT examination includes lengthy passages, and you have to really work very hard to build this section. To build this section, start preparing the core topics of the section, i.e., Torts, Criminal Law, IPC, etc.
For the suggestion on how to build your legal section, you can see interviews of various top rank holders on the LegalEdge channel only. If you see their interviews, you will get to know that they have built their legal section by reading legal articles on various websites that provide N number of legal articles.
Read articles or blogs on legal issues to build on your legal section. While reading the legal issue articles or blogs, you will be able to understand the vocabulary and the interpretation of the legal terms.
This will help you build your legal section for the CLAT 2023 and help you in your

Other Law Entrance Exams

like AILET, etc.
So, from today onwards, start finding the websites that are providing articles on the legal section and start reading that to build your legal section.
3. CLAT Preparation Strategy: Build your Critical Reasoning Concepts
To build your critical reasoning concepts, you have to prepare the basic concepts of critical reasoning like paradox reasoning, statement, and assumptions, statement and conclusions, the strength of argument, inference from the passage, etc.
There are many top books from which you should study to build your critical reasoning concepts, such as critical reasoning by M K pandit
You can practice as many questions as possible from

Previous Year's CLAT Question Papers

, as it will help enhance your logical reasoning CLAT preparation.
The CLAT 2021 and 2022 toppers have prepared the GMAT level critical reasoning questions that have helped them to crack the section easily.
So, you should prepare critical reasoning questions from today onwards from the GMAT level.
4. Start with the Basics of Quantitative Techniques Section
Many students from non - mathematics backgrounds think they will be unable to build the quant section. This is the right time for them to burst this myth by starting tehir CLAT maths preparation from today to prepare the basic concepts of the quant section.
The basic concepts such as Number system, percentages, ages, ratios, etc. You have to start your Preparation for the CLAT Mathematics Section from your elementary mathematics concepts of class 10th.
You can also study from various standard books like R S Aggarwal, R D Sharma, Arihant Publication, etc.
5. Write Mocks and Understand the MCQ Pattern
If you start attempting mocks from the very first of your preparation, you can understand the MCQ pattern of the CLAT examination easily.
You have to learn a lot for this type of pattern because till your class 12th, you have only attempted or given subjective type question examinations. This will be new; that's why it takes time to understand the exam pattern.
To understand the MCQ-type questions, you should give each and every mock of each subject from our website LegalEdge. Here we are providing the best of the mock tests that will not only help you understand the pattern but will help you to manage CLAT exam preparation time.
Attempting

CLAT Mock Tests

will also help you to understand and handle the exam pressure. So make sure that you will start attempting mocks from today onwards.
6. Start Reading Editorial
While reading the newspaper, you should prefer to read the editorial part because that part is the most important part for any competitive or entrance test.
When you are reading the editorial part of the newspaper, you will get to know the different views of the public. So, that is why it is recommended that you read the editorial part of the newspaper.
5 Tips for Every CLAT Aspirant Should Do
It would help if you were smart enough while creating a study routine for the CLAT exam, as all subjects play a vital role in qualifying for the exam.
The following are some of the tips that will help you better understand How to Balance Daily Routine for CLAT Preparation, things that you should keep in mind during preparation, and more.
Focus on Previous Year Paper for Legal Reasoning Section
You have to practice the previous year's paper for the legal reasoning section for the CLAT entrance test. You have to make sure that you attempt at least 5 to 7 mock tests, previous year papers of CLAT, AILET, and attempt all the legal reasoning section questions.
Practice the legal reasoning section as much as you can and practice at least the last 5 years' papers of CLAT and AILET to be perfect in the legal reasoning section.
Focus on Quantitative Techniques Section
The second tip is that you should not ignore the quantitative techniques section at all. Mostly the students ignore this section because of the non - mathematics background or due to the less weightage of the section.
The All in rank 1 student has not ignored this section, and he has simply scored 15 marks in this, so don't leave this section. This section will give you 15 marks. If you have scored 5 marks in this section, then it can change the whole game.
If you are weak in mathematics, then from today onwards, start attempting elementary mathematics questions, Data interpretation questions, etc.
Also, attempt

CLAT Maths Questions

from previous year's papers.
You can also study with us at LegalEdge. We have some of the best teachers and experts for each and every section of CLAT 2023.
If you want to achieve good marks in the Quant section, then practice at least 2 hours daily. The time you will be giving to this section, the result will be proportionate equal to that only.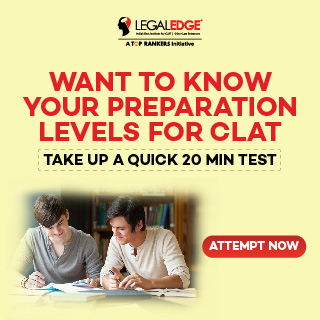 Practice Critical Reasoning of GMAT Level Regularly
Although we have 100 books available for practicing critical reasoning in the market, and you have LegalEdge also with you, you must practice GMAT level questions to attempt the CLAT 2023 examination easily.
By attempting GMAT level questions, you can easily Crack the CLAT Critical Reasoning Section Easily.
Don't Worry About the Mock Scores
If you cannot score good marks or your score is decreasing in the mock tests, don't worry about that because attempting mocks is not more scoring marks. We attempt mocks to see the journey of the mocks; we have to understand our weaker section or topics and work on them rather than just thinking of the mock scores..
Attempt mocks but don't worry about the mock scores at the initial stage of your preparation game.
Practise Daily General Knowledge questions from the LegalEdge
For the General Knowledge section, LegalEdge has the best study material and they upload videos of daily newspaper analysis on their youtube channel.
You can study articles, blogs from the various websites or newspapers to gain more knowledge and current affairs. One of the popular sources of studying GK is GK Today. Many students study from GK today also, so you can also try it.
Don't go to multiple sources for the CLAT GK Preparation initially; just start with reading newspapers only.
Things You Should not Be Doing as a CLAT 2023 Aspirants
The following are some of the things that you should not do while preparing for the Common Law Admission Test.
Don't Worry About Mock Scores
All the CLAT aspirants should consider their mock tests as a practice assignment only. Ignore the mock scores at the initial stage of your preparation.
Don't ignore attempting mock tests because of your score. Attempt it, but like a practice assignment.
Not To Skip the Mock Tests
If you see any success story of the CLAT aspirants you will get to know that each and every rank holder has attempted the mock tests regularly. So, don't think to skip the mock tests for silly reasons.
You don't have to set a score that you have achieved at least this many marks or scores. You just have to attempt it properly; you will automatically see your score gradually increase.
Start attempting the mocks as much as you can.
Not To Skip Micro Topics
There are many topics in every section that we don't consider at the macro level. While preparing for the section then, only you will be able to see the micro topics, so don't skip those topics due to their weightage in the examination because there is very high competition in the CLAT entrance test.
The competition is so high that a 1: 1 mark competition is going on between students for rank 1 position.
Don't skip any micro topics for example: you think that the quantitative techniques section is only based on a Data Interpretation topic that is not true. The Quant section contains many topics like Number systems, Averages, Percentages, ages, ratios, etc., so don't skip any of the topics.
Do not Devotee So Much Time To General Knowledge
Many students think that the strength of current affairs is unlimited and they should study it all the time, but this is not true.
Everyone should know that nobody can score full marks in the GK section if you daily study 3 hours GK only then also you will not be able to score full marks in GK.
So, don't waste your time studying GK all day. Utilise that time and study other sections well. I am not saying don't study GK at all; I am saying study it but give 1 hour daily, that is enough for the general knowledge section.
Sectional Preparation Strategy
To help enhance your preparation levels, we have provided section-wise preparation tips in the post below.
Fowlloing these tips will help you Crack the CLAT exam on the first attempt.
| | |
| --- | --- |
| Sections | Description |
| Legal Reasoning | Practice CLAT and AILET for the last 5 years' question paper; follow the passage, Work on the Elimination method, |
| General Knowledge | Reading newspapers is a must for preparation. You have to study all the newspapers from January to December. |
| Quantitative Techniques | Practise basic topics of class 10th and 12th, practise Data interpretation questions, attempt previous year paper of the CLAT. |
| English | Practise reading comprehension, grammar, and vocabulary questions. Read newspaper daily to improve your vocabulary |
| Critical / Logical Reasoning | Practice previous year's papers and practice GMAT level questions. It will help you to improve your reasoning ability. |